American Psycho - 2016 - Broadway
26-year-old Patrick Bateman is sophisticated, rich and devastatingly handsome. He's got a sculpted body, a model-gorgeous girlfriend, a to-die-for apartment, and a Wall Street job in 1980s New York City. In short, his life's killer. There's just one snag in this dark vision of the American Dream... Patrick can't get the blood out of his $5000 suits.
Based on the best-selling novel by Bret Easton Ellis, and set in the epicenter of excess: 1980s Manhattan, this hit musical tells the story of Patrick Bateman, a young and handsome Wall Street banker with impeccable taste and unquenchable desires. Patrick and his elite group of friends spend their days in chic restaurants, exclusive clubs and designer labels. But at night, Patrick takes part in a darker indulgence, and his mask of sanity is starting to slip...
Video preview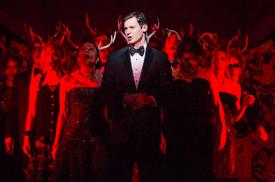 Schedule
Running Time: Two hours and 42 minutes, with one intermission
Featured Reviews For American Psycho
'American Psycho: The Musical' chooses comedy over carnage - NY Post
Benjamin Walker is toned and resplendent in his tighty whities...his fiancée, played with hilarious archness by Heléne Yorke...The second act flags...but the score is strong...Duncan Sheik's synthesizer-heavy music - radical by Broadway standards...finally delivers a worthy follow-up to his "Spring Awakening." A comic "American Psycho" you can dance to? Somehow, it works.
Review: 'American Psycho' Hits Broadway, So Smooth, So Rich, So Ruthless - New York Times
Though it often looks as carefully and cosmetically arranged as a window at Barneys, Patrick's favorite store,..."American Psycho" is a mess. That's not because of all that sloppy, sloshy blood, but because of its terminally undecided tone. This latest incarnation...suffers from the weight of having to be a big Broadway musical...Even more than Matt Smith, who originated the role in London, Mr. Walker presents Patrick as an insecure man who deeply needs to fit in and despises himself for doing so...Mr. Walker, who oozed charisma in "Bloody Bloody Andrew Jackson," holds the show together, for sure...Mostly, though, this psycho is neither scary nor sexy, nor is the show in which he appears.
American Psycho Broadway Cast