American Psycho - 2016 - Broadway
26-year-old Patrick Bateman is sophisticated, rich and devastatingly handsome. He's got a sculpted body, a model-gorgeous girlfriend, a to-die-for apartment, and a Wall Street job in 1980s New York City. In short, his life's killer. There's just one snag in this dark vision of the American Dream... Patrick can't get the blood out of his $5000 suits.
Based on the best-selling novel by Bret Easton Ellis, and set in the epicenter of excess: 1980s Manhattan, this hit musical tells the story of Patrick Bateman, a young and handsome Wall Street banker with impeccable taste and unquenchable desires. Patrick and his elite group of friends spend their days in chic restaurants, exclusive clubs and designer labels. But at night, Patrick takes part in a darker indulgence, and his mask of sanity is starting to slip...
Video preview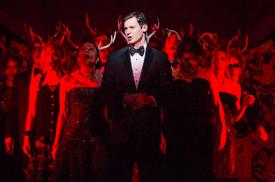 Schedule
Running Time: Two hours and 42 minutes, with one intermission
Featured Reviews For American Psycho
'American Psycho': Theater Review - Hollywood Reporter
Director Rupert Goold, composer Duncan Sheik and book writer Roberta Aguirre-Sacasa crank up the satirical volume on Bret Easton Ellis' cult novel in a musical with design to die for and a cool, period-appropriate electro-pop score... the show is a very sharp, distinctly theatrical treatment of its source material, in many ways improving on Mary Harron's movie version from 2000...Goold and Aguirre-Sacasa have been prudent in toning down the book's perceived misogyny and sexual violence while honing its acerbic portrait of late capitalism in a milieu where surface is everything...Walker is charismatic and commanding, but it's the broken, corrosively conflicted aspects of his characterization that make the performance so hypnotic...Helene Yorke, hilarious as Patrick's aggressively superficial fiancée Evelyn...Alice Ripley...can't do much with the role of Patrick's medicated mother...But Jennifer Damiano finds poignancy in the good-girl part of Patrick's smitten secretary Jean...Still, even with its flaws the musical is a bloody good time.
American Psycho review – Patrick Bateman sings, strips and slashes - Guardian
A bold and perilous artistic endeavor, this musical is also something of a tonal muddle, approaching the material from myriad angles - some serious, some sleazy, some nice, some nasty - which don't ultimately form a persuasive whole...As adapted by Roberto Aguirre-Sacasa, scored by Duncan Sheik, and directed by Rupert Goold, this is an inarguably stylish undertaking and sometimes an exciting one...Often the production delights, in ways camp and comedic, in the ugly extravagance of the period...Walker, looking like a brilliantined Ken Doll, gives another galvanic turn, communicating the seductiveness, playfulness, and terrible vacancy that define Bateman...So is this satire or psychodrama, monstrous comedy or moral horror? It's all and it's nothing, too.
American Psycho Broadway Cast