A Night With Janis Joplin - 2013 - Broadway
"This is a night that will rock your world!" - Los Angeles Times
Like a comet that burns far too brightly to last, Janis Joplin exploded onto the music scene in 1967 and, almost overnight, became the queen of rock & roll. The unmistakable voice, filled with raw emotion and tinged with southern comfort, made her a must-see headliner from Monterey to Woodstock.
Now, you're invited to share an evening with the woman and her influences in the new Broadway musical, A Night with Janis Joplin.
Fueled by such unforgettable songs as "Me and Bobby McGee," "Piece of My Heart," "Mercedes Benz","Cry Baby," and "Summertime" a remarkable cast, and breakout performance by Mary Bridget Davies, A Night with Janis Joplin, written and directed by Randy Johnson, is a once in a lifetime musical experience that brings the music - and the woman - to life like never before.
Video preview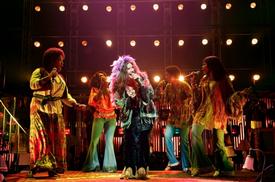 Schedule
Running Time: 2 hours and 15 minutes, with one intermission
Featured Reviews For A Night With Janis Joplin
Theater Review: A Night With Janis Joplin Is a Cheap Thrill - Vulture
Don't expect much in the way of personal revelation or public misbehavior. Apart from sucking on a bottle of Southern Comfort, this Janis is quite composed and sedate between songs. She tells charming stories about housecleaning, her family, her favorite 45s. Johnson's script has been carefully policed by the Joplin estate, which consists of Janis's siblings-thus, it's long on stories about her siblings and short on just about everything else. If an alien landed in the theater, seeking knowledge of Janis Joplin, its report to the mother ship would describe a mild, genial hippie redneck whose onstage routine included the occasional nip of hooch-basically Ron White in combat boots and batik, with a song in his heart...Davies's Janis, it must be said, is nothing short of extraordinary in the pipes department: She shreds her larynx like a woman possessed and still has more to give. It's a close but not Xeroxed impression, and in the narrow interstices between impersonation and performance, she injects real feeling and nuance. This is especially astonishing given the deadwood she must deliver. But just when you can't take another anemic anecdote or whitewashed Wiki stub, she lets loose her "Cry Baby," her "Me and Bobby McGee," and all is forgiven.
A Night With Janis Joplin Broadway Review - New York Theatre
"A Night With Janis Joplin" is more or less a concert, with some patter in-between the songs that could be called monologues. In these, we learn that Janis's mother was a talented singer in Port Arthur, Texas who decided not to move to New York for a professional career, and thereafter listened incessantly to Broadway albums like West Side Story and My Fair Lady, whose songs Janis memorized. Janis herself at one point wanted to be a painter; her artwork appear behind her. She also read a lot as a child; her favorite was F. Scott Fitzgerald. And she loved the blues, a subject she tells us about with almost scholarly disquisition.
A Night With Janis Joplin Broadway Cast