A Night With Janis Joplin - 2013 - Broadway
"This is a night that will rock your world!" - Los Angeles Times
Like a comet that burns far too brightly to last, Janis Joplin exploded onto the music scene in 1967 and, almost overnight, became the queen of rock & roll. The unmistakable voice, filled with raw emotion and tinged with southern comfort, made her a must-see headliner from Monterey to Woodstock.
Now, you're invited to share an evening with the woman and her influences in the new Broadway musical, A Night with Janis Joplin.
Fueled by such unforgettable songs as "Me and Bobby McGee," "Piece of My Heart," "Mercedes Benz","Cry Baby," and "Summertime" a remarkable cast, and breakout performance by Mary Bridget Davies, A Night with Janis Joplin, written and directed by Randy Johnson, is a once in a lifetime musical experience that brings the music - and the woman - to life like never before.
Video preview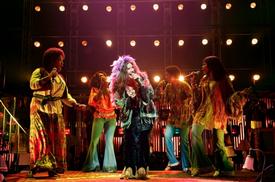 Schedule
Running Time: 2 hours and 15 minutes, with one intermission
Featured Reviews For A Night With Janis Joplin
Broadway Review: 'A Night With Janis Joplin' - Variety
As a musical biography, "A Night With Janis Joplin" is pretty much a bust. The book by Randy Johnson, who also helmed, skims lightly over the singer's Texas childhood and her tenure with Big Brother and the Holding Company, with nary a word about her personal life or the booze and drugs that cut it short. But as a concert in which those great ladies of song who were Joplin's musical inspiration join her on stage, the show is something else - a celebration of the blues and those beautiful bruises they leave on the singer's soul.
Review: Davies a Knockout in A NIGHT WITH JANIS JOPLIN - BroadwayWorld
The one hundred and ten year history of Broadway's Lyceum Theatre has seen nine musicals, a couple of plays with music and a few concert evenings grace its stage. But I doubt if the walls of the classic Beaux-Arts showplace have ever felt any vibrations like the powerful full-throated wails of soulful orgasmic psychodelia emoted from Mary Bridget Davies in the title role of A Night With Janis Joplin...Writer/director Randy Johnson's concert-style musical is not to be lumped in the same category with that trio of Beatles imitation concerts that have played Times Square or other such shows that rely solely on mimicry. The ambition is a little higher here, and while A Night With Janis Joplin has its flaws as drama, as a raucous, hyper-energized tribute to one of American music's great icons, it's a joyful explosion.
A Night With Janis Joplin Broadway Cast