A Night With Janis Joplin Broadway
"This is a night that will rock your world!" - Los Angeles Times
Like a comet that burns far too brightly to last, Janis Joplin exploded onto the music scene in 1967 and, almost overnight, became the queen of rock & roll. The unmistakable voice, filled with raw emotion and tinged with southern comfort, made her a must-see headliner from Monterey to Woodstock.
Now, you're invited to share an evening with the woman and her influences in the new Broadway musical, A Night with Janis Joplin.
Fueled by such unforgettable songs as "Me and Bobby McGee," "Piece of My Heart," "Mercedes Benz","Cry Baby," and "Summertime" a remarkable cast, and breakout performance by Mary Bridget Davies, A Night with Janis Joplin, written and directed by Randy Johnson, is a once in a lifetime musical experience that brings the music - and the woman - to life like never before.
Video preview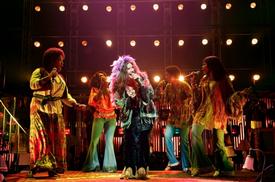 Schedule
Running Time: 2 hours and 15 minutes, with one intermission