A Christmas Story, The Musical - 2012 - Broadway Tickets, News, Info & More
The story from a cherished movie classic that's enchanted millions is now a musical spectacular. In 1940's Indiana, a bespectacled boy named Ralphie has a big imagination and one wish for Christmas-a Red Ryder BB Gun. A kooky leg lamp, outrageous pink bunny pajamas, a cranky department store Santa, and a triple-dog-dare to lick a freezing flagpole are just a few of the obstacles that stand between Ralphie and his Christmas dream.
Video preview
Photo preview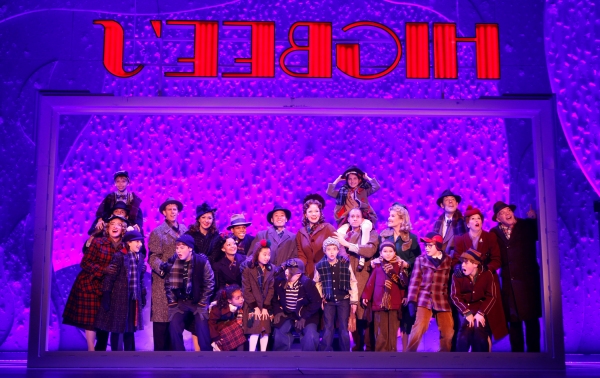 Featured Reviews For A Christmas Story, The Musical
Theater review: 'A Christmas Story, the Musical' - NY Daily News
There are also bright spots during the show's 2 hours, including the bouncy "Ralphie to the Rescue!" The twangy tune finds Ralphie fantasizing about being a hero with his rifle. The best scene comes with the jazzy "You'll Shoot Your Eye Out." Thanks to Warren Carlyle's delicious tap-happy choreography and a gleaming gang of young hoofers, it's great big fun. So much so you wish for more of the same. But not everyone's as lucky as Ralphie — you can't always get what you want.
'A Christmas Story' is offbeat, on target - Newsday
This is called "A Christmas Story," not "The Christmas Story," so, parents, please take note. The musical based on the popular 1983 movie is neither candy-cane sweet nor sacred. In fact, not much is sacred in this droll, imaginative, definitely and a bit defiantly off-center tale of a 9-year-old bespectacled kid named Ralphie and a flawed but loving family in Indiana in the 1940s. That is, 9-year-olds (and up) and their flawed, loving parents are probably the target audience for the newest addition to the holiday offerings, wickedly directed by John Rando ("Urinetown") with a clever and enjoyable score by newcomers Benj Pasek and Justin Paul ("Dogfight"). The humor is not so much politically incorrect as, well, politically retro and a little dark...I could live without the awful joke about Chinese accents, the blue joke about the bowling ball, the playground line "when you act like a fruit, you get crushed like a grape." Even if kids liked to talk like that, Broadway should not endorse it.
A Christmas Story, The Musical Broadway Cast