BWW Review: Rich Talent, Poor Narrative in Wall Street Satire 63 TRILLION at West of Lenin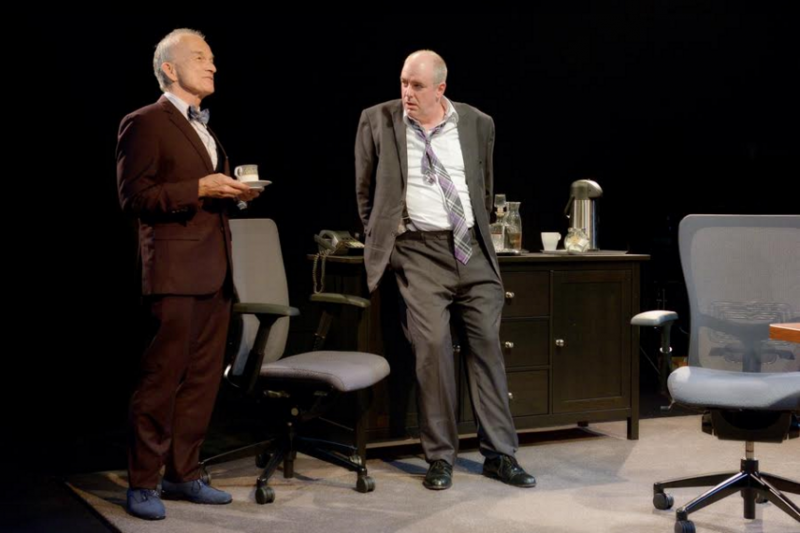 Good satire needs two things: merciless mockery, and a compelling narrative. Sandbox Radio's farcical "63 Trillion" nails the mockery, but focuses so much of its attention on cramming in as many double-entendres as possible that the narrative becomes secondary to the dick jokes.
Frank, Kenny, Dick, Tom, and Jonah are financial advisors on Wall Street. They are on the brink of a 2008-sized stock market crash that only Jonah seems to be taking seriously (but he's too young for anyone to take him seriously). Frank's weirdly too preoccupied by the odd sexual tendencies of his dog to care; fretful Tom has already thrown in the towel; pompous, in-your-face Kenny will be damned if he does not turn a profit from this budding nation-wide collapse; and conniving Dick gets off on everyone else's anguish.
But that's about it: these men behave egocentrically, casually throw around some bigoted ideas, and argue in circles. Wall Street types being amoral and opportunistic is not exactly a novel idea. John Bunzel may be in "wealth management" himself, but what's revealed behind the curtain of Wall Street are mean-spirited caricatures that do not propose anything particularly new. Despite Sandbox Radio's commendable, nay, impressive work put into "63 Trillion", specifically the caliber of performances, "63 Trillion" suffers from its rough, one-note, fruitless narrative.
Conflict #1: impending doom of financial collapse. The firm's employees run around like rich, old chickens with their heads cut off, waiting for the crisis to come. But, vis-a-vis Ionesco's "Rhinocerous" or Beckett's "Waiting for Godot", the bulk of the show consists of preparation for the disaster, rather than deal with the disaster itself and the abysmal aftermath. So, to keep tension, conflict #2 gets thrown in: Frank's caught on video verbally berating a legally blind postal worker, and Nancy from legal is his representative. Kenny is also caught in the crosshairs of this scandal because he witnessed the whole thing but didn't stop Frank from running his mouth.
In other productions, desperate times reveal ugly, sordid aspects of people's personalities in moments of crisis. However, the characters in "63 Trillion" have been despicable from the jump, so there's little to no room for character development and no increase in stakes or drama. Additionally, there is no central character, really, to focus on or root for, and the "voice of reason" character (Nancy) gets thrown in too late in the story to gain traction. This results in a one-note satire that's hard to stay invested in. The show proves its point too early: that Wall Street-types are greedy. And this is a point that's been made many times before.
Though a bit of a top-heavy production, there are a number of very funny moments throughout the show, especially when it channels an extreme level of absurdity in content. Everything Dick says is deliciously perverse and apropos of nothing. Peter Black's character gets so mad with fury that he chases around the members of the firm with a stapler, stapling people in anger. And even though Nancy throwing up was a little much, I appreciate the gross humor of men so blinded by greed that they'll use a vomit-covered computer if it means they'll make more money.
To director Richard Ziman's credit, "63 Trillion" did everything right with the material. This is a squad of talented comedians that audiences should look out for in future productions. David Gehrman's slimy, toothy-grinned portrayal of Frank works for a character obsessed with the sexual tendencies of his dog. Charles Leggett's money-grubbing Kenny is brassy and gruff. As his pessimistic partner, Tom, Terry Edward Moore's portrayal is a convincing stick-in-the-mud. Millionaire investor Peter Black's character is the most dynamic of the bunch, and Peter Jacobs' vehement portrayal is bulldoggish and a tad frightening. Jason Marr's Jonah, even if the rest of the firm treats him like an errand boy. Amontaine Aurore's Nancy is pragmatic and justifiably annoyed. David Pichette's Lynchian demeanor gives Dick cartoonishly excessive behavior (sprinkling ground rhino horn on his breakfast cereal, for example) a refreshing tone of absurdity that keeps his character funny throughout the show.
Everything was correct: Leslie Law's creates a very expensive-looking boardroom, clad with a crystal bar set and a towering, abstract painting behind an antique office desk. Angelo Domitri perfectly captures the glaring brightness of a boardroom with his lighting design. Costume designer Jocelyn Fowler puts these uptight misers in the trappings of old money, clad with suede shoes and pocket squares.
On one hand, Sandbox Radio's "63 Trillion" has a directorial point of view worth celebrating. On the other hand, said directorial point of view is in a not very funny, kind of predictable comedy. Weighing the odd choice for material with the commendable effort to sell it, I give Sandbox Radio's "63 Trillion" a slightly-amused B-. This show is unfortunately not the sum of its parts.
"63 Trillion" performs at West of Lenon through November 19, 2017. For tickets and information, visit them online at www.63trillionseattle.com.