EDINBURGH 2019: BWW Review: LAURA LEXX: KNEE JERK, Gilded Balloon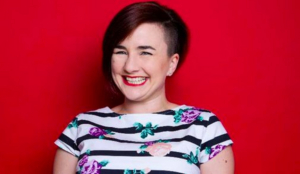 Not one to shy away from a big topic, this year Laura Lexx is taking on the future of humanity in Knee Jerk. More specifically, her eco anxiety and why everyone else isn't as concerned as she is about the fact the planet is dying.
It takes real skill to balance a cheery demeanor and serious but well-crafted material for the full hour and Lexx achieves this with ease. From climate change to Brexit and transgender issues, we manage to cover a lot of ground in just sixty minutes. With having the issues that seem to really divide the internet broken down and rationalised for us, you do start to wish that someone as sensible as Lexx was actually running the country.
I normally wouldn't comment on something like a venue delay because it isn't relevant to the show. However, a ticket mishap with the audience that resulted in the show starting slightly late was handled so well by Lexx it's worth mentioning that she isn't easily ruffled.
There's a lot of big laughs in there so you might not even realise she's snuck in some solid life advice and coping techniques. With her warm, friendly manner, and precise observations, Knee Jerk is just a lovely way to spend an afternoon at the festival.