EDINBURGH 2018: BWW Review: WHAT GIRLS ARE MADE OF, Traverse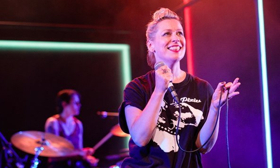 After leaving school, theatre-maker Cora Bissett decided that she wanted to be the singer in a band. She replied to an advert she saw in the paper, auditioned and she was in. She was the lead singer of Fife band Darlingheart.
What Girls Are Made Of takes us through the evolution of Darlingheart. Earning support slots for bands such as Blur and Radiohead, Darlingheart were destined to be huge.
Cora Bissett displays boundless energy and is every inch the rock star as she performs this piece of gig-theatre. The lights, sound and onstage band recreate the concert atmosphere and make this a thrilling performance to experience. Bissett's vocals are fantastic and the tracklist featuring Nirvana, Tori Amos and Radiohead set the era for the story beautifully.
Grant O'Rourke, Susan Bear and Simon Donaldson play multiple characters throughout the piece. For the most part, they play the other members of Darlingheart but Donaldson and O'Rourke are touching and hilarious as Bissett's parents, A&R managers and the bitchy girls from school.
What Girls Are Made Of unexpectedly ripped my guts out. Bissett describes the events that shaped her as a woman, the close relationship she had with her parents and trying to start a family. She's a passionate storyteller and it is so easy to get deeply invested in this play.
Met with a well-deserved standing ovation it seems that the rest of the audience agree- What Girls Are Made Of is more than a little bit special.
https://tickets.edfringe.com/whats-on/what-girls-are-made-of
Photo credit: Sid Scott