EDINBURGH 2018: BWW Review: SONG OF LUNCH, Pleasance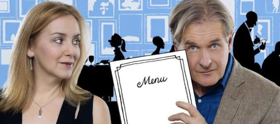 A businessman heads out to lunch. He leaves a note at work to say he may be some time. He's going to meet an old flame in an Italian restaurant that he hasn't been to in years. Upon arrival, he realises that the restaurant has changed greatly- as has the woman he is meeting.
Robert Bathurst is a skilled storyteller and delivers the poetic script with great enthusiasm. He finds that his ex has moved on and done very well for herself and his manner changes from hopeful and optimistic to quite defeated.
Behind him, there is a large screen that shows graphics of his journey to the restaurant. The detail in the drawings are wonderful and they really enhance the play.
At just 50 minutes, it mimics the timeframe of a lunch break and makes for a pleasant and compact piece of theatre.
https://tickets.edfringe.com/whats-on/song-of-lunch
Related Articles
Natalie has been an avid theatre goer since her first London production of Blood Brothers when she was 12. Based in Glasgow, she also reviews (read more about this author...)