EDINBURGH 2017: BWW Q&A- Joz Norris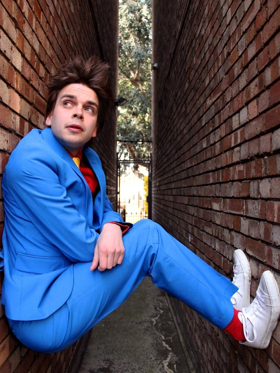 Tell us a bit about The Incredible Joz Norris Locks Himself Inside His Own Show, Then Escapes, Against All The Odds!!
Ridiculous title. The idea is that, via an odd run-in with
Jason Donovan
at a festival, I've realised a sort of fundamental truth about what performance is, and how it cuts you off from real life. And from there it's about the situations we get ourselves into that are entirely our fault, and that we
choose
to get into, then have the nerve to complain about. So the ridiculous title is a sort of elaborate promise I can't keep - a ludicrous stunt title that the show can only hope to approximate. It's about building cages for yourself.
Peter Green
had this great phrase, he used to say he had "a belief in the blues as a sort of curse one puts on oneself." It's a bit about that, though that's literally only just occurred to me. Mostly it's me auctioning off a memory about herons and rooting through a box of inexplicable things then transforming into a horrible baby, all in the pursuit of trying to say something about anxiety and distance, and all while literally trapped inside an enormous web. It's just stupid.

Why bring it to Edinburgh?
I love the Edinburgh Fringe so much. I think Edinburgh is a really, really lovely city and it's an absolute pleasure to spend a twelfth of every year there. Also, much as there are sinister corporate powers that are trying to take it over and dilute it, the Fringe is still the biggest arts festival in the world and as such it's still one of the best places for performers and writers and artists to present their work entirely on their own terms.
I've performed with Bob Slayer's Heroes of Fringe programme for the last couple of years, and am there again this year, and Heroes has massively tipped the balance back in favour of acts having a platform on their own terms, given the creative space to explore the ideas they want to explore and not be burdened with big debts or corporate mandates on what sort of thing they should be making. Because of that I never really empathise with the whole "But the Edinburgh Fringe is so expensive and unrewarding!" argument you hear every now and again. I always have an amazing time and I spend the whole year looking forward to it.
What sets it apart from other shows at the Fringe?
I'm pretty certain it's the only show being performed inside a giant web, either this or any other year. I mean, it's 2017, every idea has been done already in some form, so I'm sure some other idiot has decided it'd be a good idea to do a show inside a giant web before. Marcel Duchamp made something pretty similar once, but it's not been done for a while I think, and I'm the idiot doing it this time, regardless of how stressful and difficult it is and the physical limitation it places on the show.
A physical limitation opens up your imagination more. I also think it's one of the longest titles of the Fringe this year, so if you like the idea of seeing a show, enjoying it, then struggling to remember what it was called when you try and recommend it to a friend, this is the show for you.
Who would you recommend comes to see you?
People who genuinely like the sound of this. If you've read this and thought "This sounds fun and interesting, I think I might enjoy this," then please, please come, you sound so, so brilliant. I love people who are positive and have open minds. If you've read this and thought "This sounds like a load of self-indulgent, flimsy nonsense and I bet I wouldn't enjoy it," then you are probably completely right. Comedy is whatever you decide it is in your head. If you've read this and decided it sounds shit, there is nothing I can do to help you.
Are there any other shows you're hoping to catch at the festival?
Loads. Everybody performing with Heroes of Fringe. Everybody from Weirdos Comedy, the Alternative Comedy Memorial Society, or Comedians' Cinema Club. Interesting theatre stuff like Sh!t Theatre and Wardrobe Ensemble. Eleanor Morton, Harriet Kemsley, Margaret Thatcher Queen of Gameshows. Many many others. Can't wait for them all.
Timings and ticket information for Joz Norris: The Incredible Joz Norris Locks Himself Inside His Own Show, Then Escapes, Against All The Odds!! are available on the edfringe website.