EDINBURGH 2017: BWW Q&A- Beak Speaks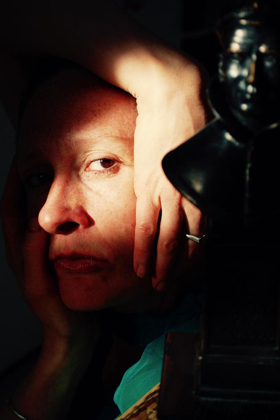 Tell us a bit about Beak Speaks.
Beak Speaks is a love song to the Fringe. It is a highly irreverent character comedy depicting the life, times and methods of theatrical fringe guru-ess and practitionaire, Gillian Beak.
It is also the name of Gillian's recently (self)published autobiography and, in parallel, the name of the 'nowing' which she will be sharing with the people of Edinburgh in August.
What sort of wisdom are you planning to bestow upon your audience?
Gillian offers the deepest insights and observations born out of a life crusading up and down the country giving her Beaksperience show with her company, Go! Theatre. She has graced all manner of stages from the renowned Town Hall in Pwllheli to Cromer Pier (Winter Season), from Limavady Community Centre to the Guides Hut, Aberdeen and is most known for her global teachings and controversial and ground-breaking residency at the White Hare Theatre in Kennington, London in the 90s. Beak Speaks finally allows an opportunity to witness first-hand her ground-breaking practise.
Why bring this to Edinburgh?
Why is such an interesting question. Why not? Edinburgh is of course home to the largest fringe theatre festival in the world and Gillian in turn is one of the world's most experience Fringe Theatre Practitioners. So it is in fact, a natural marriage. One that was fated many years ago and Gillian and Edinburgh are only now about to realise their destiny.
Who would you recommend comes to see Beak Speaks?
Anyone whose lives are touched, moved or caressed by theatre. Men, women, actors, performers, givers - and their audiences. But probably not their young children as her teachings are a little controversial, and she does swear every now and then.
Are there any other shows you're hoping to catch at the festival?
Gillian will endeavour to see all the shows at the Edinburgh Fringe Festival. If it is on the Fringe she will be do her utmost to be there. She's also very keen to see 'Locker Room Talk' at the Traverse.
Timings and ticket information for Beak Speaks are available on the edfringe website.
Photo Credit: James Greaves