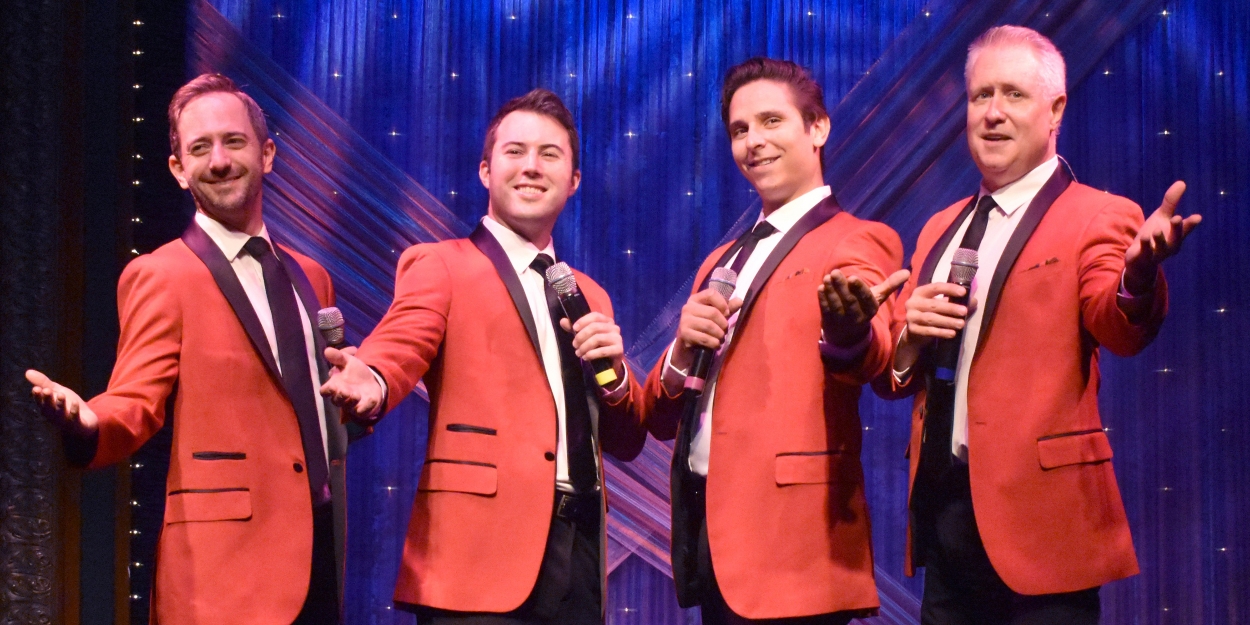 Review: THE JERSEY TENORS - PART II at Florida Studio Theatre
Running through September 11 at Florida Studio Theatre
Back for a triumphant return to Sarasota since 2017, Jersey Tenors are packing the house at Florida Studio Theatre with The Jersey Tenors - Part II.
Distinguished performers Brian Noonan (creator and director), Michael Pilato, Brandon Lambert, J.D. Daw, and accompanist extraordinaire Vaden Thurgood are back with a punch. The group known for its unique diversity of repertoire possesses the pipes, the look, and the finesse to pull off genres from Broadway, rock, and standards, to patriotic, movie themes, doo-wop, and opera. Yes, I said opera.
In tight four-part harmony, the gentlemen grabbed our attention right off the bat with The Four Seasons' Big Girls Don't Cry, Queen's Bohemian Rhapsody, and Elton John's Your Song before launching into Dean Martin's Come Back to Sorrento. The choreography and bantering between members keep your eyes moving, feet tapping and smile widening. With no time to catch our breath, the guys hit us with an amazing rock and opera medley that really showed off their multiplicity of talent and song blending. Pavarotti would have been proud - not just by the notes that were hit but also by the enunciation of parole in Italiano. Bravo! As we leave Italy the Four Seasons are back with Walk Like A Man and Act l ends with a powerful (grab your tissues) Battle Hymn of the Republic.
Changing it up from formal black tie to more casual white jeans, tennis shoes, white tops and some bling, the boys returned to own the stage in Act ll with a tribute to films featuring some of our favorite leading men such as Humphrey Bogart, Robert DeNiro, Sylvester Stallone, John Travolta, Tom Cruise, and Frank Sinatra. As songs filled the air, the monitor screens displayed a series of related stills from the movies represented. This was eye-catching and nostalgic as we enjoyed the proverbial walk down memory lane through Rocky, Top Gun, Casablanca, Saturday Night Fever, and The Godfather, to name a few. A dazzling surprise during the Tom Cruise Medley splits the tenors into two "rock" tenors performing You've Lost That Loving Feeling while cleverly overlapping two "opera" tenors performing Puccini's Nessun Dorma. Brilliant!
This group knows their strengths and plays them well. Their experience on Broadway and national tours lend itself to shows like this where the performers must act with confidence and connect to their audience. The tenors keep the show lively and energetic, and full of fun antics between each other, which makes for a delightful evening of enjoyable entertainment.
For more information on the Jersey Tenors visit: www.thejerseytenors.com
Important to mention, the tenors are selling their CD's onsite benefiting Wounded Warrior Project, www.woundedwarriorproject.org.
The Jersey Tenors runs through September 11, 2022 at Florida Studio Theatre's Goldstein Cabaret, floridastudiotheatre.org.