Review: THE COTTAGE At Florida Studio Theatre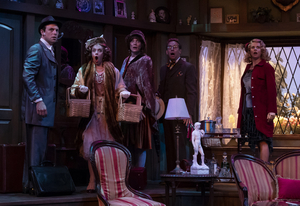 Sandy Rustin' s The Cottage is a cheeky farce infused with infidelity and mistaken identities. The Noël Coward inspired play is set in 1923 England and as you would expect has a lot of tea sipping, properly displayed manners at all times, and plummy upper-crust British accents
As the play begins, Sylvia (Hanley Smith), lounging a silky negligee, fashions alluring poses for Beau (Greg Balla) with whom she's had a night of "wild sex". Each married to other people; they have been enjoying these trysts once a year for the past seven years at The Cottage. Sylvia decided, unbeknownst to Beau, that she is going to take the "tryst" to the next level and sends telegrams to Beau's wife, Marjorie (Tracie Lane), and her husband, Clarke (Drew Hirshfield), revealing their affair at the cottage. The spouses soon arrive and the mayhem begins. Just when you think you have figured out what is happening, Dierdre (Anna Stefanic) and her former husband, Richard or is it Willam (Casey Predovic) arrive on the scene, building more twists and turns into this contorted storyline. Who's having a baby. And with whom? Is someone having an affair with 2 people? Who brought a gun? Who dies and leaves a will that has everyone surprised?
Revealing more about the plot would be a disservice to the play's comedic adventures. Although The Cottage is a light-hearted bit of fluff, the play, presented at a nice pace, stretches its light and breezy overtones throughout its increasingly absurd plot twists and turns. Clothing, gesturing, mannerisms and characters are intentionally exaggerated. Director Jason Cannon has done a fine job of nailing the tongue-in-cheek nuances and allowing his actors to have some fun with their characters. Miss Smith is delightfully willow-like as she struts through each scene. Mr. Balla is suave and charming as the snappy dresser Beau. Miss Lane as Marjorie is an eccentric match for Mr. Hirshfield's rather bland character Clarke. (I gave you a hint there) It's silly but cute the way they bring out the best in each other. Miss Stefanic plays brazen Dierdre to the hilt. Mr. Predovic plays Richard, or is it William, (another hint), as a sweet yet jealous man who may be carrying a gun, which may or may not be loaded.
Some audience members may chuckle and some may roll their eyes but The Cottage is an amusing romp to watch and enjoy. Things of course get sorted out in the end, with a few more surprises and all in all it's an entertaining show worth seeing. Sex. Lies. And telegrams. Oh my...
The Cottage plays at Florida Studio Theatre through August 24, 2019. For more information about FST visit, www.floridastudiotheatre.org.