BWW Review: ITZHAK PERLMAN at Van Wezel Performing Arts Hall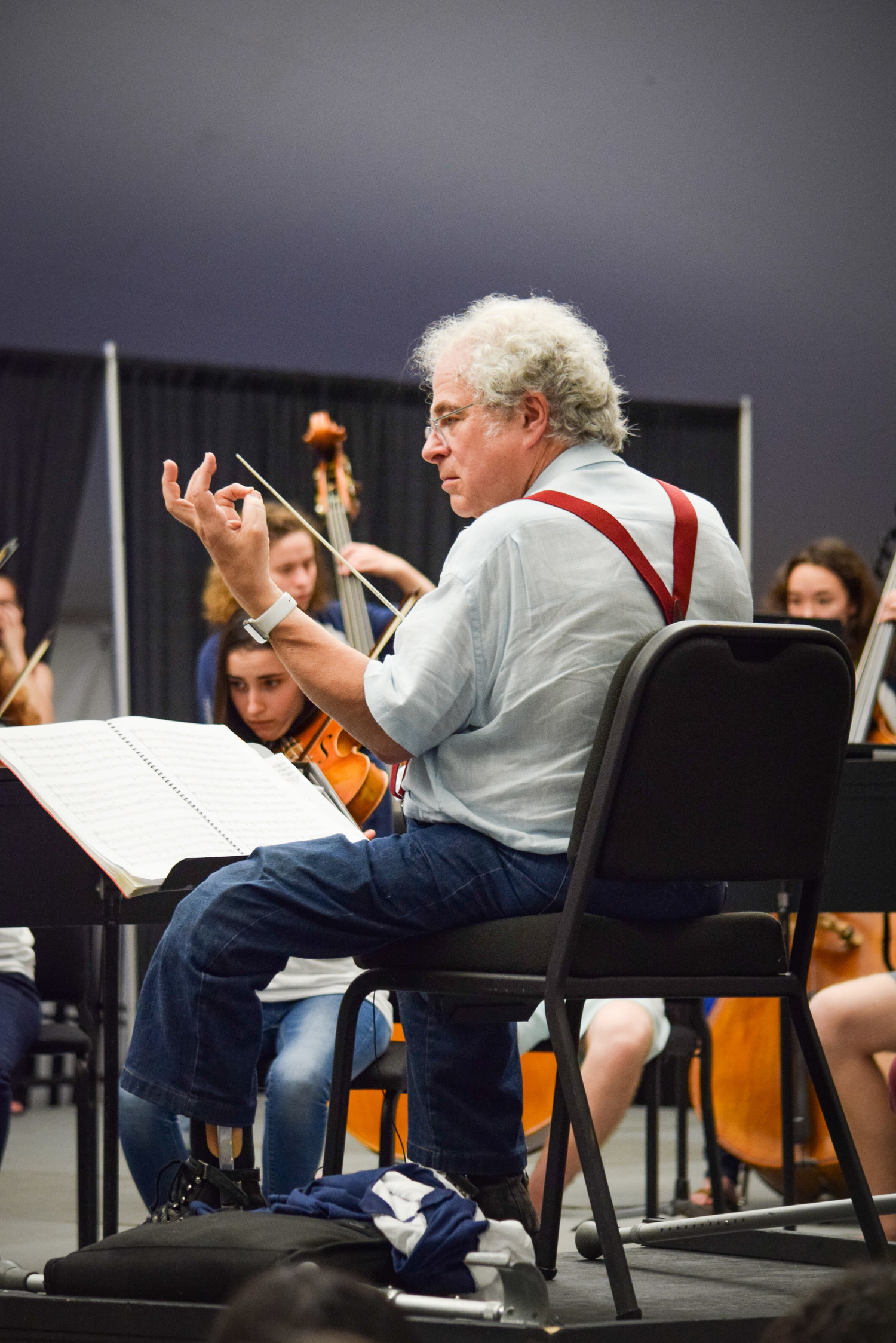 Itzhak Perlman is a name synonymous with perfection. Violin virtuoso is but one of the many facets that make up this Israeli-American treasure. Mr. Perlman is also an inspired conductor and passionate music instructor. Born in Tel Aviv to a Jewish family who were natives of Poland, young Itzhak found his love for the violin after hearing a classical piece on the radio. Although his mind was made up then to pursue the violin, he was denied admission to the Shulamit Conservatory for being too small to handle the instrument. Tenacious 3 year old Itzhak was not going to take no for an answer and taught himself to play, perfecting his skills on a toy violin until he was accepted at Shulamit and the Academy of Music in Tel Aviv. By the age of 4 he contracted polio and has since used braces, crutches and more recently a scooter, for mobility. Itzhak was 10 when he gave his first recital. He came to American to study under pedagogue Ivan Galamian at Julliard School. Over the course of his illustrious career he has given worldwide performances that have included a White House State Dinner honoring Queen Elizabeth II, and at the presidential inauguration of President Obama. Mr. Perlman was awarded the Presidential Medal of Freedom, the highest civilian award in the United States. He is recognized for his major contribution in the artistry of music and as a beloved advocate for people with disabilities and special needs. He is know for his infectious smile, charming personality and witty sense of humor.
Just prior to Christmas Mr. Perlman treated his Sarasota fans with "In the Fiddler's House", a concert tribute to his Jewish heritage featuring Klezmer music. For those unfamiliar with Klezmer, it is to the Jewish people what Dixieland Jazz is to New Orleans. Klezmer is Jewish folk music played at celebrations and weddings and usually heavy on clarinet solos accompanied by cimbalom (hammered dulcimer), violin, accordion, trombone, bass). Perlman's band added a timpani, xylophone, piano, drums and trumpet. - lots of layers of wonderful sounds that come together beautifully. Klezmer is characteristic of expressive melodies meant to imitate human sounds such as laughter or weeping. It finds its influences in Greek, Hungarian, Ukrainian, Polish and Turkish roots.
For those of you who know Klezmer tunes, some of the favorites played were, "Tate Mama Tantz", "Shalom Aleichem", "Lorin's Nign", "Khaiterma", Adir Hu". Throughout the program an introduction to each song and it's meaning or history was expressed. The audience totally got into the music and danced in the isles a few times. I felt like I was at a Jewish wedding. It ended in an encore and 2 rousing standing ovations. What a night!
On the heels of Perlman's concert at the Van Wezel was the 15th anniversary for Winter Residency students at the Perlman Music Program Suncoast and it's concert held at the Sarasota Opera House. The Celebration Concert started with a performance by the Perlman Music Program Chorus, conducted by Patrick Romano with piano accompaniment by Elizabeth Schumann and featured the same musicians who would follow playing in the orchestra. A rare treat indeed! With the undergirding of a few professional sopranos, the chorus was remarkably strong in their performance. You would not expect that of instrumentalists. It was heartwarming to see Mr. Perlman join in the chorus as well.
Tough pieces such as "Hallelujah, Amen", from Judas Maccabaeus (Handel), "O, Susser Mai", Op. 93a (Brahms), that gloriously ended in the sound of angels singing, and one of my favorite pieces "And the Glory of the Lord" from The Messiah (Handel) received a well deserved long round of applause and a standing ovation. One of the students addressed the audience as to what depth she felt adding chorus to their repertoire brought to their performance. She stated it took the pressure off of being absolutely perfect when you are a part of a group of singers, you can relax and enjoy it and it builds a wonderful sense of camaraderie and friendship.
Prior to returning to the stage as an orchestra, another student came out to thank the audience for their support noting, as artists and musicians they need a supportive audience to give them a platform by which to rehearse and try new materials. When the musicians returned to the stage, they had their instruments in hand and Mr. Perlman took to the podium to conduct the 30-member string orchestra in Franz Schubert's String Quartet No. 14 in D Minor, D 810, "Death and the Maiden," arranged by Mahler. Perlman noted the Mahler arrangement added bass to this extremely difficult piece. There were three stand-up basses in the orchestra. Three females at the helm - Girl Power! Very few professional orchestras attempt this piece because of its difficulty. It was stunning. I can't imagine what the sheet music must have looked like - runs and runs of notes, upon run and runs of notes - a roller coaster of scales and articulations. The Presto ended on a dime after thousands of notes were hurled at the audience in this riveting piece. It was remarkable and ended with the audience immediately jumping to their feet in a thunderous ovation.
What a tribute to Itzhak and Toby Perlman for their love, passion and devotion in sculpting and inspiring the next generation of formidable artistry. Each and every one of these students can go anywhere with their career. The Perlman Music Program was founded by Toby Perlman who was a violin student at the Juilliard School in New York. While she enjoyed the learning experience, she disliked the competition that the intensity of the program established between students. The Perlman Music Program instead offers an educational environment reinforcing supportive camaraderie over competitive rivalry. Students come from all over the world to be embraced by this once in a lifetime opportunity. Prior to celebration concerts during Winter Residency offered in early January, the public has the opportunity to sit in on rehearsals, master classes and recitals.
This has been one of the most inspiring and delightfully, multi-faceted features I have ever covered. Mazel tov!
For more information on The Perlman Music Program visit www.pmpsuncoast.org. For more information on Mr. Perlman visit www.itzhakperlman.com.