Theatre Rhinoceros to Present Larry Kramer's THE NORMAL HEART
Theatre Rhinoceros presents THE NORMAL HEART by Larry Kramer, directed by John Fisher, at The Gateway Theatre, running November 3 - 25, 2017.
THE NORMAL HEART by Larry Kramer is a searing drama about public and private indifference to the AIDS plague and one man's lonely fight to awaken the world to the crisis. Produced to acclaim in NY, London and LA. Originally published in 1985 and celebrated in a passionate and eloquent 2011 Broadway revival.
THE NORMAL HEART follows Ned Weeks, a gay activist enraged at the indifference of public officials and the gay community. While trying to save the world from itself, he confronts the personal toll of AIDS when his lover dies of the disease.
THE NORMAL HEART is a Theatre Rhinoceros Premiere. It was last presented in SF by ACT in Sept. 2012. A made-for-TV film on HBO, directed by Ryan Murphy in May 2014, won two Emmy Awards, including Best TV Movie, and Best Supporting Actor (Matt Bomer).
The cast features Bay Area Actors: Jeremy Cole (Felix); Leticia Duarte (Emma); John Fisher (Director/Ned); Tim Garcia (Mickey); Jeremy Alan Howard (David/Hiram/Examining Doctor); Morgan Lange (Tommy); Benoit Monin (Bruce); Nick Moore (Craig/Grady); and Robert Zelenka (Ben).
On the creative team are: Dan Draper (Costume Designer); John Fisher (Director); Gilbert Johnson (Set Designer); Lawrence Helman (Publicist); Sean Keehan (Lighting Designer); Bert vanAalsburg (Set Construction); and David Wilson (Graphics/Ads/Photography).
Shows are Nov. 3 - 25, 2017 at The Gateway Theatre (formerly the Eureka Theatre), 215 Jackson St., (at Battery St.) SF, CA 94111- Embarcadero BART. Tickets $20 - $40 and available at www.brownpapertickets.com/event/3091258 or 1-800-838-3006. (All Previews are pay-what-you-wish at the door).
For more information, visit www.TheRhino.org or find the show on Facebook.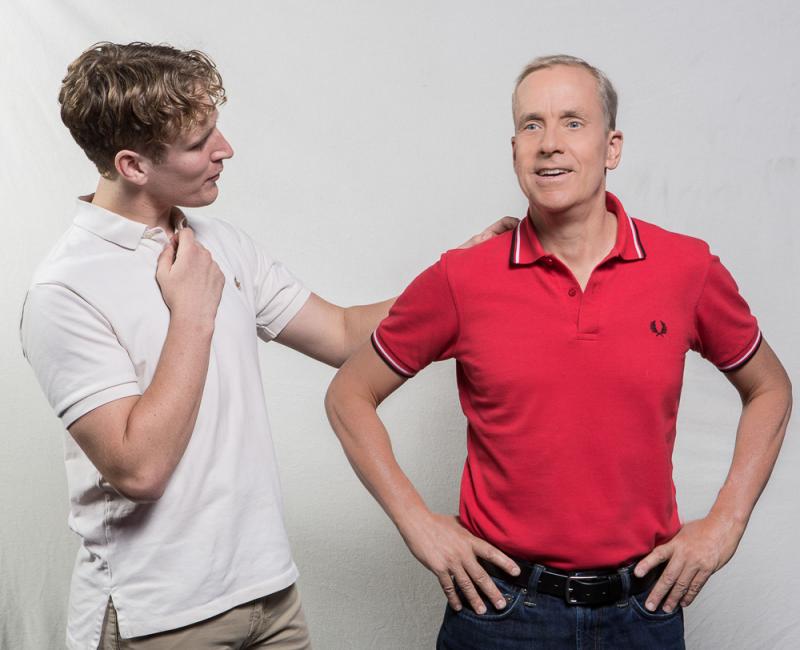 ABOUT THE ARTISTS:
John Fisher (Director / Ned)
Recent playwriting: Flim-Flam (March 2017); Shakespeare Goes to War (nominated for six 2016 Bay Area Theatre Critics Circle Awards) and To Sleep and Dream (2014 Bay Area Theatre Critics Circle Award Winner for Best Script.) He directed and acted in the TBA Award Recommended Productions of Breaking the Code (nominated for five 2016 Bay Area Theatre Critics Circle Awards) and Equus. In 2016 John received two nominations from the BATCC as Best Leading Actor for his performances in Shakespeare Goes to War and Breaking the Code. John is the only two-time winner of the Will Glickman Playwrighting Award for Medea: The Musical and Combat! His plays have been performed in NY, LA and across the USA. In Summer 2017 John directed Priscilla, Queen of the Desert for Theatre Rhino. John also appeared as Lear in Lear! in July 2017 and at the United Solo Festival in Manhattan in his one man show A History of World War II.
Larry Kramer (Playwright)
Larry Kramer, a writer and AIDS activist, is a founder of Gay Men's Health Crisis and ACT UP. His screenplays include the Oscar-nominated Women in Love, and his plays include the Obie-winning and Pulitzer finalist The Destiny of Me, and Tony Award-winning The Normal Heart, which was adapted into an Emmy Award-winning movie for HBO. His novels are Faggots (Award in Literature from the American Academy of Arts and Letters) and The American People: Volume 1: Search for My Heart. His political writings include the books, Reports from the holocaust and The Tragedy of Today's Gays. He is the subject of an HBO documentary Larry Kramer in Love and Anger. He was named a Master American Dramatist by the PEN/Laura Pels Int'l. Foundation for Theater. Volume 2 of The American People: The Brutality of Fact will be forthcoming from Farrar, Straus & Giroux. He recently received an honorary Doctor of Humane Letters from Yale. biography.yourdictionary.com/larry-kramer
Founded in 1977, The Rhino is the longest running LGBT theatre in the nation. We develop and produce works of theatre that enlighten, enrich, and explore both the ordinary and the extraordinary aspects of our queer community. Our emphasis is on new works, works about under-represented members of the larger queer community, and revivals of lesser known queer classics. Over the years Theatre Rhinoceros has received many awards of recognition including: Theatre Rhinoceros Day in the City Proclamation from Mayor Gavin Newsome, State Assembly Certificate of Recognition from Senator Mark Leno, recognitions from Congressperson Nancy Pelosi and Assembly Persons Tom Ammiano and Carole Migden, numerous Cable Car, BATCC and TBA Awards and Nominations, and the GLAAD Media Award for Best LGBT Theatre.