Click Here for More Articles on STUDENT CENTER - COLLEGE EDITION

THE WHO'S TOMMY Comes To Oakland University Stage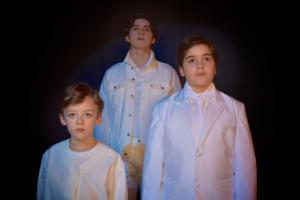 Oakland University's School of Music, Theatre and Dance will present The Who's Tommy, a fast-paced and exhilarating rock opera featuring a thrilling score by the legendary British rock band The Who, from March 21-24 and March 27-31 in the Varner Studio Theatre in Varner Hall.
Winner of five Tony Awards, Tommy was adapted by The Who's Pete Townsend and Tony Award-winning writer/director Des McAnuff. It premiered in 1992 at the La Jolla Playhouse and officially opened on Broadway in March of 1993. The musical was an immediate hit and went on to have a successful two-year run, and toured nationally.
"Set in the aftermath of World War II and spanning almost 25 years, the musical tells the story of 'Tommy,' a young boy who is rendered deaf, dumb and blind at the age of four after witnessing an act of domestic violence," said Director David Gram, an assistant professor of theatre at Oakland University.
"To me, the play is about healing and moving forward in the wake of physical and emotional trauma," Gram added.
Admission is $22 for the general public, and $12 for students and the 10 a.m. matinee. Tickets may be purchased online without service fees at startickets.com or by phone at (800) 585-3737. They can also be purchased at the Varner Hall Box Office on OU's campus.
"Being part of a rock opera is so exhilarating," said Mackenzie Grosse, who plays Mrs. Walker, Tommy's mother.
"She (Mrs. Walker) spends the majority of the show trying to understand what's wrong with her son," Grosse added. "She's a woman doing what she believes is best, blinded by her own ignorance. She's a complex human, filled with inconsistencies, just as we all are."
Joshua Frink plays her husband, Captain Walker, a British soldier who leaves his pregnant wife behind when he goes to fight in Germany during World War II. Walker is captured as a prisoner of war by the Nazis and held there for five years until American troops liberate the camp.
"He comes home to find his wife with another man, and a child that he had never met," Frink said. "He ends up killing his wife's lover in a fight and scarring Tommy because of it. The Captain and Mrs. Walker spend the next 16 years trying desperately to fix the damage they've caused, while also trying to maintain a relationship with each other."
For Frink, playing the role of Captain Walker has been the experience of a lifetime.
"It's meant the world to me," he said. "This show is absolutely beautiful and the cast has been great to work with. I've always wanted to do a rock musical, and getting to do it with some of my best friends has been an unforgettable experience."
The cast had a chance to practice their pinball skills last month courtesy of Sparks Pinball Museum - Arcade & Bar in Chesterfield, which allowed the cast to come and play pinball as a way to prepare for the show. The owners are also providing a Tommy pinball machine that will be on display in the lobby of Varner Studio Theatre during the run of the show.
Related Articles
More Hot Stories For You