THE GOLDEN GIRLS: THE CHRISTMAS EPISODES Returns to San Francisco this Holiday Season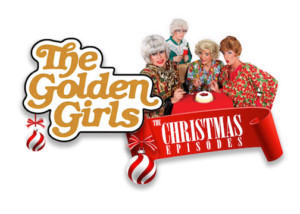 As the days become shorter and the crisp air signals the time when the Xmas sweaters are taken out of mothballs, it can only mean one thing. It's time for what has become a San Francisco tradition - the annual production of The Golden Girls: The Christmas Episodes. Performance Dates are Nov. 30 - Dec. 23, 2017 - 17 performances Only Thurs. Fri. & Sat. - 8:00 pm / Sun. - 7:00 pm, with Special Sunday Matinees Dec 10 & 17 2:00 pm.
Shows are at The Victoria Theatre, 2961 16th St. (btwn. Mission & Capp Sts.) SF, CA 94103. Tix $25-$40 available at: www.goldengirlssf.com
This year we are happy to announce that we are now offering assigned seating!
Now a full-fledged, eagerly-awaited San Francisco holiday institution - like the Nutcracker - only with better costumes and with more hilarity on stage than should be allowed. This loving send-up of two new Xmas episodes of the uproariously funny TV show THE GOLDEN GIRLS features San Francisco's leading drag comic performers, as they ring in the holiday with laughter and good clean fun in this TV parody for the whole family. The four drag stars playing the characters the entire world has come to know and love are Heklina (Dorothy), Matthew Martin (Blanche), D'Arcy Drollinger (Rose), and Holotta Tymes (Sophia). Manuel Caneri, Michael Phillis and Tom Shaw are also featured in the cast.
The Golden Girls: The Christmas Episodes is directed by Matthew Martin & D'Arcy Drollinger. Costumes by Daffney D'Luxe. Sets by Hector Zavala.
All ticket holders that purchase tickets for any show of The Golden Girls: The Christmas Episodes 2017 are offered free admission to Heklina's Saturday nightclub MOTHER at Oasis Sat. dates include Dec, 2, 9, 16, 23. Check out all the upcoming shows at www.sfoasis.com/mother
For Golden Girls fanatics and aficionados, the two new episodes being presented are:
Episode 1 - "Love Me Tender"
Sophia objects to Dorothy's "completely physical" relationship with a nondescript new lover. Blanche and Rose become pals to two motherless girls, who also happen to be juvenile delinquents.
Episode 2 - "It's a Miserable Life"
The girls campaign to save a 200-year-old oak tree in their neighborhood, but the tree is on the property of Frieda Claxton, a notorious grump. When Rose yells at her to "drop dead" in an angry moment, Mrs. Claxton dies then and there, and Rose is wracked with guilt feelings.
History of The Golden Girls: The Christmas Episodes
The Golden Girls: Live on stage in SF started performances in 2006 in the front parlor of a Victorian Mansion in the Western Addition. The shows quickly became more and more popular with the shows being performed twice annually - for a month every June and for a month each December. As The Golden Girls became more popular, they moved to larger quarters of sold out-runs at Mama Calizo's Voice Factory and then to CounterPULSE. In 2011 the show moved to the 500-seat Victoria Theatre, where it has enjoyed many great years to sold out houses.
The Golden Girls TV shows (which began airing 30 years ago) is an American sitcom, created by Susan Harris, that originally aired on NBC from Sept. 14, 1985, to May 9, 1992. It starred veteran TV actors Beatrice Arthur, Betty White, Rue McClanahan, and Estelle Getty. The Golden Girls received critical acclaim throughout most of its run and won several awards, including the Primetime Emmy Award for Outstanding Comedy Series twice. It also won three Golden Globe Awards for Best Television Series - Musical or Comedy. Each of the 4 stars received an Emmy Award (from multiple nominations during the series' run), making it one of only 3 sitcoms in the award's history to achieve this. The series also ranked among the 10 ten highest-rated programs for 6 out of its 7 seasons. In 2014, the Writers Guild Of America placed the sitcom at No. 69 in their list of the "101 Best Written TV Series Of All Time".
Cast Bios:
Heklina gained fame as the creator, promoter, and hostess of the legendary Trannyshack! She is a premier hostess for hire around San Francisco and, in addition to Trannyshack, has enjoyed success with her outdoor party at El Rio (with DJ Carnita and Stanley Frank), Daytime Realness. She has been seen on the E! Entertainment Network, NBC's"Trauma" "The Cho Show", VH1, "Playing it Straight", Comedy Central's "The Daily Show", BBC Television's "Around the World in 80 Raves", the Scissor Sister's "Filthy Gorgeous" video, and as a guest on the Jerry Springer and Ricki Lake shows. In 2011, Heklina introduced Britney Spears for Good Morning America. Theater credits include a starring role in the 2006 Theater Rhino production TROG!, producer and featured actor (in the role of Dorothy Zbornak) in the popular San Francisco Golden Girls plays, and producer and featured actor in Velvet Rage Productions (Sex And The City Live!, Roseanne, Friends Live!). She was voted Community Grand Marshal of the 2004 San Francisco GLBTQ Pride Parade, and was the subject of two documentaries in the 2005 Frameline SF Gay and Lesbian Film Festival. In 2009 she won the Pride Creativity Award for outstanding artistic contribution to the LGBT Community. She is thrilled to be part of a new chapter in SF nightlife, with the opening of the new venue Oasis and the launch of her new weekly show, Mother.
Matthew Martin (Blanche), a native San Franciscan, has been conjuring Bette Davis for many years in SF, NYC LA, and London stage productions including Awe About Eve, Hush Up, Sweet Charlotte, Whatever Happened to B.B. Jane?, and The Star. He starred in the film parodies Hush Up, Sweet Charlotte and Baby Jane?, which premiered in SF's Frameline Film Festival and was also recently featured in the documentary Queer Icon: The Cult of Bette Davis. He has starred in countless stage productions in SF including Theatre Rhino and multiple productions in town. MM wowed audiences in D'Arcy Drollinger's productions of Bitch Slap, Disastrous, Shit & Champagne, and Champagne White and the Temple of Poon. An actor, singer, dancer, director, choreographer and man of many faces and voices, Matthew has also incarnated Joan Crawford in a stage parody of her last film Trog, Katharine Hepburn, Judy Garland, Ann Miller, Jane Russell, Susan Hayward, Peggy Lee, Eartha Kitt, Mitzi Gaynor and many other stars of the Silver Screen. MM Has also appeared at many Marc Huestis' extravaganzas at the Castro Theater. As Blanche Devereaux, he has loved of working with his good friends in The Golden Girls since 2007.
D'Arcy Drollinger (Rose) is an actor, writer, director, choreographer, producer and entrepreneur. Drollinger's original works include: Bitch Slap, Disastrous, The Temple of Poon, Shit & Champagne, Mr. Irresistible, Project: Lohan, Scalpel!, The Possession of Mrs. Jones, Pink Elephants, Above and Beyond the Valley of the Ultra Showgirls, Suburbia 3000 and The Cereal Killers. D'Arcy is the co-owner of OASIS, voted San Francisco's best nightclub / cabaret. Other credits include: The Producers (first Broadway production), Hairspray the Musical (first Broadway production). D'Arcy continues to produce, direct and star in the long-running hit stage adaptation of Sex and the City Live. And can be seen as Frank-N-Furter in Ray of Lights yearly production of The Rocky Horror Show. D'Arcy is the creator of Sexitude, the body-positive, age-positive, sex-positive dance experience based in San Francisco. www.sexitude.com
Holotta Tymes (Sophia) is a female impersonator who was born in Michigan, but relocated to the Bay Area permanently at the age of five. She grew-up performing in local and touring musical theater companies. She started doing voice work for animated cartoons and commercials at very young age. She always enjoyed making people laugh by taking on a character. In her teens she wrote an all-male comedy version of Romeo and Juliet called "Me and Juliet." She toured the show for many years, playing the title role... of Juliet. She began performing at the legendary North Beach cabaret club Finocchio's in the early 90's until it closed at the end of 1999. Holotta describes herself as a female impersonator doing drag. She has crisscrossed the country, performed with some of the best in the industry, and wowed audiences during a career that has spanned 25 years and counting.