Click Here for More Articles on OPERA - SAN FRANCISCO
San Francisco Opera Announces Casting Update For Wagner's DER RING DES NIBELUNGEN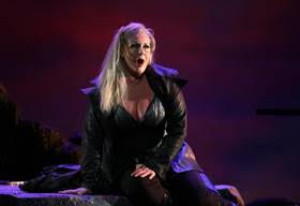 German soprano Evelyn Herlitzius, scheduled to make her San Francisco Opera debut as Brünnhilde in Wagner's Der Ring des Nibelungen (The Ring of the Nibelung), has withdrawn from the upcoming engagement due to health reasons. While San Francisco Opera regrets this casting change, the Company is honored to welcome in her stead the equally acclaimed Swedish soprano Iréne Theorin as Brünnhilde, the pivotal heroine of Wagner's magnum opus. A celebrated Brünnhilde, Theorin's engagement will mark her first complete Ring in the United States with three cycles of the work at the War Memorial Opera House, June 12-July 1, 2018.
In a personal statement from her home in Dresden, Evelyn Herlitzius wrote, "I regret very much that due to unforeseen health reasons, I am forced to withdraw from my Ring commitment to San Francisco Opera. I wish the company all success on this important presentation next month."
San Francisco Opera General Director Matthew Shilvock said: "It was with sadness that we learned on Monday of Evelyn's need to withdraw from the Ring cycle in San Francisco. She is an incredible artist whom I have been so honored to get to know over the past few years. We were very excited to have her debut on the War Memorial Opera House stage and hope to bring Evelyn here in the future. We wish her a full and speedy recovery."
Shilvock commented further: "To my great pleasure, we heartily welcome Iréne Theorin back to San Francisco Opera and I extend to Iréne my gratitude and admiration for her willingness to join us at this point in the process. Her portrayal as Turandot in 2011 gave us a preview of the thrilling, exhilarating and deeply affecting artistry that she will bring to the Ring. She is one of the leading Brünnhildes in the world and will be a sensational artistic partner as we take this journey down the Rhine. I am very appreciative to everyone-artists and audience alike-for their understanding as we make this change and am very excited for the performances ahead."
Among the cadre of elite dramatic sopranos who regularly perform the challenging roles of the German repertory, Iréne Theorin is one of the greatest Brünnhildes before the public today. She performed the role in Vienna State Opera's presentation of the Ring as recently as April 2018 and has won acclaim for her commanding portrayal of the heroic Valkyrie on the world's leading opera stages, including Milan's Teatro alla Scala; the Metropolitan Opera; London's Royal Opera, Covent Garden; Barcelona's Gran Teatre del Liceu; the Berlin State Opera; the Wagner Festival in Budapest; Oper Leipzig; Oper Köln; Semperoper Dresden and Tokyo's New National Theatre. Earlier this season, Theorin performed Isolde in Tristan und Isolde at Gran Teatre del Liceu, the title role of Elektra with the Royal Swedish Opera in Stockholm and made her highly-anticipated role debut as the Dyer's Wife in Strauss' Die Frau ohne Schatten at the Berlin State Opera. Her DVD recordings include Elektra at the Salzburg Festival, Götterdämmerung at Teatro alla Scala, Tristan und Isolde at Bayreuth and the award-winning Decca recording of The Copenhagen Ring, filmed at the Royal Danish Opera in 2006.
In 2009, Theorin made her Metropolitan Opera debut as Brünnhilde in the Company's final revival of Otto Schenk's Ring production. Appearing on short notice in relief of an ailing colleague, Theorin was praised by the New York Times for her "... impassioned intensity and the nobility of her phrasing ... A born actress, she movingly conveyed Brünnhilde's transition from a warrior maiden mortified by the loss of her godhood to a vulnerable woman hopelessly in love." A few weeks after her performances in Die Walküre and Siegfried at the Met, Theorin, again, won plaudits as the heroic Valkyrie -"a radiant, fearless, golden-haired Brünnhilde" (New York Times)-in Francesca Zambello's production of Siegfried at Washington National Opera.
Stepping into the role of Brünnhilde for the June 2018 presentations of Wagner's fabled work in San Francisco will be a reunion for Theorin with both Zambello's production and San Francisco Opera. She made her Company debut in the title role of Puccini's Turandot on opening night of the 2011-12 Season. The San Francisco Chronicle said: "Iréne Theorin provided a reminder of just how alluring this icy Chinese princess can seem when her music is sung with grandeur, depth and emotional vigor. A role that is too often delivered in piercing shrieks turned into a showcase for vocal expressiveness and even subtlety."
With today's announcement, Theorin is poised to join the pantheon of sopranos who have performed Brünnhilde on the War Memorial Opera House stage beginning with Kirsten Flagstad in the Company's first Ring in 1935. The august list also includes Marjorie Lawrence, Helen Traubel, Astrid Varnay, Gwyneth Jones, Eva Marton, Janis Martin, Hildegard Behrens, Jane Eaglen, and Theorin's fellow Swedes, Birgit Nilsson, Berit Lindholm and Nina Stemme.
San Francisco Opera's visionary Ring production by American director Francesca Zambello, a co-production with Washington National Opera, features an extraordinary cast including Greer Grimsley (Wotan), Daniel Brenna in his Company debut (Siegfried), Karita Mattila (Sieglinde), Brandon Jovanovich (Siegmund and Froh), Jamie Barton (Fricka, Waltraute and Second Norn) and the Company debut of Falk Struckmann (Alberich). Esteemed Wagnerian conductor Donald Runnicles leads the San Francisco Opera Orchestra and Chorus in this epic presentation of Wagner's Ring tetralogy of Das Rheingold, Die Walküre, Siegfried and Götterdämmerung.
The three Ring cycles are scheduled for June 12-17, June 19-24 and June 26-July 1, 2018. For tickets to individual performances and complete cycles, visit sfopera.com, call (415) 864-3330 or visit the San Francisco Opera Box Office in the War Memorial Opera House at 301 Van Ness Avenue in San Francisco. Box Office hours are Monday 10 a.m.-5 p.m.; Tuesday through Saturday 10 a.m.-6 p.m.