Click Here for More Articles on CIRQUE DU SOLEIL
Photo Flash: AURELIA'S ORATORIO at Berkeley Rep
Berkeley Repertory Theatre is currently presenting the theatrical spectacular, Aurélia's Oratorio this holiday season. Aurélia Thierrée grew up in the circus and has charmed audiences around the world with this display of stage illusion. The show was conceived and directed by Aurélia's mother, Victoria Thierrée Chaplin, who - along with her husband, Jean Baptiste Thierrée - created Cirque Bonjour, Cirque Imaginaire, and Cirque Invisible, innovative troupes that inspired Cirque du Soleil. Performed in the state-of-the-art Roda Theatre, Aurélia's Oratorio opens December 9 and closes January 24.
"At Berkeley Rep, we always try to schedule something special for the holidays - not your predictable seasonal fare, but something uniquely enjoyable and theatrical. Aurélia's Oratorio perfectly fits the bill," says Tony Taccone, the Theatre's artistic director. "This show draws on traditional circus techniques to create an ingenious and unexpected evening that is equal parts wit and wonder. We look forward to introducing it to local audiences."
With Aurélia's Oratorio, the impossible happens before your eyes. Behind the velvet curtain lies a surreal world of surprises, a topsy-turvy time of tricks and transformations. With dancing, puppetry, acrobatics, and more, Aurélia's Oratorio is an inventive adventure set to a quirky score of chamber music and gypsy jazz. Berkeley Rep unveils this 70-minute spectacle - a concoction of mystery and fantasy for the whole family - with ArKtype Productions in association with Crying Out Loud UK.
The executive producers for the local run are Shirley D. and Philip D. Schild, the Strauch Kulhanjian Family, and Jean and Michael Strunsky. Production sponsors include the Bernard Osher Foundation and the Ira and Leonore Gershwin Philanthropic Fund. Season sponsors for Berkeley Rep's 41st year of fearless theatre are BART and Wells Fargo.
Aurélia Thierrée has been performing on stage since early childhood. She began her career in her parents' Cirque Imaginaire and Cirque Invisible, during which time she learned to combine a developing sense of the surreal with the demands and discipline required. In recent years she has worked with a diverse array of film artists, including Jacques Baratier, Milos Forman, and Coline Serreau. For several years, she toured with the Tiger Lillies in The Tiger Lillies Circus. She has also worked in cabaret and variety and shows, primarily in Berlin. With Victoria Thierrée Chaplin, Aurélia collaborated to create Aurélia's Oratorio for the stage, inspired by medieval drawings that depict worlds upside down and inside out.
In 1970, Victoria Thierrée Chaplin joined up with actor and director Jean Baptiste Thierrée, who dreamed up a new style of circus and invented Cirque Bonjour. In 1971, Cirque Bonjour was invited to the Festival d'Avignon and toured France, with Victoria's participation gradually increasing. The couple then moved toward a more personal style of circus: Cirque Imaginaire was born with just them, and their two kids, Aurélia and James, on stage. Cirque Imaginaire toured the globe. Cirque Invisible, their next show, was also seen worldwide. Recently, Victoria worked with her son on the design and costumes for his productions Au Revoir Parapluie, Junebug Symphony, and La Viellée des Abysses. And now, Aurélia's Oratorio is Victoria's creation with her daughter.
The performance also features Jaime Martinez, recipient of a 1998 New York Dance and Performance Bessie Award honoring his achievements in dance. He was a founding member of The Parsons Dance Company in 1987 and has taught over 400 master classes, including residencies at The Juilliard School, North Carolina School for the Arts, NYU's Tisch School of the Arts, Southern Methodist University, and SUNY Purchase. Martinez has staged numerous works by David Parsons for such distinguished companies as Ballet du Rhin, Ballet National de Nancy, Les Ballets Jazz de Montreal, Carte Blanche Dance Company of Norway, Company C, Milwaukee Ballet, New York City Ballet, Pennsylvania Ballet, and Roland Petit Ballet National de Marseille. He is a founding member of Mark Dendy Dance & Performance and has also worked with Robin Becker, Lisa Giobbi, Pearl Lang, Diane Martell, Ruby Shang, Uris/Barr and Dancers, Douglas Wright, and Pooh Kaye's Excentric Motions.
Aurélia's Oratorio was designed by Victoria Thierrée Chaplin (sound and stage design), Laura de Bernadis and Philippe Lacombe (lighting design), and Victoria Thierrée Chaplin, Jacques Perdiguez, Veronique Grand, and Monika Schwarzl (costume design).
Individual tickets for the Oratorio start at $27. Additional savings are available for groups, seniors, students, and anyone under 30 years of age for as low as $13.50.
The Roda Theatre is located at 2015 Addison Street, near bus lines, bike routes, and parking lots - and only half a block from BART. To purchase seats, or for more information on performance schedules and events surrounding Aurelia's Oratorio, call (510) 647-2949 or toll-free at (888) 4-BRT-Tix - or simply click berkeleyrep.org.
Born in a storefront, Berkeley Rep has moved to the forefront of American theatre - and is still telling unforgettable stories. In four decades, four million people have enjoyed more than 300 shows at Berkeley Rep, including 52 world premieres. In the last four years alone, Berkeley Rep has helped send four shows to Broadway: Bridge & Tunnel, In the Next Room (or the vibrator play), Passing Strange, and Wishful Drinking. Founded in 1968, the Theatre quickly earned respect for presenting the finest plays with top-flight actors. In 1980, with the support of the local community, Berkeley Rep built the 400-seat Thrust Stage where its reputation steadily grew over the next two decades. It gained renown for an adventurous combination of work, presenting important new dramatic voices alongside refreshing adaptations of seldom-seen classics. In recognition of its place on the national stage, Berkeley Rep was honored with the Tony Award for Outstanding Regional Theatre in 1997. The company celebrated by unveiling a 600-seat proscenium stage in 2001, the state-of-the-art Roda Theatre. It also opened the Berkeley Rep School of Theatre, a permanent home for its long tradition of outreach and education programs. The addition of these two buildings transformed a single stage into a vital and versatile performing arts complex, the linchpin of a bustling downtown arts district which has helped revitalize Berkeley. The Theatre now welcomes an annual audience of 180,000, serves 20,000 students, and hosts dozens of community groups, thanks to 1,000 volunteers and more than 400 artists, artisans, and administrators.
Photos by Richard Haughton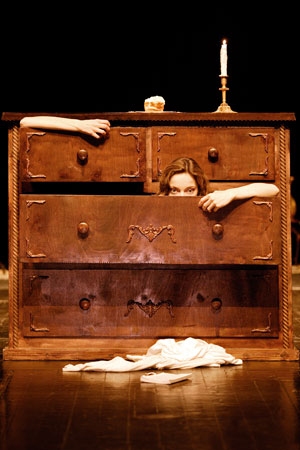 Aurelia Thierree

Aurelia Thierree

Aurelia Thierree

Aurelia Thierree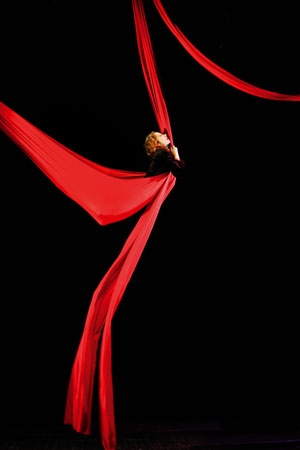 Aurelia Thierree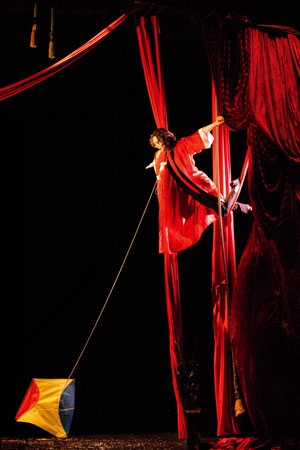 Aurelia Thierree
Related Articles
More Hot Stories For You