New Season of The Speakeasy Opens Feb. 21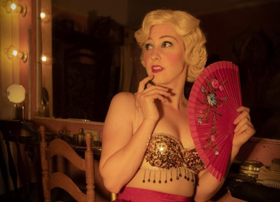 Boxcar Theatre has announced details for the new season of its hit immersive show, The Speakeasy, with an opening date of Thursday, February 21. The revamped show, titled THE SPEAKEASY: AGE OF SCOFFLAWS, turns the clock forward from 1923 to 1927 with a host of new storylines and cabaret numbers. Previews for the season begin this Thursday, January 31 and run through February 16. Press are invited to attend on February 21 and dates following. Show nights are Thursdays, Fridays and Saturdays, with entry times between 7:30 p.m. and 8:20 p.m. Tickets, $79 - $145, are now on sale through May 18. To purchase, visit thespeakeasysf.com/reservations.
"In 1927, Charles Lindbergh flew from New York to Paris, marking the world's first solo transatlantic flight; it was the year that made Clara Bow the embodiment of the modern flapper known as 'The It Girl'; and Al Jolson starred in the first 'talking picture,' ending the era of silent movies," said Nick A. Olivero, creator of TheSpeakeasy. "By moving the clock forward four years, from 1923 to 1927, TheSpeakeasy is tapping into the decade's famous optimism, even as Prohibition remained in full effect."
"This season, audiences can expect more music, more comedy and more good cheer."
While many characters from the original show have been laid to rest, several favorites - Miss Velma Louise Cole, the resident chanteuse; Eddie, the emcee; and Sal, the club owner - remain. Audiences may also look forward to many new faces in the cast.
In addition to Olivero, returning directors include Michael French and Leah Gardner, alongside choreographers Elizabeth Etler and Kimberly Lester, and music director Joe Wilcockson. The Speakeasy welcomes new costume designer Ralph Hoy.
In keeping with historical speakeasies of the 1920s, the address of The Speakeasy will remain undisclosed to ticket buyers until the day before the event. At that time patrons will receive a text or email providing instructions.
Boxcar Theatre was co-founded in 2005 by Nick A. Olivero, and has produced over 60 plays and musicals including Hedwig and the Angry Inch, Little Shop of Horrors, Clue, three Tennessee Williams plays in repertory and four Sam Shepard plays in repertory. It has also been the home for such companies as Crowded Fire and the Neo-Futurists as well as dozens of other emerging groups over the years. In 2007, the company opened its first venue, the Boxcar Playhouse, in San Francisco's SoMa district, and in 2010 their second space, the Boxcar Studios, in the Tenderloin. The company is currently located in The Palace Theatre, a multimillion-dollar space designed to present Boxcar's marquee show, The Speakeasy, which opened in its current form in fall 2016.
Related Articles View More San Francisco

Stories

Shows
More Hot Stories For You