Click Here for More Articles on OPERA - SAN FRANCISCO
Composer John Adams Awarded San Francisco Opera Medal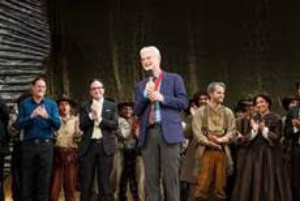 Immediately following the November 21 world premiere of his opera, Girls of the Golden West, composer John Adams was presented with the San Francisco Opera Medal by Company General Director Matthew Shilvock. With the opening night audience in attendance and surrounded onstage by members of the cast and creative team for his new work set during the tumultuous California Gold Rush, the internationally renowned composer, conductor and Berkeley resident received San Francisco Opera's most esteemed award.
Shilvock said: "Never before has the San Francisco Opera Medal-our highest recognition of artistic accomplishment over an extended period of time-been awarded to a composer. But never before have we had a composer who has been quite as deeply a part of this company's artistic legacy as John Adams." The general director then addressed Adams directly: "On this auspicious evening we all come together to celebrate you, to honor you, and to recognize the transformative nature of your art."
"I feel so deeply privileged to have my work brought to life by all of the people that are in front of you here," said Adams, "the marvelous orchestra, these incredible singers, Grant Gershon my wonderful, longtime conductor ... I could go on and on. It's been a lifetime leading up to this." Adams turned to Peter Sellars, the librettist and director of his new opera and artistic collaborator for over 30 years and said: "Every note I get credit for, I share half of it with Peter Sellars."
The composer commented on his newest opera: "When word came out about what this opera was about, people said 'well, that's not a John Adams opera. He's written about presidential politics, terrorism and the invention of the atomic bomb.' But Girls of the Golden West is very much about right now. What gives me hope is that I live in California. Maybe, just maybe, you might have witnessed, at least for the time being, a California opera. That's something we can all celebrate."
Adams occupies a unique position in the world of American music. His works, both operatic and symphonic, stand out among contemporary classical compositions for their depth of expression, brilliance of sound and the profoundly humanist nature of their themes. Adams' works span more than three decades and many of his compositions are among the most performed of all contemporary classical music, including Harmonielehre, Shaker Loops, Chamber Symphony, Doctor Atomic Symphony, Short Ride in a Fast Machine, his Violin Concerto and Sheherazade.2. Adams' stage works, all in collaboration with Sellars, include Nixon in China (1987), The Death of Klinghoffer (1991), El Niño (2000), Doctor Atomic (2005), A Flowering Tree (2006), the Passion oratorio The Gospel According to the Other Mary (2012) and Girls of the Golden West (2017).
Adams' collaboration with San Francisco Opera began in 1992 with the West Coast premiere of The Death of Klinghoffer, Adams' second opera co-commissioned by San Francisco Opera and which featured a libretto by Alice Goodman and direction by Peter Sellars. In 2005, San Francisco Opera commissioned Adams to compose Doctor Atomic, a work about Robert Oppenheimer and the creation of the atomic bomb with a libretto by director Sellars. Adams' first opera, Nixon in China, featuring a libretto by Goodman and direction by Sellars, had its world premiere at Houston Grand Opera in 1987 and was presented at San Francisco Opera for the first time in 2012 in a production by Michael Cavanagh.
Inaugurated in 1970 by former General Director Kurt Herbert Adler, the San Francisco Opera Medal is awarded at the discretion of the Company for artistic integrity, collegiality and distinguished service to San Francisco Opera. Past recipients of the Opera Medal include sopranos Dorothy Kirsten, Joan Sutherland and Renée Fleming; mezzo-sopranos Frederica von Stade and Susan Graham; tenor Plácido Domingo; baritone Thomas Stewart; conductors Donald Runnicles, Sir Charles Mackerras, Nicola Luisotti; directors John Copley and Francesca Zambello; and Chorus Director Ian Robertson. The most recent recipient was San Francisco Opera Music Director Nicola Luisotti, who was awarded the Opera Medal on opening night of the 2017 Fall Season. John Adams is the first composer to receive the Opera Medal in Company history.