California Premiere Of Red Scare Drama FINKS Opens At TheatreWorks This June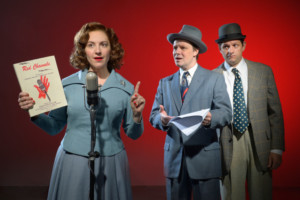 TheatreWorks Silicon Valley presents Bay Area audiences with the California Premiere of FINKS, a comic drama based on the true story of comedian/actor Jack Gilford directed by TheatreWorks Director of New Works Giovanna Sardelli. With the 1950s Red Scare in full swing, the House Un-American Activities Committee attacks "subversion" in the arts. When a romance blossoms between rising comic Mickey and firebrand actress Natalie, they face being blacklisted along with their friends and fellow artists. Written by Jack's son, playwright/screenwriter Joe Gilford, this engaging play shares the story of targeted individuals in the entertainment industry suddenly faced with losing their careers, or being branded forever as "finks." For tickets ($40-$100) and more information the public may visit TheatreWorks.org or call (650) 463-1960.
FINKS made its world premiere in 2008 at New York Stage & Film's Powerhouse Theater at Vassar College. In 2013, the production made its New York premiere at the Ensemble Studio Theatre with Giovanna Sardelli at the helm, who returns to direct it at TheatreWorks. The drama earned two Drama Desk Award nominations, including Outstanding Play, as well as the Off-Broadway Alliance Best New Play award. FINKS was named a New York Times Critics' Pick, which hailed it "a bracing play about McCarthyism" and a "fine production" while the New York Post called the period piece "a son's loving tribute to his courageous parents."
TheatreWorks has assembled a remarkable cast for this production. Jim Stanek makes his TheatreWorks debut as comedian Mickey Dobbs. He has performed on Broadway in many productions including Fun Home, Lestat, Little Women, and A Funny Thing Happened on the Forum, and performed Off-Broadway at Second Stage Theater, Manhattan Theatre Club, and others. Stanek has regionally performed at the Kennedy Center, Curran Theatre, McCarter Theatre Center, Hartford Stage, La Jolla Playhouse, and many more and has been seen on many television shows including CBS' As the World Turns and Guiding Light. Also making her TheatreWorks debut is Donna Vivino as the actress and activist Natalie Meltzer. She has been seen in several Broadway productions including Wicked, Hairspray, Les Miserables, and others and regionally performed throughout the country at the Wallis Annenberg Center for the Performing Arts, Philadelphia Theatre Company, St. Louis Municipal Theatre, Magic Theatre, among others. She has also been in several television and film projects with CBS, HBO, and ABC.
Leo Ash Evens returns to the role of the choreographer Bobby after appearing in the New York premiere of FINKS. He has performed on Broadway and London's West End in productions of School of Rock, Jesus Christ Superstar, and the 2008 revival of West Side Story as well as the 50th anniversary tour of West Side Story. Evens returns to TheatreWorks after appearing in Somewhere as Jaime McRae. He has regionally performed with The Old Globe, Theatre Under Stars, and Pittsburgh Musical Theater, among others. Gabriel Marin also returns to TheatreWorks as the painter and actor Fred for this drama. He was last seen in TheatreWorks' production of Superior Donuts as Luther. He has performed regionally with Kansas City Repertory, American Conservatory Theater, Magic Theatre, San Jose Repertory Theatre, San Francisco Playhouse, Aurora Theatre Company, Marin Theatre Company, and many others.
Playing the Chairman of the House Committee on Un-American Activities Representative Francis Walter is Robert Sicular. He returns to TheatreWorks where he was last seen as Nathan in Warrior Class. He has performed regionally with the Denver Center Theatre, Oregon Shakespeare Festival, Seattle Repertory Theatre, Actors Theatre of Louisville, as well as with local companies including Marin Theatre Company, Berkeley Repertory Theatre, American Conservatory Theater, California Shakespeare Theater, and others. Making his TheatreWorks debut is Michael Barrett Austin as attorney Victor Lynch. He was last seen on Bay Area stages at Hillbarn Theatre's recent production of The Elephant Man, and was recently in 42nd Street Moon production of Me and My Girl. He has performed locally with Berkeley Repertory Theatre, San Jose Stage Company, San Francisco Playhouse, Magic Theatre, Berkeley Playhouse, Pear Avenue Theatre, and others.
Richard Frederick returns to TheatreWorks where he was last seen in Jane Austen's EMMA as Mr. Weston, as well as other TheatreWorks productions including The Light in the Piazza and Opus. He has performed regionally with American Conservatory Theater, San Francisco Playhouse, 42nd Street Moon, Theatre Three, Casa Mañana, and several others. Also back on the TheatreWorks stage is Theatre Bay Area Award winner George Psarras as the Pianist. He was last seen in TheatreWorks' production of Water by the Spoonful as Aman, and has performed in other TheatreWorks productions such as The Elephant Man, and Anna and the Tropics. He has performed locally with City Lights Theater Company and Crowded Fire Theater, among others.
Director Giovanna Sardelli is TheatreWorks' Director of New Works and has directed and developed plays all throughout the country, including ten Off-Broadway plays within ten years. Sardelli directed TheatreWorks' 2016 productions of The Velocity of Autumn and The Crimes of the Heart, the 2015 production of Pulitzer Prize-nominee Rajiv Joseph's The Lake Effect, the 2013 production of Somewhere by rising star Matthew Lopez, the company's 2011 world premiere of Joseph's The North Pool. Besides her well-received productions with TheatreWorks, Sardelli also directed the world premiere of Theresa Rebeck's Dead Accounts, and Rajiv Joseph's first professional production, Huck & Holden, as well the world premieres for his All This Intimacy, The Leopard and the Fox, The North Pool, and Animals Out of Paper for which she was awarded the Joe A. Callaway Award for Best Direction. Sardelli will return in the 2018/2019 TheatreWorks season to direct the Northern California premiere of Joseph's Archduke in June 2019.
Joe Gilford (Playwright) has worked in film, television and theatre, as a producer, writer and director for more than 35 years. He has taught screenwriting at New York University's (NYU) Tisch Undergraduate Film department since 1999. Gilford's plays have been produced or presented at Naked Angels Theater Co., Roundabout Theatre Company, Circle Rep Lab, New York Stage & Film, The Westbank Downstairs Theater, Southampton Writers Workshop and Todd Mountain Theater Project. He is a longtime member of Ensemble Studio Theatre and its Playwrights Unit. He worked as a stage director for many years before turning to writing. His other plays include The Radio Boys, Danny's Brain, as well as several screenplays such as The Sit Down, God's Thumbprint. He has had a long career producing television documentaries, winning a New York Emmy Award for his work on WNET-NY's (PBS) "City Arts" series. He has also been a writer and producer at Showtime, Bravo, Court TV, F/X, and New York's MSG MetroGuide channel and is the creator and writer of "Game," a new digital animation comedy series. Gilford earned his BFA at NYU's Institute of Film & TV where he wrote and directed Max, a short film starring his father, Jack Gilford, playing film festivals and television all over the world.
With some 100,000 patrons per year, TheatreWorks Silicon Valley has captured a national reputation for artistic innovation and integrity, often presenting Bay Area theatregoers with their first look at acclaimed musicals, comedies, and dramas, directed by award-winning local and guest directors, and performed by professional actors cast locally and from across the country.
More Hot Stories For You