Breach Once More Presents RABBIT HOLE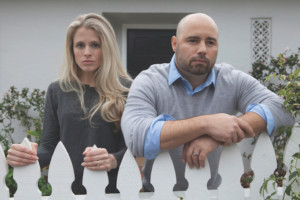 Rabbit Hole is the first production of Breach Once More 2018-2019 season. Rabbit Hole is a family drama that charts a grieving family through a empathic search for comfort in the darkest of places and a path that will lead them back into the light of day. Becca and Howie Corbett have everything a family could want, until a life-shattering accident turns their world upside down and leaves the couple drifting perilously apart. The entire family finds themselves lost as they attempt to recovery from the loss of their son. The Corbett's have become strangers in their own home; inhabiting isolated space.
Cast members include Steve Bologna (Breach Once More Artistic Director), Amber Collins-Crane, Mary Price Moore, Mia Romero, and Hector Mendez. Managing Director Lauren Burgat and Company Manager Sara Ramos.
The original Rabbit Hole production was the recipient of the 2007 Pulitzer Prize for Drama. Rabbit Hole's original Broadway cast included Cynthia Nixon (Sex in the City) and John Slattery (Mad Men). It was directed by Drama Desk award-winning Director, Daniel Sullivan. It was adapted into a motion picture starring Nicole Kidman, Aaron Eckhart, and Dianne Wiest.
"It's a unique window into the grieving process. The struggle it places on all our interpersonal relationships; husband-wife, mother-daughter, sister-sister and even the grief it places on a teenage boy who accidentally killed a child," said Lauren Burgat. "The audience engages in therapy alongside us, they grieve, hope and hopefully achieve the same catharsis the characters do."
Steve Bologna states, "Family Dramas seldom deal with the death of a child, being paramount to the plot. The weight of that on any family, forces the audience to grieve with them. Regardless of where you are in the world, your station in life, your socioeconomic status you can feel deep sympathy, and have hope that the family can overcome one of life biggest hurdles. YET, the play makes us laugh, as only moments of high stress can."
More About BREACH ONCE MORE:
Breach Once More is a non-profit founded in 2012 by San Francisco State alumni: Steve Bologna, Lauren Burgat, and Sara Ramos. The Breach Once More collaborative group of artists wanted to create a place where the creative momentum accrued while completing their respective masters and bachelor degrees in Drama. Breach Once More was founded on the principle that it would be that stepping stone between semi-professional towards the coveted title of professional theatre. This is a place where recent college graduates and talented aspiring artist can work alongside seasoned theatre professionals. Breach Once More strives to produce professional quality, thought-provoking work for all aspiring theatre artists within the Bay Area.
Breach Once More is dedicated to producing plays that are rich with emotion, from deep despair to unbridled hope and joy. Their goal is to illuminate the complexities of the human condition with the hope of awakening feelings of empathy while providing generous entertainment....from "traditional" theatre to "mash-ups" including immersive theatre variety acts and cabaret. They strive to define theatre differently, so that they may resonate with new audiences in a new era.
The 2nd production of the Breach Once More season is Much Ado About Lebowski and then they run Breach Once More Variety Series which is a culmination of staged readings, stand-up, sketch, variety, one act plays, and cabaret.
David Lindsay-Abaire: Playwright
David Lindsay-Abaire currently resides in Brooklyn, NY. He studied theatre at Sarah Lawrence College and was later accepted into Lila Acheson Wallace American Playwrights Program at Juilliard where he worked under the tutelage of Christopher Durang. He is a member of The Dramatists Guild, New Dramatists, and the Writers Guild of America. He was awarded the 2008 Ed Kleban Award as America's most promising musical theatre lyricist. Lindsay-Abaire's plays have been produced around the world, from the Manhattan Theatre Club to the Arts Theatre on London's West End, among many others. His works include Fuddy Meers (winner of the L.A. Drama Critics Circle Award, Kesselring Prize, and Garland Award), Kimberly Akimbo, A Devil Inside, Wonder of the World, and Rabbit Hole (winner of the Pulitzer Prize for Drama, 2007). Before Rabbit Hole, Abaire was primarily known for his off-the-wall comedies, filled with sprinkles of truth among extreme absurdity. Currently he is working on the musical adaptations of High Fidelity and Shrek.
Michael Barr: Director
Michael Barr has worked throughout the Bay Area with companies such as TheatreFIRST, PASCo, Crowded Fire, Willows Theatre, Shakespeare at Stinson, Livermore Shakespeare Festival, California Conservatory Theatre, Pear Avenue Theatre, SF Shakes, and Project Artaud, among others. Michael was a company member of Porchlight Theatre, where he was seen in Scapino!, Our Country's Good, and Three Sisters. He was the Education Director and a Company Member of Napa Valley Repertory Theatre from 2002-2005. Michael holds a M.F.A. from Shakespeare Theatre Company's Academy for Classical Acting at The George Washington University and a B.F.A. from the Greer Garson Theatre Center at the College of Santa Fe, and has studied theatre in London with the Ithaca College London Center, and in Cambridge, MA with the Moscow Art Theatre's Stanislavski Summer School.
Steve Bologna as Howie:
Steve Bologna is an Actor, Director, Producer and Fight Choreographer. Bologna has worked for several Bay Area and Los Angeles theaters alongside film production companies: Including N.C.T.C, Palo Alto Players, Ray of Light Theatre, Theatre Asylum and San Francisco Playhouse, to name a few. He has a M.A. and B.A. in Theatre Arts from San Francisco State. Bologna serves as Artistic Director of Breach Once More and co-founded Into the Breach Theatre Company in 2004.
Amber Collins Crane as Becca
Amber Collins Crane worked in theatre, television and film in NYC, LA, and in regional theatres such as Actors Theatre of Louisville and Berkshire Theatre Festival before making Marin her home. Amber's last collaboration with Breach Once More was as Agnes in Bug. Some other favorite Bay Area credits include Blanche in Streetcar Named Desire, May in Fool for Love, April in Savage in Limbo, and Birdie in Little Foxes. Crane received her B.A. in Theatre from Hollins University and trained with Michael Howard Studios in New York and Anne Bogart of the Siti Company. Crane is also a clinical psychologist in private practice.
Mary Price Moore as Nat:
Mary Price recently joined Breach Once More. She was last
seen in The Uncanny Valley at the Pear Theatre in Mountain View. Her nuanced performances have garnered her awards for both comedy and drama. Moore was honored with two prestigious Subscriber Choice Awards at the Hillbarn Theatre in both genres. Members voted her "Best Actress" for her role as Chris Gorman in the wacky farce, Rumors, and "Best Actress" again as M'Lynn in the poignant drama, Steel Magnolias. Other Bay Area appearances include: The Columnist (Susan Mary Alsop) at Dragon Productions,
Boeing Boeing (Berthe) at Palo Alto Players, The Quality of Life at
The Pear Theatre, and Distracted (Mama) at Portola Valley Conservatory Theatre. Moore also works in film and was on the red carpet at the SXSW premiere for the movie M.F.A. (2017).
Mia Romero as Izzy:
Mia Romero is a graduate of the American Academy of Dramatic Arts in New York City. In 2009, several of her poems were adapted into plays, one entitled The Threadbare Sex, which ran at the Manhattan Theatre Source and Manhattan Repertory Theatre. She recently directed and produced the World Premiere of Sex, Cynicism and Other Small Miracles at the EXIT Theatre and was a BestBet at the New York International Fringe Festival. Her theatrical roles include Gabriela, in References to Salvador Dali Make Me Hot, Anna in Closer, the Bride in Blood Wedding and Celestina in Cloud Tectonics. She was last seen as Carmen in The Nance at New Conservatory Theatre. She is the founder of Red Lips Woman Productions, which produces empathetic, engaging theater to inspire a better world. She is currently at work on a new play. www.miaromero.com
Hector Mendez as Jason:
Hector Mendez attends San Francisco State University. He has previous experience and involvement with A.C.T, however this is his acting debut in San Francisco.
Related Articles View More San Francisco

Stories

Shows
More Hot Stories For You