BWW Review: Transcendence Theatre's 'Broadway Under the Stars' Triumphantly Climbs the 'Stairway to Paradise'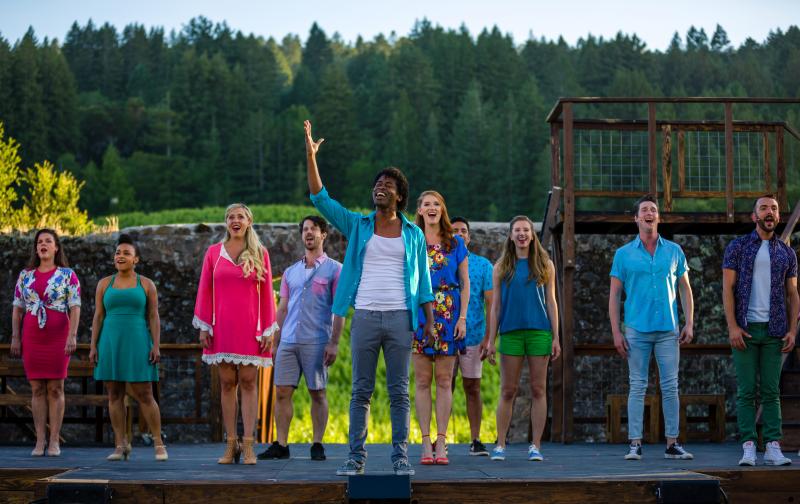 "Every Moment Counts" as Creative Director/Choreographer Tony Gonzalez reminds us to embrace the sights and sounds and soak up every second of life as we climb the "Stairway to Paradise" -- the theme of this year's 'Broadway Under the Stars' by the incomparable Transcendence Theatre Company.
Now in its seventh year and going stronger than ever, opening night was a huge success as 'Broadway Under the Stars' once again presented a wide musical mix of Broadway standards, movie soundtrack numbers, rock classics and more. From "Edelweiss" (THE SOUND OF MUSIC) to "Oklahoma" (OKLAHOMA!) to "Can't Stop The Feeling" (Justin Timberlake) and "Right Now" (Van Halen), you are sure to connect with the musical variations in this year's stellar production.
The devastating fires this past October reminded the cast to come together and celebrate every moment of life, taking nothing for granted and savoring magical times through music. Co-Executive Director Brad Surosky recounts the personal impact of that moment, reminiscing:
"The fires made a huge impact on the theme. You really never know what the next moment has in store. Amy [Miller] and I went to bed and woke up to fires coming toward our home and having to evacuate in two minutes. It was just a reminder that every moment certainly counts. The performers care so much about Transcendence and the Sonoma Community and have stepped up big time in many ways to make sure the community was able to come together again and be inspired."
Artistic Director/CEO/Artist Amy Miller said during an interview, "I am grateful that our art has been a source of inspiration and revitalization during this time. Experiencing such a tragedy has allowed us all to center in the present moment and truly channel all of the energy in our hearts to create art that will uplift the spirits of this community that we love so much."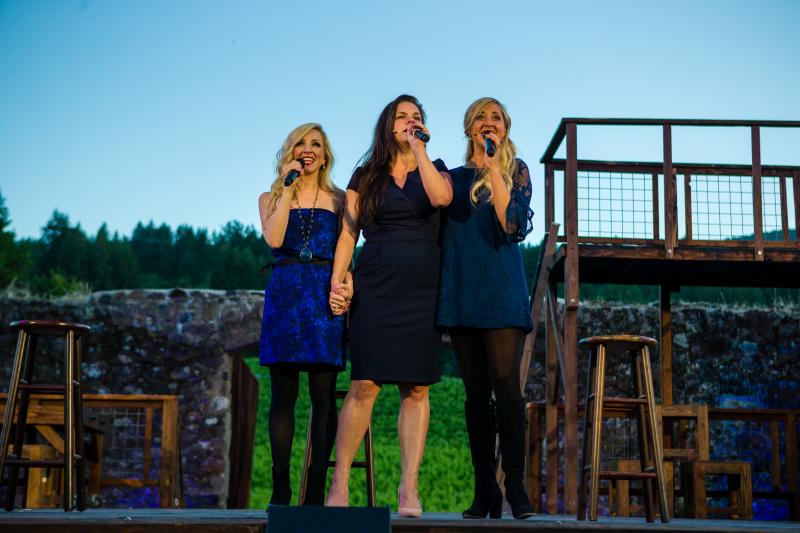 According to Gonzalez, the cast "offered anything they could to assist Sonoma in their time of need." "It's a safe place, where we have come to be reminded why we sing and dance, we will do everything in our power to preserve it for eternity," said Gonzalez. Co-Executive Director/CMO Stephan Stubbins, who also performs in the show also felt such strong gratitude that several cast members had a personal involvement in contributing their time, money and talent to support Sonoma. "In addition to many of them donating to the area during the fires, and producing a Broadway Benefit in NYC for Sonoma, we had many of them who were passionate about returning to be a part of our summer season, to reconnect with the people they love here and share their love for this community," Stubbins says.
I have never seen a more enthusiastic group of performers on one stage, oozing with passion and talent as they shared their journey through song and dance. "Transcendence is a group of people fueled by immense passion to serve our community," Miller says. "We create a company culture that inspires our teams to stay focused on our goal of entertaining and uplifting our community both onstage and off. We believe that life is a work of art and our artists strive to make life a masterpiece and leave an indelible mark on people's lives."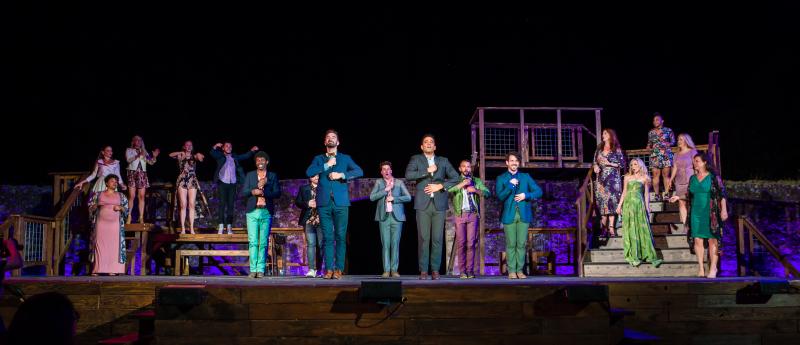 Stubbins shares Miller's perspective. "Transcendence is about so much more than the shows and the events we produce," he says. "For all of us (including our artists) it's about living life to the fullest, working as a team, and truly loving the community through our art. We are truly in pursuit of sharing the Best Night Ever and creating the Best Life Ever for ourselves and our community. We are very thoughtful about the performers we select to be a part of Broadway Under the Stars and we spend a lot of time with those artists in rehearsals and orientations unifying around our collective mission of using our art to make a profound difference in the lives of others."
The backdrop of Jack London State Historic Park is the perfect location to connect art with nature. Its vision is one that preserves the dream, enriches the experience, and serves the community -- all in line with the spirit of Transcendence Theatre and its incredible performers.
The park opened two and a half hours before the show for picnicking with local gourmet food trucks, live music, and premium wine tastings. All together, there were 45 Pouring Partners and Nightly Wine Sponsors, including Glen Lyon, Two Amigos, Gloria Ferrer Vineyards, Talisman Wines, La Rochelle Winery, Benziger Family Winery, St. Francis Winery & Vineyards, Kenwood Vineyards, Sonoma Loeb, Chappellet and more. The atmosphere for picnicking is casual but elegant where theatergoers can relax and enjoy all the festivities while taking in the fresh air and the stunning, sprawling ruins of a 19th Century winery.
Amy Miller opened the show with a passionate plea to savor every moment of the 'Best Night Ever' and humbly thanked various sponsors who continue to generously support the company year after year. This year, over $360,000 was raised to support this incredible troupe, and those numbers continue to grow annually.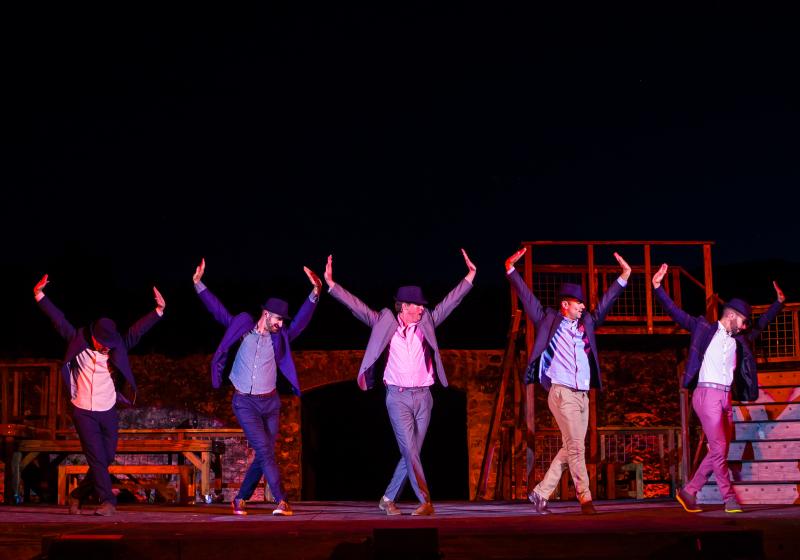 The 2018 company is comprised of 18 talented Broadway and National Touring professionals, featuring stars from JERSEY BOYS, WICKED, JEKYLL & HYDE, BROOKLYN THE MUSICAL and MAMMA MIA! Some standout performances on opening night included "Get Happy" (HAPPY DAYS) with Courtney Markowitz and Shaleah
Adkisson, "Everything" (Joe Label, Mark Beynon, Daniel Weidlein) with Leslie McDonel, Libby Servais and Meggie Cansler Ness, "Cabaret" (CABARET) with Cameron Hobbs, Hannah Jean Simmons, Julie Freyer, Leslie McDonel and Tim Roller, a sexy "Can't Stop the Feeling" (Justin Timberlake) with Colin Campbell McAdoo, David R. Gordon, Joey Khoury, Luis Figueroa, Steven Cutts and Tim Roller, the full cast in "Sunday" (SUNDAY IN THE PARK WITH GEORGE), and an incredible finale with the company performing the theme from RENT.
Brilliant choreography was by Broadway vet Tony Gonzalez who also directed this spectacular performance and kept the show moving at a swift pace. The production evoked a sense of 'old school' Broadway, tap dancing, classic partner work and more. Gonzalez generously shared his inspiration behind his song choices, commenting in the program, for instance:
"'Beautiful City' (GODSPELL): This song recognizes that together we can overcome the challenges we face. It's about recovering as a community." -- "Out of the ruins and rubble... heart by heart... we can build a beautiful city."
"'Right Now' (Van Halen): This song is a strong statement about making a profound impact on the world, and being in the moment." -- "Catch a magic moment... right here and now... it means everything!"
Both of these are spot on with this year's theme of living in the moment as you climb the 'Stairway to Paradise'.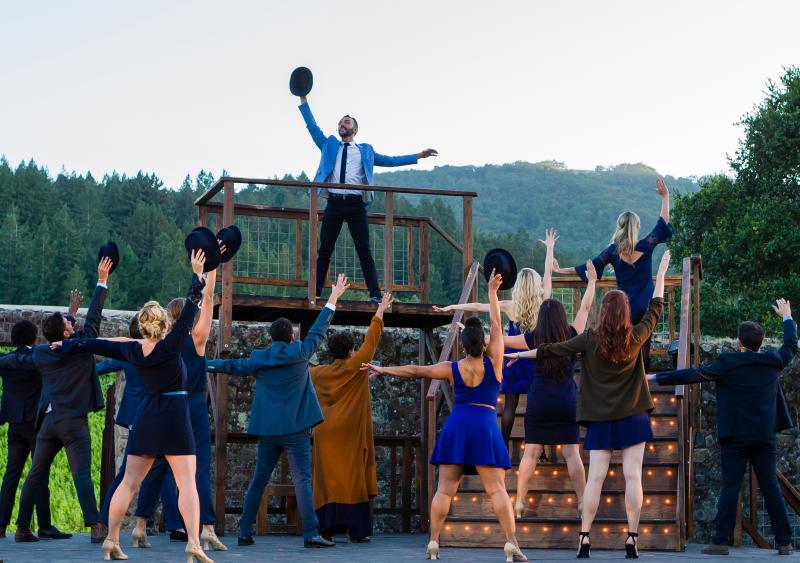 The stellar 9 piece orchestra directed by Matt Smart with sound by Nils Erickson filled the air with dynamic sound and allowed the performers to showcase their voices in pure, raw form. Lighting by Jeffrey Porter set the tone of the evening as the sun sprawled toward the horizon like a pastel ribbon.
You don't want to miss this year's sensational performance of Transcendence Theatre's 'Broadway Under the Stars,' sharing the journey of dreams turned to reality through this inspiring and passionate production. Make it your annual tradition to come to Jack London State Historic Park where you will have the "Best Night Ever" by joining the celebration of what it means to be alive through the power of music, dance, and togetherness.
Transcendence Theatre Company's "Broadway Under the Stars" continues through July 1 with "Stairway to Paradise." They will also present "Fantastical Family Night" July 13 & 14, "Shall We Dance" August 3 to August 19, and the end of summer "Gala Celebration" September 7 to September 9.
Pre-show picnics begin at 5 p.m. with live pre-concert music and gourmet food trucks. You may also bring your own food. Shows begin at 7:30 p.m. Jack London State Historic Park is located at 2400 London Ranch Road, Glen Ellen. Tickets are $40-$149 (with $5 of each ticket benefitting Jack London State Historic Park).
VIP ticket holders receive access to the exclusive "VIP Bubble Lounge" during the pre-show picnic; reserved VIP seating with a complimentary seat cushion; VIP parking; and two complimentary glasses of wine with a commemorative Transcendence Theatre GoVino Glass. Premium ticket holders receive reserved seating; a complimentary seat cushion; and guaranteed parking at Jack London State Historic Park. Select and general admission ticket holders receive reserved seating. The house opens for seating 30 minutes before showtime. Parking is free.
For more information, call 877-424-1414 or visit BestNightEver.org.
Want a sneak peek at the show? Watch the promo video below!
And catch a first listen to the 10 of the 20+ songs that were released on Spotify by clicking below!
---
About Transcendence Theatre Company: Based in Sonoma County, California, Transcendence Theatre Company is an award-winning, nonprofit arts organization comprised of artists with professional experience from Broadway, film and television. The company's headliners have included Sutton Foster and Megan Hilty. Featured performers have appeared in Broadway productions including "The Book of Mormon," "Mamma Mia," "Les Misérables," "Chicago," "La Cage Aux Follies," "Gypsy," "Hairspray," "Follies," "42nd Street," "White Christmas," "Mary Poppins" and "Wicked." Transcendence Theatre Company specializes in producing high caliber Broadway concerts in distinctive Sonoma County locations - from its primary home within the majestic open-air ruins of the historic winery in Jack London State Historic Park to other remarkable and stunning settings throughout wine country and the community. Since its inception in 2011, Transcendence Theatre Company productions have been experienced by 121,000 patrons and raised over $351,000 for Jack London State Historic Park.
Featured BroadwayWorld Events
Check out these concerts...