Review: MEN ON BOATS at Strand Theater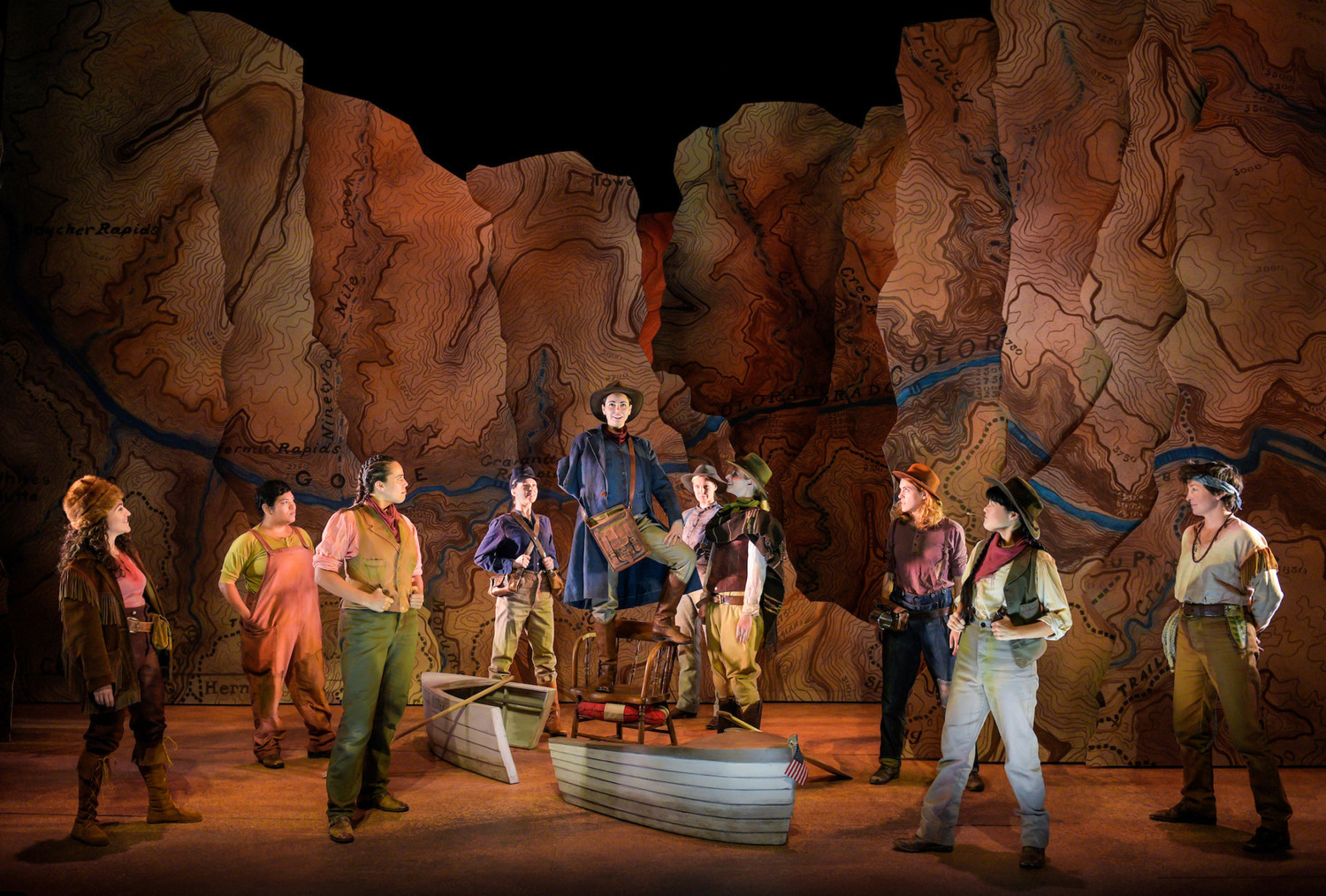 All aboard for Jaclyn Backhaus' thrilling, testosterone-filled expedition down the Colorado River and through the wonderous gorges of the Grand Canyon in her sly and very funny take on macho adventuring mid-19th century America. Based on the journals of one-armed Civil War veteran John Wesley Powell and his ragtag band of explorers, thrill-seekers, soldiers and trappers, Backhaus' script and Tamilla Woodard's superb direction shines a keen, incisive eye on the men who 'conquered' the West, their own fears and trepidations.
Right from the hilarious introduction of the ten men, we get the sense of Backhaus' modus operandi; these men are not caricatures, but real men caught in extraordinary circumstances with misguided motives. Oh, and there isn't a man in the cast. An exceptional ensemble cast of ten women realistically channel the characters and after just a few minutes, the gender of the actors becomes a non-issue. According to Director Woodard, Backhaus, who requires the actors to be "racially diverse actors who are female-identifying, trans-identifying, gender fluid, and or non-gender-conforming," provides "an adventure for bodies and psychological experiences that are not those of white men".
And this production is quite the adventure. Our intrepid travelers fight the rapids, waterfalls, capsizes, dwindling supplies, the weather and each other on their exhilarating voyage. Nina Ball's set is a wonder of ever-shifting canyon walls covered with topographic details of the lands they traverse, lit in the bright sunlight or pastel hues of the painted canyon walls by lighting designer Robert Hand. Christine Crook's period costumes are a delight of flannels, denim, cowboy hats and neckties. Credit is given and deservedly so to Movement Coach Danyon Davis who mines the physicality of the ensemble to often hilarious results. Props Master Jacquelyn Scott adds to the look with just two prows and some rope.
Woodard has cast this show with fine characters in every role. Liz Screateklar is the officious, determined Powell, a poster boy for Manifest Destiny who may or may nor realize he's discovering lands that have already been travelled by other explorers and the Native Americans who call the lands home. His counterpart is companion William Dunn played with earnest seriousness by Sarita Ocon. There's Old Shady (Annemarie Rajala), Powell's mostly silent brother who occasionally breaks into ridiculous, self-penned folk tunes. Arwen Anderson has a field day as British thrill-seeker Frank Goodman, prone to sunburn. Hawkins the cook (Amy Lizardo) is the tough, no nonsense glue that holds the crew together through their stomachs. There's got to be a youthful, optimistic type and Katherine Roman's Bradley is the gung-ho cheerleader of the group. The two Howland brothers OJ (Lauren Spencer) and Seneca (Lisa Hori-Garcia) are the macho elements, tough and rough. There's thoughtful cartographer Hall (Rosie Hallett) and John Colton Sumner (Libby King) who wants to die in the icy tundra of the Northern lands.
Woodard bonds the men in groups, arguments and dissension amongst the ranks included. Adventure stories are a large cannon of American literature and theatre. The Wild West is seen here as a test of the men's mettle, but just as important, gently ribs the ridiculousness of re-discovering and naming lands already discovered. There's a brilliant scene where the crew meets up with some Ute Indian leaders to ask for much needed supplies. Believing their superiority, the Ute's react sarcastically to the white men, insulting them through tongue-in-cheek satire.
Men on Boats is smart, a little subversive and always very, very funny. With its bigger than life tableaus, characters and themes, it's a must-see Indian Summer experience. No men, no boats, just great theatre.
Men on Boats continues through December 16th, 2018 at A.C.T. Strand, 1127 Market Street, San Francisco. Tickets are available at www.act-sf.org or by calling (415) 749.2228
Photos by Kevin Berne