Aurora Theatre Company Extends Jonathan Spector's EUREKA DAY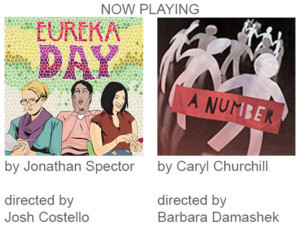 Aurora Theatre Company will add seven performances to its world premiere commission of EUREKA DAY by Jonathan Spector.
EUREKA DAY, which opened April 19, now plays through May 20 (added performances Tuesday, May 15 at 7 pm, Wednesday, May 16 at 7 pm, Thursday, May 17, at 8 pm, Friday, May 18, at 8 pm, Saturday, May 19, at 8 pm, Sunday, May 20 at 2 pm and 7 pm) on Aurora's main stage. For tickets and information the public can call 510-843-4822 or visit auroratheatre.org.
Critics acclaim EUREKA DAY. "Jonathan Spector's play is so crisply defined that you might have to periodically remind yourself that you haven't already met these characters in real life," said Lily Janiak in the San Francisco Chronicle. "Keenly observed... comedy[that] hits awfully, gut-churningly close to home," said Sam Hurwitt in East Bay Times.
Josh Costello (Detroit, Wittenberg, The Heir Apparent) directs this comedy of liberal manners set in a Berkeley private school, where a debate over child vaccinations hits home as the school community confronts the central question of our era: how do you find consensus when you can't agree on the facts?
Aurora's Originate+Generate (O+G) program commissioned EUREKA DAY from Spector, an Oakland-based playwright and two-time Aurora Global Age Project-winner. O+G focuses primarily on developing new work for the Aurora stages, putting an emphasis on supporting local theater makers.
Spector's plays include Good. Better. Best. Bested., This Much I Know, Adult Swim, and In From The Cold.? He is a resident playwright at Playwrights' Foundation and co-artistic director of the Berkeley-based Just Theatre.
Josh Costello directs this incisive new work that is funny, poignant, and oh-so-Berkeley. Literary manager and artistic associate at Aurora Theatre Company, he received the Theatre Bay Area Award for Outstanding Direction for the world premiere of Ideation by Aaron Loeb at San Francisco Playhouse, which was named a New York Times Critics Pick when it transferred to 59E59 in New York.
Costello has assembled a cast of Bay Area favorites: Elizabeth Carter (Trouble In Mind, Wittenberg), Charisse Loriaux (Trojan Woman, Posing for Gauguin), Lisa Anne Porter, Rolf Saxon (After the Revolution, Talley's Folly), and Teddy Spencer (After the Revolution, Talley's Folly). Creative team includes: Teddy Hulsker--sound/video design; Richard Olmsted--set design; Jeff Rowlings--lighting design; Maggie Whitaker--costume design.
For single tickets ($33-$65) or subscriptions ($99-$360), the public can call (510) 843-4822 or visit auroratheatre.org. Half-off tickets for Under 35; student, and group discounts available.
Aurora Theatre Company gratefully acknowledges Associate Season Sponsors Ed & Liliane Schneider, and Associate Production Sponsors Gertrude E. Allen, Judith & Alex Glass, Deborah & Howard Goodman, Hilary Perkins, Sallie Weissinger, and Linda & Steve Wolan for their support. Eureka Day is supported in part by the Zellerbach Family Foundation
Aurora Theatre Company gratefully acknowledges the following foundations and government agencies for their support: Actors' Equity Foundation, Alameda County Arts Commission ARTSFUND, Berkeley Civic Arts Program & Civic Arts Commission, The Bernard Osher Foundation, Fleishhacker Foundation, The Harold and Mimi Steinberg Charitable Trust, MUFG Union Bank Foundation, Sam Mazza Foundation, The Shubert Foundation, The Tournesol Project, Union Pacific Foundation, The William and Flora Hewlett Foundation, and Zellerbach Family Foundation.