A CHRISTMAS CAROL Returns to American Conservatory Theatre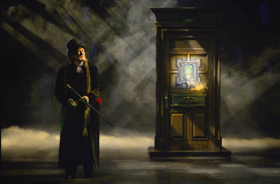 Featuring a lively cast of dozens, delightful music, gorgeous costumes, and those deliciously spooky ghosts, the Bay Area's favorite holiday tradition returns as American Conservatory Theater (A.C.T.) presents its celebrated production of the Charles Dickens classic A Christmas Carol. Now in the theater's 41st year of presenting the holiday classic, this version of A Christmas Carol-adapted by Paul Walsh and Carey Perloff-stays true to the heart of Dickens's timeless story of redemption and brings a playful sensibility to his rich language. A Christmas Carol runs December 1-24, 2017, at A.C.T.'s Geary Theater (415 Geary Street, San Francisco). Tickets (ranging in price from $20-$135) are available by calling the A.C.T. Box Office at 415-749-2228 or online at www.act-sf.org. Groups of 15 or more save up to 50% and enjoy free tickets for group leaders. For group sales, call 415-439-2424.
A Christmas Carol is a cornerstone of the A.C.T. repertory and has become a holiday tradition for families all around the San Francisco Bay Area. Since it began performances at A.C.T. 41 years ago (and continuing in its second adaptation, which premiered in 2005), A Christmas Carol has been performed more than 1,200 times to a collective audience of more than 1,175,000 and has employed over 1,900 actors and 750 backstage staff members. A.C.T.'s A Christmas Carol features a multigenerational cast of performers led by
James Carpente
r as the miserly Ebenezer Scrooge, with
Anthony Fusco
as the Scrooge alternate. Joining Carpenter and Fusco is legendary Bay Area actor
Ken Ruta
(who originated this role in the 2005 production) as the Ghost of
Jacob Marley
, Scrooge's nightmarish late-night visitor;
David Graham
Jones as Bob Cratchit and
Delia MacDougall
as his wife, Anne Cratchit; Colin Thomson and
Sharon Lockwood
as the ever-festive Mr. and Mrs. Fezziwig; along with
Catherine Castellanos
as the Ghost of Christmas Present. The adult cast also includes
Cindy Gold
field and
Howard Swain
. Twelve students from the A.C.T. Master of Fine Arts (M.F.A.) Program-many of whom traditionally receive their
Actors' Equity
cards as a result of their participation in A Christmas Carol-are also featured in this year's production. They are (in alphabetical order):
Jennifer Apple
,
Rivka Borek
, Peter Fanone, Justin Genna,Kadeem Ali Harris, Justin Edward Keim, Beatriz Miranda,
Adrianna Mitchell
,Lily Narbonne, Vincent J. Randazzo, Oliver Shirley, and Leonard A. Thomas. Rounding out the cast are 29 talented young actors from the A.C.T. Young Conservatory (YC). Hailing from throughout the San Francisco Bay Area, the young actors portray a range of characters, including the Cratchit children, Tiny Tim, Young Scrooge, and a delectable array of Spanish onions, Turkish figs, and French plums. They are (in alphabetical order): Emma Berman, Jack Covert, Navi Emiliano, Chloe Fong, Mattea Fountain, Ava Gallegos, Skylar Goldberg, Dylan Hammond, Iris Hedlund, Lillian Hedlund, Colten Hitchcock, Chanz Kallstrom,Ruth Keith, Orion Kolodny, Linden Koshland, Sunil Mukherjee Maurillo,Christophe Mitchell, Evelyn Ongpin, Dylan Palmer, Pilar Rivas,
Andrew Rodgers
, Margolo Teich, Audrey Thacher, Rhea Verghese, Tatiana von Bothmer, Seth Weinfield, Maximilian Wix, Emma Yashinsky, and Alejandra Zavala. Directed by
Domenique Lozano
, the creative team for A Christmas Carol includes Tony Award-winning scenic designer
John Arnone
with period costumes by
Beaver Bauer
. With original songs and score by composer Karl Lundeberg and choreography by Val Caniparoli of the San Francisco Ballet, A Christmas Carol also features lighting design by
Nancy Schertler
, sound design by
Jake Rodriguez
, and music direction by
Daniel Feyer
. A.C.T. would also like to acknowledge its 2017-18 season presenters Frannie Fleishhacker; Priscilla and Keith Geeslin; Fred M. Levin and Nancy Livingston, The Shenson Foundation; Burt and Deedee McMurtry; Arthur Rock and Toni Rembe; Mary and Steven L. Swig; Jeffrey W. and Laurie Ubben; season partnerPG&E, lead education partner Wells Fargo, 50th-anniversary Airline SponsorUnited Airlines; and Official Hotel Sponsor Hotel G. Up next, A.C.T. returns to the world of
Harold Pinter
for its first staging of his classic drama The Birthday Party (January 10-February 4, 2018). Next at The Strand, A.C.T. will present
Qui Nguyen
's irreverent road-trip comedy Vietgone (February 21-April 22, 2018). In spring 2018, A.C.T. will present
Simon Stephens
's hit playHeisenberg (March 14-April 8, 2018). Hailed as a "masterpiece," by New Yorkmagazine, A.C.T. will next present Father Comes Home from the Wars (Parts 1, 2 & 3) (April 25-May 20, 2018), Pulitzer Prize winner
Suzan-Lori Parks
's explosively powerful and lyrical new play set against the backdrop of the Civil War. Closing out the 2017-18 season, A.C.T. will present the world-premiere musical A Walk on the Moon (June 5-July 1, 2018), based on the 1999 movie of the same name.