6NewPlays Closes with Brian Thorstenson's WAKEFIELD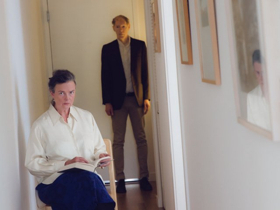 With a mission to produce one new play by each of its six members, 6NewPlays officially closes up shop this fall with WAKEFIELD by Brian Thorstenson. Inspired by Nathaniel Hawthorne's short story of the same name, Wakefield starts at the moment Hawthorne's story ends, when the husband Henry Wakefield returns home after 20 years. Veteran actor Anne Darragh plays Sophia, Henry's wife, alongside Thorstenson as Henry. Erin Mei-Ling Stuart co-directs. Wakefield runs October 5 - 14 at Studio 210 in the Mission. Tickets, $20 - $25, will go on sale in August. For reservations and more information, visit 6NewPlays.com.
Since its formation in 2016, 6NewPlays has produced shows that feature a Barbary Coast brothel madam, a Pacific Heights social media start-up, a sci-fi detective, a chamber music ensemble and two buffoonish tyrants. Christopher Chen's Home Invasion, staged in private living rooms around the Bay Area, opened the cycle in April 2016. It was followed that fall by Andrea L. Hart's dark is a different beast at the Light Rail Studios in San Francisco. The collective continued in 2017 with That It All Makes Perfect by Erin Bregmanand Madame Ho by Eugenie Chan. Barry Eitel's satire of a social media start-up, Champagne, is currently in production at the Randall Museum in San Francisco. It closes on July 15.
When Thorstenson's Wakefield closes in October, 6NewPlays will have succeeded in its aim to give each of its writers the reins of artistic direction over their own plays, a rarity in the theater world. In addition to writing the script, Thorstenson co-directs and acts in his play. He chose the venue and the creative team, and he helped to raise the capital for production.
Originally an actor, Thorstenson was a founding member of The Z Collective in San Francisco and one of the first resident artists of Z Space. He was part of the first group of playwrights in the Resident Playwright Program of the Playwrights Foundation. His interests have led him to collaborate with a number of dance and dance theater groups, including Stephen Pelton Dance Theater, EmSpace Dance and detour dance, among others.
Chief among Thorsenton's collaborators is Stuart, and Wakefield continues their longstanding artistic partnership. Thorstenson first met Stuart through Stephen Pelton Dance Theatre. More recently he wrote the text for Stuart's short play, Whether to Weather. "After we made this play I knew that Erin was the perfect person to direct Wakefield," said Thorstenson.
Thorstenson describes his newest work as "a set of variations. Besides the 'plot' of the play, the piece is really about time, the passage of time, experiencing lengths of time. Wakefield plays with the conventions of a number of different generic worlds before arriving at its final resting place."
An earlier version of this play, titled Wakefield; or Hello Sophia, was developed by Central Works and performed in 2008. "With the support of 6NewPlays and Gary Graves at Central Works, I decided that a new play, based on some of the original material from Wakefield; or Hello Sophia, was the next play I needed to write at this time," said Thorstenson.
In addition to six showings of the play, Thorstenson will offer two "wrecked" versions of Wakefield following each of the Sunday matinees. Choreographer Susan Rethorst coined the term "Wrecking Sessions" to describe a kind of intervention in which a dance or theater maker invites another artist to figuratively "wreck" the finished piece, reshaping it through subtraction, addition or rearrangement of parts.
"Because of its structure, Wakefield in particular seems to lend itself to this experiment," said Thorstenson. "In our version of it the first and last scenes will stay in place, then the scenes in between will be re-ordered at random." Bay Area performing artist Rowena Ritchie will be the wrecker on October 7, and choreographer Chris Black will be the wrecker on October 14.
Wakefield features a commissioned score for solo clarinet by Tina Traboulsi, a former student of Thorstenson's, with Bruce Belton performing live at each show. Additional collaborators include acting coach Tracy Ward and lighting designer Richard Board.
ABOUT BRIAN THORSTENSON
Brian Thorstenson is a San Francisco-based poet and playwright. His plays have been produced at Alter Theater, Brava Center for Women in the Arts, Central Works and Wings Theatre Co. in New York City. From 2006 - 2011, Thorstenson was resident playwright with Stephen Pelton Dance Theater where he created three dance theater pieces. His radio adaptation of Sinclair Lewis' It Can't Happen Here was broadcast nationally on the Pacifica Radio Network. His poetry has appeared in Transfer, 14 Hills, 6,500, New American Writing, The Santa Clara Review, Lambda Literary Review and Foglifter. He was an artist in residence at the Blue Mountain Center and the Djerassi Resident Artist's Program.
Originally an actor, Thorstenson was a founding member of The Z Collective in San Francisco and one of the first resident artists of Z Space. He was part of the first group of playwrights in the Resident Playwright Program of the Playwrights Foundation. In 2015 he created a dance theater piece Whether to Weather with EmSpace Dance. With photographer Kegan Marling he has made two short films, Sissy Song and Left Behind that were shown at the Queer Arts Festival as part of the Still Here program. Recent work includes writing and performing in Dearly Gathered, a dance theater piece, created with choreographers Chris Black, Christy Funsch and Rowena Richie, and writing for Fugue, a site-specific dance theater piece, with detour dance. He is one of the founding members of 6NewPlays, a playwright-driven producing collective. He teaches at Santa Clara University, and has an MFA from San Francisco State University. More information at BrianThorstenson.com.
ABOUT Anne Darragh
Anne Darragh has performed in the Bay Area for over 20 years. Her most recent performances include Barbecue at SF Playhouse and August: Osage County at Marin Theatre Company. She has performed in numerous world premieres including Tony Kushner's Angels in America at the Eureka Theatre where she originated the role of Harper, as well as works by Neena Beber, Michelle Carter, Anthony Clarvoe, Anne Galjour, Barry Gifford, Rebecca Gilman, Allan Havis, Denis Johnson, Lynne Kaufman, Julie Marie Myatt, Peter Nachtrieb, Edna O'Brien, Jane Prowse, Amy Sass, Bill Talen and Brian Thorstenson, among others.
ABOUT ERIN MEI-LING STUART
Erin Mei-Ling Stuart is a multidisciplinary theater maker. As the artistic director of EmSpace Dance, Stuart has conceived, directed and choreographed over thirty works. Stuart is a company member of Mugwumpin and detour dance. As an actor, she has also worked with Shotgun Players, Central Works and Killing My Lobster. As a multidisciplinary performer and collaborator, she has worked with Erika Chong Shuch, Amara Tabor Smith, Flyaway Productions, Epiphany Dance Theater and 13th Floor, among many others. Honors include a GOLDIE award for dance from the San Francisco Bay Guardian (2008), The Della Davidson Prize (2016) and a nomination for an Izzie Award for the remount of Monkey Gone to Heaven (2017).
ABOUT 6NEWPLAYS
6NewPlays is a collective of six Bay Area playwrights. Over the last three years, the group has produced one play by each playwright: Christopher Chen (Home Invasion, 2016), Andrea Hart (dark is a different beast, 2016), Erin Bregman (That It All Makes Perfect, 2017), Eugenie Chan (Madame Ho, 2017), Barry Eitel (Champagne, 2018) and Brian Thorstenson (Wakefield, 2018). Inspired on the model of 13P in New York, 6NewPlays put the production process in the hands of each playwright, who served as artistic director for their own production. 6NewPlays is a member of Intersection for the Arts.
Photo: Anne Darragh and Brian Thorstenson. Photo by Kegan Marling.