Click Here for More Articles on STUDENT CENTER - COLLEGE EDITION
UC San Diego Department Of Theatre And Dance Presents MOTHER COURAGE AND HER CHILDREN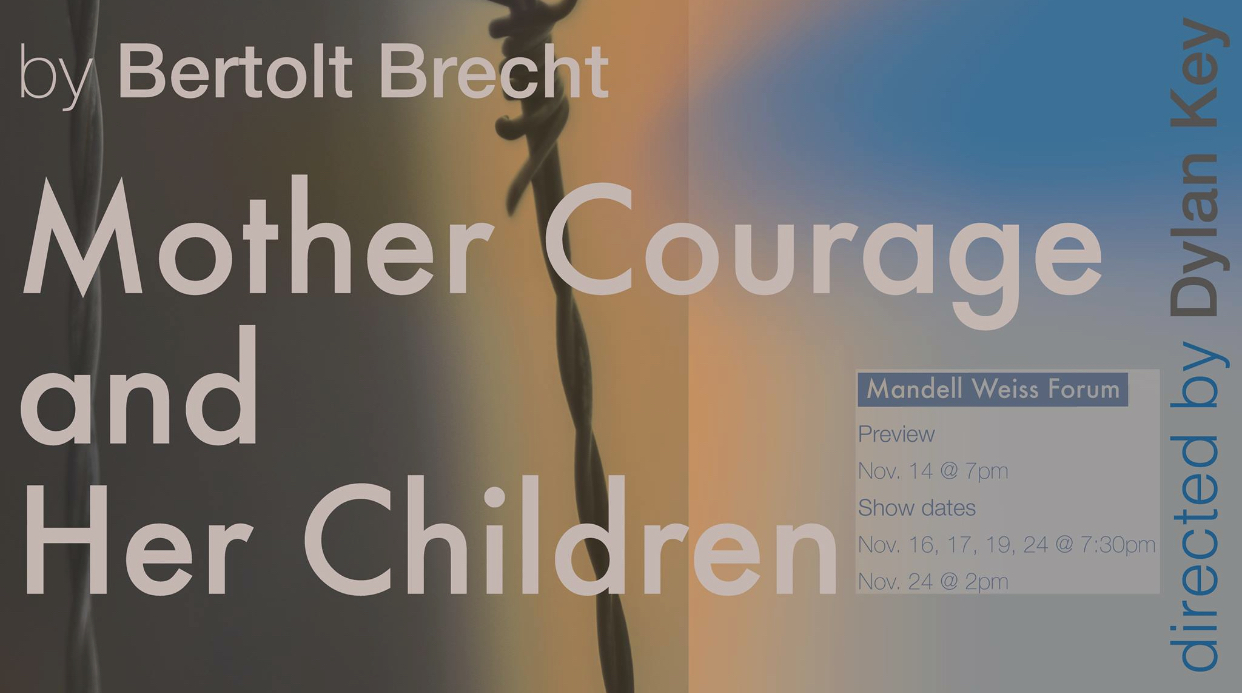 The UC San Diego Department of Theatre and Dance presents Mother Courage and Her Children, by Bertolt Brecht and directed by Dylan Key.
About the play: Set during the Thirty Years War, an enterprising woman runs a canteen to try to profit from the conflict while also caring of her three children. Translated from German, Mother Courage and Her Children is considered the masterpiece of modernist playwright Bertolt Brecht and one of the defining plays of the twentieth century.
The preview for Mother Courage and Her Children will be November 14 at 7 pm. The show runs November 16, 17, 19, and 24 at 7:30 pm with an additional 2 pm matinee performance on November 24.
Tickets are $20 for regular performances. Subscriptions and group rates are available. Student tickets are $10 for regular performances. Faculty, staff, alumni and senior citizens discounts available as well. Tickets can be purchased online or by calling the box office at (858) 534-4574.
The cast features Janet Fiki (Mother Courage), Mary Rose Branick (Katrin), Michael Rishawn (Yvette), Xavier Clark (Gregory Eilif), Max Singer (Sergeant/Colonel/Regimental Clerk/Peasant/First Soldier/Singer), Sidney Hill (Recruiting Officer/One-Eye/Old Soldier/Second Soldier/Old Peasant), Hannah Finn (Chaplain/Third Soldier), Enrico Nassi (Cook, Second Soldier), and Garrett Schulte (Commander/Sergeant/Second Soldier/Singing Soldier/Valet/Lieutenant).
The production staff includes Dylan Key (Director), Yi-Chien Lee (Scenic Designer), Minjoo Kim (Lighting Designer), Dorottya Vincze (Costume Designer), Zhongran Wang (Sound Designer), Tyler Larson (Production Stage Manager), Natalie Barshow (Assistant Costume Designer), Jacob Halpern-Weitzman (Assistant Stage Manager), and Topaz Cooks (Assistant Stage Manager/PA).
About the playwright: Bertolt Brecht was a German theatre practitioner and playwright. He is best known as the main proponent of the genre known as epic theatre. He and his wife, actress Helene Weigel, co-founded the Berliner Ensemble theatre company. His best-known works include The Good Person of Szechwan, Life of Galileo, The Threepenny Opera, and Mother Courage and Her Children.
About the director: Dylan Key is a third-year MFA Directing candidate. His work has been seen at the La Jolla Playhouse (WoW Festival), Undermain Theatre, the Dallas Museum of Art, Dallas Actor's Lab, Kitchen Dog Theater, and site-specific work throughout Dallas. He spent five years as the Artistic Associate for Undermain Theatre and co-founded Shakespeare in the Bar and TRIBE, for which he was named a 2016 Dallas Mastermind. He has trained with Anne Bogart and the Siti Company, Marc Bamuthi Joseph and the Living Word Project, and is an alumni of the Lincoln Center Theater Directors Lab. BA: University of Dallas UC San Diego credits: Othello, (w)holeness (WNPF 2017).
Related Articles
More Hot Stories For You