The Old Globe Presents A Free Public Axis Event: Happy Birthday, Mr. Shakespeare!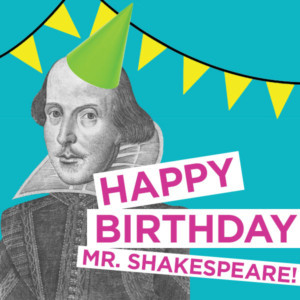 The Old Globe invites friends, Romans, countrymen-all of San Diego, in fact-to join us once again in celebrating our resident playwright William Shakespeare with Happy Birthday, Mr. Shakespeare! on Saturday, April 21 from 10:30 a.m. to 2:00 p.m. on the Globe's campus in Balboa Park. The Bard's birthday-his 454th!-is a fitting and festive reason to recognize his countless contributions to arts and culture around the world. This exciting day for the whole family will include birthday games and activities, hosted by local artist Alex Guzmán, with San Diego's own DJ Miki Vale pumping today's hottest music accompanied by classic Elizabethan musicians Mark Danisovszky and Jeff Pekarek.
Happy Birthday, Mr. Shakespeare! is open to the public, part of the Globe's free AXIS event series, which is committed to making theatre matter to more people.
The celebration also includes sonnet karaoke, led by illustrious students in The Old Globe and University of San Diego Shiley Graduate Theatre Program: Jose Martinez, Daniel Ian Joeck, and Yadira Correa, and Globe Teaching Artist Valeria Vega! Challengers welcome: bring your own sonnet or monologue-or choose one of ours! The multitalented Arts Engagement team will be on hand to help out with the fun. Don your best doublet and ruff-or come as you are!
Free tours of the campus-exploring the Globe's rich history with theatrical fun facts and led by our informative docents-will take place at 10:30 a.m. and 11:30 a.m. (first come, first served). Explore the fabulous costume exhibit on Copley Plaza, then put what you have learned to good use at our ruff-making station-create period-perfect ruffles with Globe Master Teaching Artist Lisel Gorell-Getz-one of many hands-on Shakespeare-themed activities. Little ones can create their own Shakespearean puppets and perform in an interactive puppet theatre show with the San Diego Guild of Puppetry and Globe Teaching Artist Tara Ricasa. Grab a photo of your friends in the stocks or as the original Queen Mum, Elizabeth I. Plus cookie decorating with Joybaked and face painting by Fun-4-Kids Entertainment. It will be a festive day suitable for the whole family!
"'It is my birthday,' says Cleopatra in Act III of the great play Shakespeare wrote about her, and though the line may not be one of the Bard's most famous, it's still fitting for this particular day," said Erna Finci Viterbi Artistic Director Barry Edelstein. "Shakespeare is the lifeblood of The Old Globe, and the Globe is central to San Diego, so we couldn't let his 454th go by without a bang. We've planned a day of fun for the whole family: music, costumes, performances, games, and food. I know it's going to be a blast, and I look forward to welcoming the whole city to join us."
AXIS is supported by a grant from The James Irvine Foundation. Financial support is provided by The City of San Diego.
The Old Globe is located in San Diego's Balboa Park at 1363 Old Globe Way. There are numerous free parking lots available throughout the park. Guests may also be dropped off in front of the Mingei International Museum. For additional parking information visit www.BalboaPark.org. For directions and up-to-date information, please visit www.theoldglobe.org/plan-your-visit/directions--parking/detailed-directions.
To look up online or GPS directions to The Old Globe, please do not use the Delivery Address above. There is only a 10-minute zone at that physical address. For GPS users, please click here for the map coordinates, and here for written directions to The Old Globe and nearby parking in Balboa Park.
One of the ways The Old Globe's Arts Engagement team exemplifies its mission to make theatre matter to more people is through a program called AXIS, where free cultural programs on the Globe's Copley Plaza are led by local artists and craftspeople. 9.5 million visitors pass through Balboa Park each year. The Old Globe strives to engage this population as we transform our non-performance space into a participatory art venue, utilizing the Globe's unique physical location as an opportunity for connectivity and creative placemaking. AXIS is an effort to broaden our concept of audience, extending beyond regular ticket-holders and encompassing diverse, multigenerational constituencies from communities across San Diego County.