Photos: Inside the 2012 Globe Awards!
The winners of the 2012 Globe Honors, the annual competition recognizing excellence in high school theater, were announced on Monday, May 21 after the final round of competition was held on the Donald and Darlene Shiley Stage in the Old Globe Theatre, part of the Globe's Conrad Prebys Theatre Center. Chase Fischer of Coronado School of the Arts and Nicolette Burton of Canyon Crest Academy won in the categories of Leading Actor and Actress in a High School Musical, respectively, and will receive an all-expenses-paid trip to New York City to participate in the National High School Musical Theater Awards/The Jimmy™ Awards competition to be held on June 25 at the Minskoff Theatre on Broadway. The other winners of this year's Globe Honors were Jonathan Edzant of Canyon Crest Academy and Kelly Prendergast of Grossmont High School (Outstanding Achievement in Musical Theatre), Patrick Gates of San Diego Virtual Schools and Sara Rose Carr of Canyon Crest Academy (Outstanding Achievement in Spoken Theatre) and Chad Mata of Coronado School of the Arts (Outstanding Achievement in Technical Theatre). This year's Globe Honors was presented in association with Broadway/San Diego – A Nederlander Presentation.
Check out photos from the event below!
Winners of all Globe Honors categories received $1,000 scholarships and the winners of the Musical, Spoken and Technical Theater categories will participate in a two-day trip to Los Angeles where they will go behind the scenes at the Center Theatre Group and visit the historic Pantages Theatre.
The National High School Musical Theatre Awards is an annual celebration of outstanding student achievement in high school musical theater. The program will commence in New York City on June 20, with rehearsals, master classes and interviews with theater professionals leading up to the live awards show where the Jimmy™ Award (named for legendary Broadway producer and theater owner James M. Nederlander) for Best Performance by an Actor and Best Performance by an Actress will be presented on June 25. Founded by David T. Nederlander in 1912, the Nederlander Organization is currently celebrating 100 years of theater development, ownership, management and production under the guidance of James M. Nederlander. Broadway/San Diego – A Nederlander Presentation is part of the nationally recognized Nederlander Producing Company of America and has presented over 325 shows and events during its 35-year history.
LOCATION: The Old Globe is located in San Diego's Balboa Park at 1363 Old Globe Way. There are numerous free parking lots available throughout the park. Valet parking is also available ($10). For additional parking information visit www.BalboaPark.org.
CALENDAR: The Scottsboro Boys (4/29-6/10), Nobody Loves You (5/9-6/17), Richard III (6/3-9/29), As You Like It (6/10-9/30), Inherit the Wind (6/17-9/25), Divine Rivalry (7/7-8/5), God of Carnage (7/27-9/2).
PHOTO EDITORS: Digital images of The Old Globe's productions are available at www.TheOldGlobe.org/pressroom.
The Tony Award-winning Old Globe is one of the country's leading professional regional theaters and has stood as San Diego's flagship arts institution for 75 years. The Old Globe produces a year-round season of 15 productions of classic, contemporary and new works on its three Balboa Park stages: the Donald and Darlene Shiley Stage in the 600-seat Old Globe Theatre and the 250-seat Sheryl and Harvey White Theatre, which are both part of The Old Globe's Conrad Prebys Theatre Center, and the 605-seat outdoor Lowell Davies Festival Theatre, home of its internationally renowned Shakespeare Festival. More than 250,000 people attend Globe productions annually and participate in the theater's education and community programs. Numerous world premieres such as The Full Monty, Dirty Rotten Scoundrels, A Catered Affair, and the annual holiday musical, Dr. Seuss' How the Grinch Stole Christmas!, have been developed at The Old Globe and have gone on to enjoy highly successful runs on Broadway and at regional theaters across the country.
Photo Credit: 
J. Katarzyna Woronowicz


The winners of the 2012 Globe Honors

The semi-finalists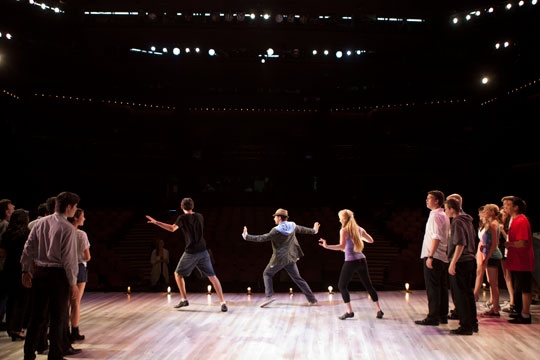 Student competitors

Sarah Marie Pence, Chase Fischer, Danielle Diamond and Patrick Gates

Lorina Alfaro and Sanket Padmanabhan

Chase Fischer

Nicolette Burton

Danielle Diamond, Carson McCalley, Molly O'Meara, Samantha Canela and Patrick Gates

Nicolette Burton and Chase Fischer