Click Here for More Articles on SHAKESPEARE SPOTLIGHT
Photo Flash: First Look at La Jolla Playhouse's EL HENRY
La Jolla Playhouse presents its Without Walls (WoW) production of El Henry, adapted from Shakespeare's Henry IV, Part One by Culture Clash's Herbert Siguenza, directed by San Diego REPertory Theatre Artistic Director Sam Woodhouse. Presented in association with San Diego REP, El Henry will run now through June 29 (press opening: Friday, June 20 at 7:30pm) at SILO, in the vibrant new East Village neighborhood of Makers Quarter. BroadwayWorld has a first look at the cast in action below!
In EL HENRY, it's the year 2045 in a huge, run-down metropolis called Aztlan City (formerly San Diego), where political apathy and corruption run the city while violent barrio families run the streets. It's a harsh new world where Hispanics, Mexicans and Chicanos rule as the majority in this new society abandoned by Anglo America. When El Hank, the ambitious leader of all the barrios, finds his street kingdom threatened by El Tomas and his hot-headed son El Bravo, he seeks the help of his brave and charismatic son El Henry. But El Hank finds his son wrapped up with a bunch of low-life thieves and drunkards headed by the lazy Fausto. Written in a unique poetic cadence called Cal?, which mixes urban Spanish and English slang, this world-premiere adaptation of Shakespeare's Henry IV, Part One explores the universal themes of this classic through the lens of Mexican-American machismo.
The cast is highlighted by Kinan Valdez ("El Bravo") and Lakin Valdez ("El Henry"), sons of internationally-renowned writer and director Luis Valdez (Zoot Suit, La Bamba), along with playwright Herbert Siguenza as "Fausto." The complete cast features Parnia Ayari as "Mayan/Smokie," Leandro Cano as "Sir Blunt," Roxanne Carrasco as "Chiqui/Mayor Villa Allegre," Victor Contreras as "Thomas/Police Chief," William Thomas Hodgson as "Johnny," Jyl Haruye Kaneshiro as "Lil Gus/Reporter", Salomon Maya as "Navarro/El Mago," Robert Milz as "Tixoc/Locos R Us/City Suit/Mexiclop," John Padilla as "El Hank," Dave Rivas as "Duke of Earl/Ojo," Jorge Rodgriguez as "Soto Boy/Mexiclop/Mr. V/Wizard" and Bianca Sanchez as "Preciosa/La Gata."
The creative team includes Sam Woodhouse, director; Ian Wallace, scenic/projection designer; Jennifer Brawn Gittings, costume designer; Jennifer Setlow, lighting designer; Bruno Louchouarn, sound designer; Javier Velasco, choreographer; Edgar Landa, fight director; Gabriel Greene, dramaturg; Laura Zingle, stage manager.
Photo Credit: Jim Carmody


Herbert Siguenza as Fausto (above) and Lakin Valdez as El Henry

Roxane Carrasco and Lakin Valdez

Kinan Valdez (left) as El Bravo and Robert Milz as Locos R Us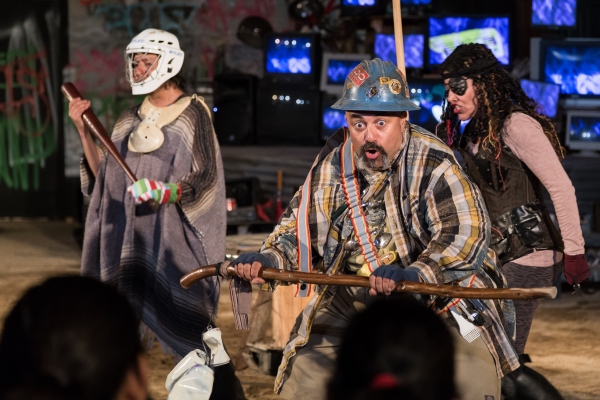 Robert Milz, Herbert Siguenza and Roxane Carrasco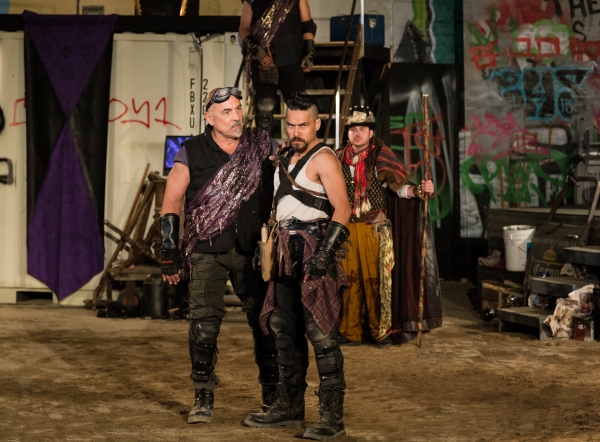 John Padilla, Lakin Valdez and Salomon Maya

Kinan Valdez and Lakin Valdez

Related Articles
More Hot Stories For You