InnerMission to Present MELANCHOLY PLAY By Sarah Ruhl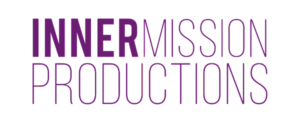 InnerMission Productions has announced the second production of its 2018-2019 season, Melancholy Play. This San Diego premiere was written by Sarah Ruhl and will be directed by Carla Nell. Melancholy Play Produced in association with Samuel French
Tilly's melancholy is of an exquisite quality. She turns her melancholy into a sexy thing, and every stranger she meets falls in love with her. One day, inexplicably, Tilly becomes happy, and wreaks havoc on the lives of her paramours. Frances, Tilly's hairdresser, becomes so melancholy that she turns into an almond. It is up to Tilly to get her back.
-Samuel French
The ensemble cast of this San Diego premiere features: Hannah Logan, Patrick Mayuyu, Scott Striegel, Cristyn Chandler and Vanessa Dinning

The creative team includes Carla Nell and Kym Pappas (Producers), Alanna Serrano (Costumes), Ron Logan (Set Design) Robert Malave (Lighting Design), Carla Nell & Vanessa Dinning (Sound Designer), Kelsie Morris (Stage Manager).
Melancholy Play
A play by Sarah Ruhl
Directed by Carla Nell
Preview: Friday, November 9, 2018
Opening Night: Saturday, November 10, 2018
Closing Night: Saturday, November 24, 2018
Talkbacks:
Talkbacks are being planned. More information to be announced soon.
Ticket Information
Tickets are $25 and can be purchased online at innermissionproductions.org. Active military, student and senior discounts are available.
Location:
Black Box @
Diversionary Theatre
4545 Park Blvd.
San Diego, California 92116
619-324-8970

*MELANCHOLY PLAY Is a presentation of InnerMission Productions and not Diversionary Theatre.

About InnerMission Productions
InnerMission Productions began in 2005 with a single goal in mind; bring new and diverse stories to the stage in order to powerfully engage the local community. InnerMission believes in the restorative power of theatre. Theatre is a tool to illuminate the darkest parts of our human existence. Each show is an opportunity to create a family, to tackle prickly issues - bullying, sexuality, PTSD - and to provide a safe space to discover answers to complex questions.
Carla Nell and Kym Pappas helm InnerMission Productions, and through their passion and combined efforts they have fostered a connection with their audience for the past decade. Carla and Kym want to do more than open a dialogue, they want to change the nature of the conversation.
We come to the theatre to confront our greatest fears, prejudices and beliefs. We walk away empowered, inspired and called upon to make a difference in our community through the power of storytelling and the art of theatre. InnerMission Productions is a family of people committed to tackling social justice, creating equality and supporting new work outside of the walls of conformity.