BWW Review: MICHAEL FRANCIS CONDUCTS THE SAN DIEGO SYMPHONY IN A PROGAM OF THE YOUNG ROMANTICS at The Jacobs Music Center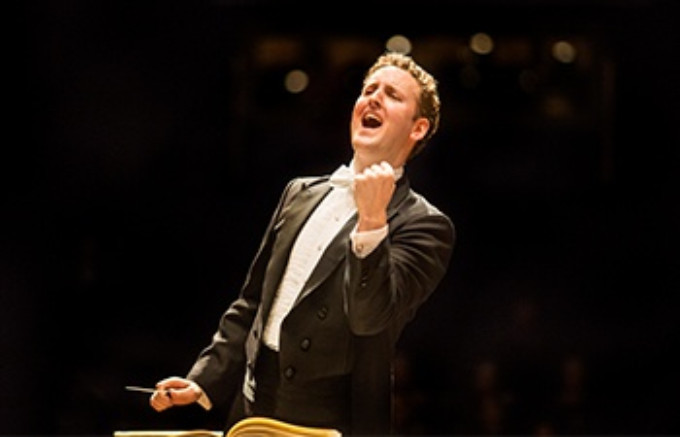 British conductor Michael Francis is known to San Diego concert goers as the music director of the city's Mainly Mozart Festival. Since taking the job four years ago he has embarked on an ambitious chronological survey of the music of the composer who inspired the festival's name. On this evening he traveled a few blocks north and half a musical century forward to appear as guest conductor of the San Diego Symphony Orchestra in a program of works by "The Young Romantics." The enthusiastic reaction he received after the performance may increase the chances he will be called on again in future Symphony seasons.
The program began with Felix Mendelssohn's concert overture The Hebrides (Fingal's Cave). One of the composer's most popular works, it captures his impression of a trip to the eponymous islands off the coast of Scotland--gusts of wind, roaring waves, craggy cliffs and the cries of sea birds. Francis crafted a beautiful picture with frequent changes in tempo and dynamics, all followed with precision by the orchestra, as in the other two pieces on the program, but The Hebrides score calls for more urgency. Emphasis on the work's lyricism lost too much of forbidding cliffs, threatening skies and broiling ocean in favor of pastoral idyll.
No quibbles with conductor or soloist in the following performance of Liszt's first piano concerto. It showed why young Rodolfo Leone has been copping top prizes in
piano competitions. At around 18 minutes, it's among the shortest piano concertos in the standard repertoire. But with rapid runs and endless trills, sometimes simultaneously in both hands, a soloist's fingers devour as many keys as in much longer works. Leone missed none of them, and Francis led the orchestra's effective support. Liszt makes that easier to do than usual. He wrote the piece to spotlight his own legendary technique, so it's not often a soloist must compete with the orchestra as they do in a Rachmaninov concerto.
Speaking of Rachmaninov, in response to a long and merited standing ovation, Leone returned for that composer's Prelude in G Major, Op. 32 No. 5. The piece's shimmering delicacy was a Debussy-like contrast to Liszt's flashy pyrotechnics and showed that Leone's interpretive skills match his technique.
The evening ended with the wildly strange Symphonie fantastique by Hector Berlioz. In introductory comments, delivered with the informal friendliness and British accent that have been a hit with Mainly Mozart patrons, Francis pointed out that the French composer's behavior was sometimes "bonkers." His most extreme period of bonkersness came after he won a composition competition that led to a two-year residency in Rome. While there his fiancé's mother wrote to tell him why his letters to her daughter had gone unanswered. In his absence, she'd married a wealthy piano manufacturer. Berlioz immediately acquired a dress, hat, wig and pistols so that, cleverly disguised as a maid, he could return to France, gain access to the home of mother and the happy newlyweds, shoot them all, and finally kill himself. The colorful plan failed when he lost both disguise and weapons in Genoa on the way home.
Symphonie fantastique was the result of another romantic obsession, this time born of love for an actress he'd never even spoken to. It tells of an artist in the grip of hopeless, unrequited love. His obsession is represented by a love theme that appears in each of the piece's five movements. The lengthy work recalls volatile emotions, distorted memories and wild nightmares, all captured By Francis's precise but passionate conducting and the equally committed response of the orchestra and its soloists. Fevered underlying uneasiness pervaded even the calm middle section in which ominous timpani rumble in the background as shepherds converse. The final two movements depict opium induced hallucinations in which, convinced his love has been spurned, the artist kills his beloved, and the love theme is cut short by his violent execution. Even more frightening visions follow. Fiendish supernatural creatures gather at his funeral, and the love theme becomes a grotesque vulgar dance for fiendish witches, a finale played in this performance with riveting effect.
It's unsurprising that when, in real life, Berlioz attended a performance of the actress that drove him to write Symphonie fantastique she said to fellow actors, "Beware the gentleman whose eyes bode no good."
And yet the story continued. They finally did meet and--married, only to divorce after a few years of stormy, unhappy wedlock.
Photos courtesy of the San Diego Symphony.
Visit the Symphony website for schedule and ticket information.