Award-Winning CARVING A LIFE Premieres Today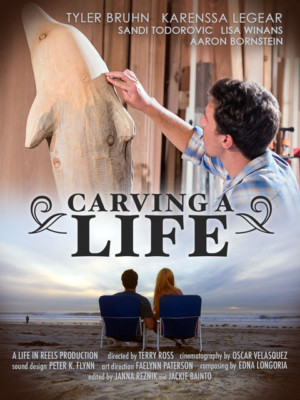 Terry Ross, Lisa Bruhn, and Tyler Bruhn, San Diego Filmmakers, have won a prestigious Award of Recognition from the IndieFEST Film Awards. The award was given to Terry Ross and Lisa Bruhn for Best Female Filmmakers, and to Tyler Bruhn for Best Actor for the indie feature film Carving A Life. Carving A Life is a heartfelt drama romance story about a wood carving artist who struggles with haunting memories from his past.
"It is my hope that our film will resonate with anyone who has struggled with painful family dynamics, loss and their consequences. It's a story of the healing nature of art, love and the courage to truthfully confront the past." Said Director Terry Ross, who like many, have watched loved ones struggle with addictions.
In winning an IndieFEST Film Award, Carving A Life and Life in Reels Productions joins the ranks of other high-profile winners of this internationally respected award including Liam Neeson as the narrator of Love Thy Nature, A PATH APPEARS Documentary featuring George Clooney and Blake Lively, Radical Grace executive produced by Susan Sarandon, a searing expose Davids and Goliath by Leon Lee, and Touched with Fire starring Katie Holmes. Rick Prickett, who chairs The IndieFEST Film Awards, had this to say about the latest winners, "The IndieFEST is not an easy award to win. Entries are received from around the world from powerhouse companies to remarkable new talent."
The film was also a finalist at the Burbank International Film Festival in September for best dramatic feature film.
IndieRights has the distribution rights for the film which premiers in Los Angeles at Arena Cinelounge on October 13 and on Google Play and Amazon Video on Demand.
For more information visit https://www.CarvingALife.com.