Feature: FIRST AMMENDMENT RIGHTS DIVIDE SALT LAKE THEATER COMPANY UTAH REP AND CITY ADMINISTRATORS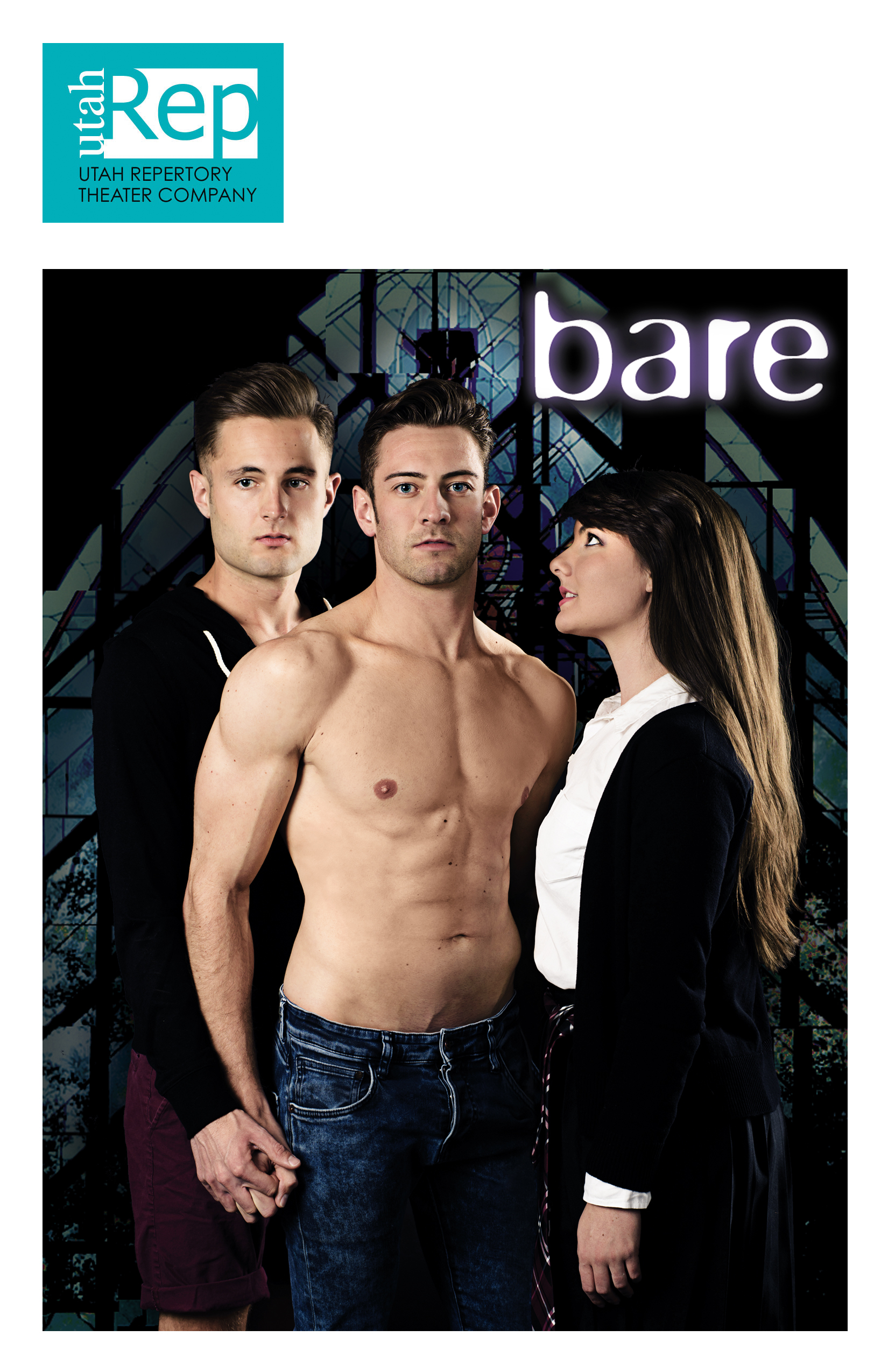 "We're currently homeless!"
So began the Facebook post by the adventuresome Utah Repertory Theater Company that startled company management and prompted discussion among seasoned theatergoers of censorship and denial of First Amendment rights.
The award-winning Utah Rep had enjoyed a thriving relationship with the previous staff of the theater-performance venue inside the Sorenson Unity City on the city's up-and-coming west side.
But the company was surprisingly denied to schedule and produce two future productions based solely on the shows' content, which hadn't been previously under Sorenson scrutiny. Supervision of the community center in the multiethnic Glendale neighborhood (a community of "diversity, friendliness, pride in community, and authenticity") was recently altered to be under the auspices of the city's Youth and Family Division. And the center was "newly dedicated to a youth development mission."
"The new guidelines at the Sorenson Unity Center indicate that the Pulitzer Prize-winning DISGRACED and the hot-off-Broadway hit STRAIGHT do not represent the current mission of the city-owned facility," said the company's artistic director, Johnny Hebda. "It's been determined that ANNIE, THE WIZARD OF OZ, and other types of 'family-friendly' shows are just what Salt Lake City needs more of," he noted with sarcasm.
Since its opening in 2008, the center has a history of allowing all types of theater productions at the venue. That is, until the debate over First Amendment rights with a public theater company performing its choice of productions on Salt Lake City property.
In its reportage headlined "Salt Lake City theater ignites First Amendment debate after signaling it will only allow kid-friendly plays," the Salt Lake Tribune quoted Crystal Young-Otterstrom, executive director of an arts advocacy group called the Utah Cultural Alliance, as saying: "A government facility should be a champion of free speech and artistic expression ... Censorship is always concerning. And any venue that is a public space ... should be accessible to anyone who wants to pay the rental fee."
With notable irony, the Sorenson was build on land donated by the state's predominate faith to prohibit freedom of expression. A property exchange was made in 2002 to make a public plaza near the LDS Church's downtown headquarters into a private, church-controlled venue, allowing officials to police speech and activity to what they consider proper, dignified -- and in tune with the church's strict code of conduct.
In the same Tribune article, government reporter Taylor W. Anderson and arts reporter Ellen Fagg Weist interviewed former Salt Lake City Mayor Rocky Anderson, who helped negotiate the land exchange. "I don't ever recall any discussion about limiting what would be presented at the Sorenson Unity Center," Anderson said. "I also would never have approved it. Limits that go beyond what is obscene may be unconstitutional."
The nonprofit Utah Rep's management was denied continuing its planned season at the center, where it had produced its eight previous shows beginning in 2015. Concern followed from savvy patrons who have come to embrace the company's published mission statement. The primary objective is to produce challenging Broadway and Off-Broadway plays and musical that are infrequently or never staged. It's the area's only successfully company that shuns safe, family-friendly shows, offering a respite from the status quo, kids-only selections that predominate this highly conservative state.
The immediate support Utah Rep received confirmed the company's faith in its audiences.
"The press and public has been amazingly supportive of the situation," Hebda said. "And it's been encouraging to see the public's interest in these productions. I think more theater should have themes of inclusion, unity, and breaking down walls and encouraging empathy and understanding."
Along with two Salt Lake Tribune articles, there was reporting done by Salt Lake Magazine and spirited discussion on Facebook and in the comments sections of news outlets, with one article generating nearly 159 public comments, including:
"There is an endless supply of family-friendly theaters in Utah and not enough that will tell thought-provoking stories that are needed in today's world. DISGRACED is such a relevant and amazing play, and it's disturbing that the Sorensen "unity" Center feels the need to censor this play in particular."
"Can we realistically shelter kids from LGBTQ issues and Islamaphobia until they reach the mystical age when they can understand? Probably not, so I don't think we do children any favors if we shelter them from these issues. Just because you can't bring your six-year-old to it doesn't mean it should be chucked from the lineup, mostly because your six-year-old shouldn't be there."
"Only in Utah can confronting Islamophobia and homophobia be thought of as anti-kid. Our kids have known about the reality of bigotry and racism in America since they could walk."
"There are many, many places in Utah to see yet another 'family-friendly' production of JOSEPH...DREAMCOAT or ANNIE or FOREVER PLAID. I imagine one of the main reasons Utah Rep does so well is because it chooses shows that are otherwise very hard to see in Utah."
The Sorenson is the company's third attempt in its six-year history to establish a resident theater venue for its productions that have included regional premieres or first-in-state productions, such as BARE: A POP OPERA, AUGUST: OSAGE COUNTY, [title of show], ORDINARY DAYS, HEATHERS: THE MUSICAL, KISS OF THE SPIDER WOMAN, SIDE SHOW, and BONNIE & CLYDE.
"Finding affordable and adequate theater spaces has been challenging to say the least," Hebda said. "Either extremely high costs or scheduling constraints (such as the Rose Wagner, which regularly stays booked up to two years in advance with its resident groups). We have often had to find and convert spaces, such as a storefront rental (like we did for CARRIE), which drastically increases costs and workload. Also, the space doesn't have the technical elements necessary to produce professional-level, quality stagings we are seeking."
Novelist and screenwriter Ayad Akhtar wrote DISGRACED to tackle Islamophobia and questions of Muslim-American identity. "What starts out as a friendly conversation escalates into something far more damaging," as described by the Pulitzer Prize committee, which honored the play with its 2013 Drama award. STRAIGHT, by playwrights Scott Elmegreen and Drew Fornarola, concerns fidelity, identity, and the moral complex of a generation that prides itself on the pretense of gay and bisexual acceptance. Ben is a 26-year-old investment banker who "likes beer, sports, and Emily. And Chris."
The sweeping decision to shift emphasis of the performance space was made without consulting representatives from the mayor's office, which was not made aware of the news-making announcement until contacted by a Tribune phone call seeking explanation.
In a resolution meeting with Hebda, the Sorenson management team, and representatives from the mayor's office including Matthew Rojas, the mayor's director of communications, Rojas deemed the situation a "misunderstanding."
"It was a misunderstanding on the part of the Youth and Family Division after the Sorenson was moved under its purview that this indicated a shift in mission. It did not," he said.
He confusingly explained that the center's 99-seat facility is not a "theater" per se -- while it is identified as a "performance theater" on the Sorenson website -- "but a community asset and gathering space, which should be maximized for community benefit." The space, commonly called "the black box," further terming it in theatrical terms, "needs to be available for quinceañeras and other one-, two- or three-day celebrations as much as it should be available for events which draw big crowds," Rojas said.
"Unfortunately, Utah Rep got caught up in this situation and received direction not consistent with the long-held mission of the community center, which is to serve the community at large," Rojas said. "We are happy this has been resolved."
"We hope that the new guidelines on scheduling are not a back-door way of making it impossible for us to utilize the facility," Hebda said.
Diplomatically, Rojas explained: "The Sorenson is not a play house; it is a community center, and as such, programming at Sorenson should be a catalyst for community discussion and education. Plays by Utah Rep or others that have mature themes, or touch on topics relevant to current community discussion, provide a great opportunity to fulfill this obligation."
"We are excited to announce that we have come to terms with the Sorenson and will be able to perform STRAIGHT and DISGRACED as planned. We are hoping that we will be able to continue forward with a full season as well. We sincerely appreciate the community's support as we have tackled this issue."
However, he added: "It's an experiment with these two shows. I think management wants to see how these shows go before commuting to future shows. So I am happy with the current resolution, but there is no guarantee for the future which still causes frustrations and uncertainty."
STRAIGHT is scheduled for a February opening and DISGRACED will premiere in April.
With this snafu in the rear-view mirror, the company can now focus exclusively on its regional premiere production of its most ambitious project to date -- THE BRIDGES OF MADISON COUNTY, by the popular, contemporary composer Jason Robert Brown -- in a different (and larger) theater space. The Tony-winning musical, running Nov. 25-Dec. 10, will be the first theater staging in the 200-seat Regent Street Theater at the prestigious George S. and Dolores Doré Eccles Theater in downtown Salt Lake City.