Blair Howell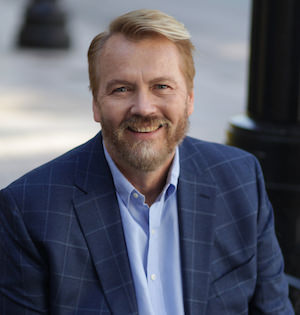 Blair Howell's career is in the professional publishing arena (for more years than he cares to remember), with a longstanding interest in theater. He found it to be great fun to live in New Canaan, Connecticut, with easy access to the Great White Way. But now, Blair lives in Salt Lake City (a long, not interesting story). The much-lamented move has allowed him to be more active in regional theater. He has covered theater and the arts for the Deseret News, Utah's oldest, continuously published metro daily newspaper, and has written for various theater-related national magazines and websites. 
Blair Howell is no longer a contributor to BroadwayWorld.com as of 12/3.
MOST POPULAR ARTICLES
LAST 30 DAYS
LAST 365 DAYS
BWW Interview: Utah Rep to Produce the Murderous Debauchery of AMERICAN PSYCHO, with Composer Duncan Sheik Attending a Performance

November 23, 2019

AMERICAN PSYCHO gushes blood, sex and moneya?'and Utah Rep fearlessly stages the musical of the controversial bestseller. The musical has 'something for everyone: romance, murder, '80s nostalgia, and a cornucopia of sex, drugs and rock 'n' roll,' says the company's director. 'Yet despite its surface, this isn't a mindless ride through escapism. Before the audience has a chance to catch their breath, their minds, and maybe even hearts, will already be engaged.'
---
BWW Feature: Adventurous Utah Rep to Host Tony Winner Duncan Sheik at AMERICAN PSYCHO Production in Salt Lake City

November 18, 2019

Duncan Sheik, a Tony and Grammy Award winner for a?oeSpring Awakening,a?? will travel to Salt Lake City to join Utah Repertory Theater Company for the Rocky Mountain premiere production of AMERICAN PSYCHO.
---
BWW Feature: SWEENEY TODD, a Utah Rep and Noorda Center Co-Production, Wildly Heralded

November 15, 2019

Utah Repertory Theater Company's co-production of SWEENEY TODD: THE DEMON BARBER OF FLEET STREET was a startlingly beautiful production, and reviewers and audiences responded with enthusiasm.
---
Ellora Lattin Makes Concert Debut at Covey Center

November 9, 2019

Popular musical theater actor Ellora Lattin makes her concert debut Monday, Nov. 11, at 7:30 p.m. Lattin's performance, 'Ellora Lattin in Concert,' is part of the Covey Center's Excellence in the Community series.
---
BWW Interview: Director Tim Threlfall Q&A on SWEENEY TODD at UVU

October 21, 2019

The Noorda Center/Utah Repertory Theater Company production of SWEENEY TODD is shaping up to be the theatrical event of the season, with the insightful leadership of Director Tim Threlfall.
---
BWW Feature: Stephen Sondheim Sends Regards to Jeff McCarthy, Lead Actor in SWEENEY TODD at Noorda Center

October 16, 2019

Broadway leading man Jeff McCarthy received a personal message from Stephen Sondheim while in rehearsal for SWEENEY TODD, a co-production of UVU's Noorda Center for the Performing Arts and Utah Repertory Theater Company, running Oct. 24-Nov. 9, 2019.
---
BWW Feature: Tony Nominee Jeff McCarthy to Re-Create Acclaimed Portrayal of SWEENEY TODD In 40th Anniversary Production At Noorda Center

October 1, 2019

Tony Award nominee Jeff McCarthy will step in to replace previously announced Will Swenson in the title role in Stephen Sondheim's masterpiece musical thriller SWEENEY TODD: THE DEMON BARBER OF FLEET STREET in a co-production by The Noorda Center for the Performing Arts and Utah Repertory Theater Company onstage at Utah Valley University Oct. 24-Nov. 9.
---
BWW Previews: 'Fantastic Teacher, Inspiring Director' Chris Clark Honored at Hale Orem XANADU Benefit Re-Staging

September 27, 2019

In tribute to a a?oebeloved friend, husband, father, director and lip-sync enthusiast,a?? Hale Center Theater Orem is producing XANADU as a benefit.
---
BWW Interview Part 3: PIONEER THEATRE COMPANY'S New Managing Director Chris Massimine on Leadership and Mentorship by Hal Prince

September 26, 2019

Newly named as Pioneer Theatre Company's Managing Director, Chris Massimine is one of the country's youngest theater management executive. He discusses the mentoring that lead to accepting a major theater production position and what he learned about leadership.
---
BWW Review: U of U Musical Theater Students Sink Teeth Into DRACULA, With Splendid Direction and Choreography

September 20, 2019

Director-choreographer Denny Berry gamely takes a stab (pun intended) to breath new life (sorry about that one) into a musical version of Bram Stoker's 1897 epistolary novel, Frank Wildhorn's DRACULA, THE MUSICAL.
---
BWW Interview Part 2: As Newly Named Managing Director, Chris Massimine Will 'Pioneer Way for a Brighter' PIONEER THEATRE COMPANY

September 19, 2019

An exclusive BWW Q&A interview with Chris Massimine, the newly named Managing Director at Pioneer Theatre Company. 'PTC has such a brilliant reputation for top-tier work and first-class service, to both patrons and visiting artists alike. The company's artistic leadership in Karen Azenberg is second-to-none in my opinion,' he says.
---
BWW Interview Part 1: Tony Nominee Chris Massimine 'Just the Right Person' to Continue and Expand Excellence of PIONEER THEATRE COMPANY

September 17, 2019

With 'American Idiot' and 'Indecent' Chris Massimine became a Tony-nominated producer. He is 'just the right person to continue the journey' of the 57-year-old professional theater in Salt Lake City, according to PTC Artistic Director Karen Azenberg.
---
BWW Review: Masterful Musical Theater Storytelling with Patti LuPone in DON'T MONKEY WITH BROADWAY

September 15, 2019

Broadway legend Patti LuPone wows theatergoers with her dazzling DON'T MONKEY WITH BROADWAY cabaret act at BYU's de Jong Concert Hall. The opportunity to experience the world of an authentic Broadway star in a Utah seat is a rare privilege. And Audra McDonald and Bernadette Peters are set to perform at UVU's Noorda Center for the Performing Arts in the next few months.
---
BWW Interview: U of U Musical Theater Program's Denny Berry Promises 'Something New and Unexpected' With Frank Wildhorn's DRACULA

September 11, 2019

To open the University of Utah Musical Theater Program season, Denny Berry directs and choreographs Frank Wildhorn's DRACULA -- to continue her reputation for engaging audiences with little-known and perhaps problematic musicals.
---
BWW Interview: Broadway's Jeff Whiting to Helm New Musical FLY MORE THAN YOU FALL at Professionally Focused Theater Department of Utah Valley University

September 7, 2019

Utahn Jeff Whiting, with major Broadway credentials, is back in the state to lead the Broadway-bound original musical FLY MORE THAN YOU FALL at Utah Valley University, quickly becoming a sought-out actor-training university with its many direct ties to Broadway professionals.
---
BWW Review: An Ex-Mo Reviews THE BOOK OF MORMON (the Musical; Not the Book) in Sal Tlay Ka Siti

August 16, 2019

Seeing THE BOOK OF MORMON musical with an audience full of TBMs (true-believing Mormons) and Ex-Mos in Sal Tlay Ka Siti, who deeply understand the culture the musical skewers, a wholly unique experience -- something incredible.
---
BWW Review: In the Anniversary Staging, We're Reminding of Enduring Legacy of the Revolutionary RENT

June 28, 2019

The 20-year anniversary tour of RENT roared into Salt Lake City's Eccles Theater to remind us of the inspiring brilliance of this gorgeous contemporary masterpiece of musical theater.
---
BWW Feature: The Book That 'Started' Tony Kushner's ANGELS IN AMERICA Gifted to Playwright by Salt Lake Woman, Utah Rep Reveals

June 7, 2019

Who gave Playwright Tony Kushner his first copy of 'The Book of Mormon'?
---
BWW Feature: Utah Rep Producing ANGELS IN AMERICA in Utah a Unique Experience, for Both Actors and Audiences--With Mormon Church Dominating State's Culture and Politics

May 19, 2019

With characters in ANGELS IN AMERICA hailing from Utah, the Utah Repertory Theater Company production will uniquely reverberate with theatergoers. 'What excites me most about participating in ANGELS is being able to tell a story that is still applicable to today's problems -- and in a place where these problems are looked past,' said Lucas Stewart, who plays Joe. 'We have the opportunity to share a story that, sadly, resonates with too many people in this state.'
---
BWW Review: SILENT DANCER at Salt Lake Acting Company

April 21, 2019

Three titans of the local arts scene collaborate hand-in-glove at Salt Lake Acting Company to experiment how dance can expand storytelling in a drama. SILENT DANCER is intriguing.
---