BWW Review: SINGIN' IN THE RAIN Brings that Glorious Feeling to Broadway At Music Circus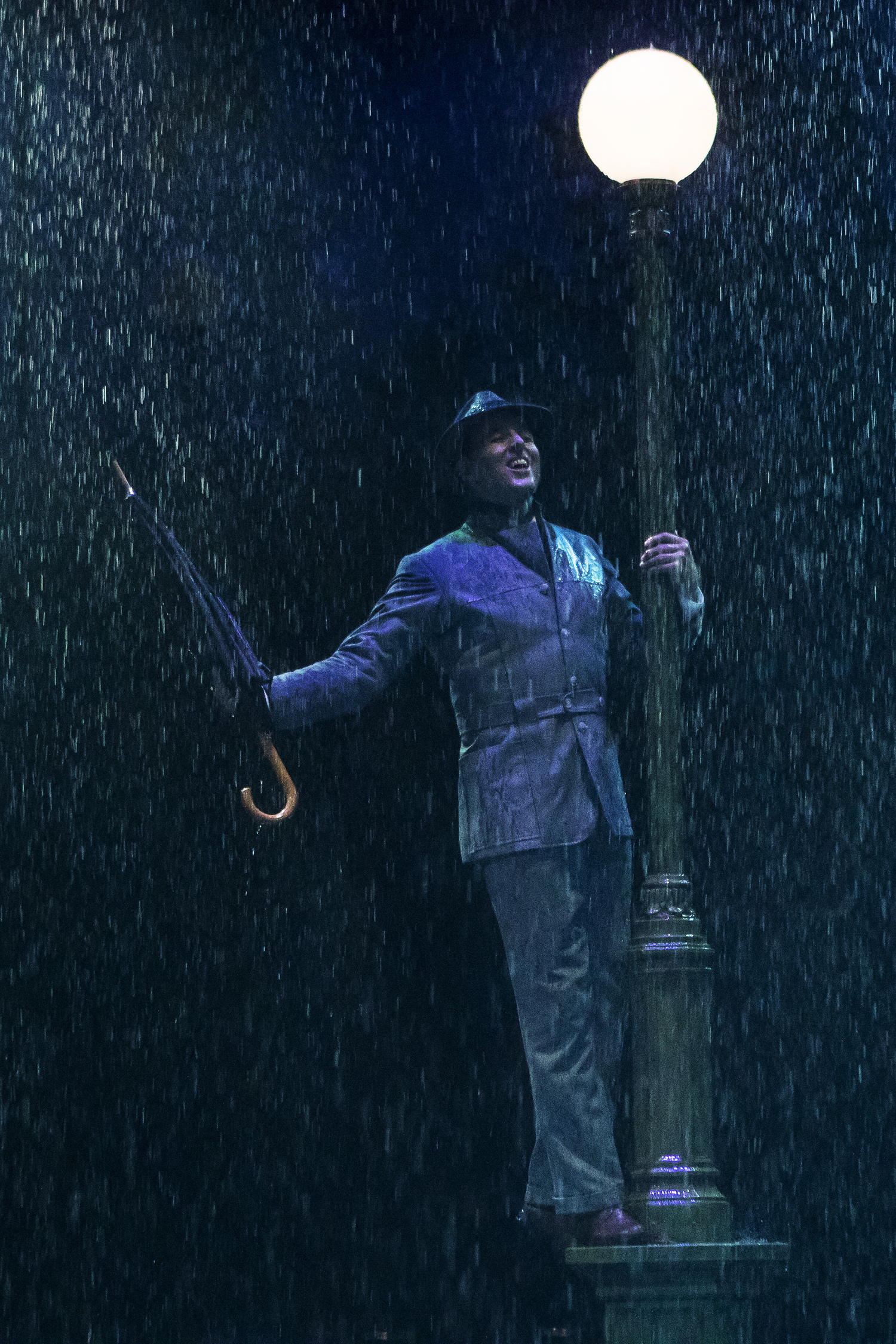 Oh, I am happy again after absorbing the season debut at the newly renamed Broadway at Music Circus! Singin' in the Rain is based off of the 1952 movie starring Gene Kelly and Debbie Reynolds that is often regarded as the best movie musical ever made. The stage version opened on Broadway in 1985 and continues to be popular in regional theatre today.
Singin' in the Rain is a delightful comedy set in the Golden Age of Hollywood. Don Lockwood, a silent film star, is trying to stay relevant as the new talking film, "The Jazz Singer", has come out and audiences are wanting more. To keep up, he must release a talking film of his own. The problem lies in his costar's, Lina Lamont's, voice. She will be one of the casualties of the "talkies" because of her shrill, displeasing tone. Don's best friend, Cosmo Brown, comes up with the idea of having up-and-coming star and Don's love interest, Kathy Selden, do a voiceover for Lina. This is met with hostility on Lina's part and begrudging acceptance on Kathy's. What will they do to save their careers in a rapidly changing Hollywood?
Set to familiar songs by Nacio Herb Brown and Arthur Freed such as "Good Morning" and "Singin' in the Rain", Broadway at Music Circus' version features energetic, creative choreography by Director/Choreographer Linda Goodrich. Costume designer Mark Koss has managed to evoke a distinctly 1920's feel with gorgeous pieces that stand out for their glamour and old Hollywood feel.
The music would be enough to carry the show, but add in three Broadway alums as leads and you have a masterpiece. Matt Loehr as Cosmo Brown makes the perfect Vaudeville sidekick, showing off his comic chops in "Make 'Em Laugh." Kara Lindsay (Kathy Selden) comes from Broadway roles such as Glinda in Wicked and the original Broadway cast of Newsies. Noah Racey, a Tony Award winner for Best Choreography, makes a dashing leading man of Don Lockwood. He epitomizes the vision of the 1920's heartthrob in "You Were Meant For Me." If that wasn't enough, he will steal everyone's heart in the title song. A man, tap shoes, a lamppost, and....rain? You'll have to see for yourself the effects that defy description. Hurry, before the sunny Sacramento weather chases the rain clouds away!
Tickets for Singin' in the Rain start at $45 and are available by phone at (916) 557-1999, online at www.Tickets.com, or in person at the Wells Fargo Pavilion Box Office, 1419 H Street in Sacramento. Evening performances are Tuesday through Saturday, June 12-16, at 7:30 p.m.; matinee performances are Thursday, June 14 and Saturday, June 16 at 2:00 p.m., and Sunday, June 17 at 3:00 p.m. For more information, visit www.BroadwaySacramento.com.
Photo Credit: Charr Crail