Photo Flash: Willkommen, Bienvenue, Welcome! First Look at CABARET at WPPAC!
CABARET, winner of the 1967 Tony Award for Best Score and Best Musical and the 1998 Tony Award for Best Revival of a Musical will play the White Plains Performing Arts Center stage August 3-12.
CABARET features memorable songs, including "Willkommen," "Cabaret," "Two Ladies" and "Maybe This Time," and tells the story of the infamous Kit Kat Klub at the cusp of the 1930's in pre-WWII Berlin. As Germany slowly yields to the emerging Third Reich the Kit Kat Klub invites audiences to leave their troubles at the door and indulge. As life in Germany grows uncertain, will the allure of Berlin nightlife be enough to get them through the tumultuous times?
The cast is headed by Keiji Ishiguri, Elyssa Alexander, and James Arthur Douglas as the Emcee, Sally Bowles, and Cliff Bradshaw, respectively. They are supported by Peter Ackerman (Herr Schultz), Nellie O'Brien (Fraulein Schneider), Kevin Rodd (Ernst), and Rebecca Simpson-Wallack (Kost), with Allison Burke, Jacob Anthony Cain, James Anthony Caposito, Casey Dath, Megan Fay, Katie Jo Flanagan, Rena Gavigan, Jenna Goldberg, Leah Lundin Hall, Kat Katona, Kayla Mattocks, Abby Grace Menocal, Jake T. Moses, Luis G. Quintero, Mario Regis, Gianna Rini, Romello Rodriguez, Garrett J. Shin, and Chase Slovak.
CABARET is directed and choreographed by MK Lawson with musical direction by Katie Luekens Chan Chee. Scenic Design by Jim Foster, Costume Design by Molly Seidel, Lighting Design by Noah Platte, Sound Design by Robert Isley, Stage Managed by Allison Queen. Music by John Kander, lyrics by Fred Ebb, book by Joe Masteroff, based on the play by John Van Druten, and the stories by Christopher Isherwood.
CABARET performs August 3-12 at the White Plains Performing Arts Center, minutes from the White Plains Metro North Station. It is located on the third level of City Center off Mamaroneck Avenue in downtown White Plains. Tickets start at $27. For tickets visit the theatre box office or call 914.328.1600 Monday-Friday, 11am-6pm. Tickets can also be purchased online at wppac.com. For group sales, please contactboxoffice@wppac.com.
CABARET is produced by Stage 2, a program created by WPPAC to bridge the gap between our Conservatory and Mainstage, giving college and community performers the chance to work in a regional theatre under the guidance of professional artists. More information can be found at http://wppac.com/shows/cabaret/
Photo Credit: Kathleen Davisson
Photos: Keiji Ishiguri (Emcee) and the Kit Kat Girls & Boys
Elyssa Alexander (Sally Bowles)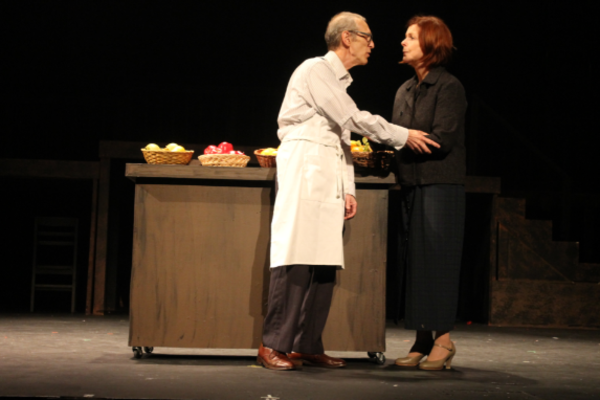 Peter Ackerman (Herr Schultz) and Nellie O'Brien (Fraulein Schneider)
Romello Rodriguez (Bobby), Keiji Ishiguri (Emcee) and Katie Jo Flanagan (Lulu)