Photo Flash: The Sun Will Come Up Tomorrow at Westchester Broadway Theatre
Inspired by Little Orphan Annie, the 1924 comic strip by Harold Gray, Annie is a heart-warming story, filled with adventure and laughs that defines what family truly means. One of the longest running shows in Broadway history and the winner of seven Tony Awards, Annie, returns to the WBT stage from June 29 toSeptember 10, 2017!
Annie, one of the world's best-loved musicals, is set in 1933 in New York City during the Great Depression.Little Orphan Annie is determined to find the parents who abandoned her years ago on the doorstep of a New York City Orphanage that is run by the cruel, embittered Miss Hannigan. With the help of the other girls in the Orphanage, she escapes to the wondrous world of NYC where she finds a new home and family in billionaire, Oliver Warbucks, his secretary, Grace Farrell, and a lovable mutt named Sandy. Notable musical numbers include "It's the Hard Knock Life," "Easy Street," "I Don't Need Anything But You," and "Tomorrow."
Peyton Fishman (Irvington) and Kaylin Hedges (Valley Cottage) star as Annie in alternating performances. Michael DeVries is Daddy Warbucks, the billionaire business man. You may remember him in Wicked andHello, Dolly, on Broadway. Susann Fletcher is Miss Hannigan, the cold-hearted orphanage owner. She starred as Louise Seger in WBT's production of Always...Patsy Cline. Warbucks' secretary and love-interest, Grace, is portrayed by Celeste Hudson who was seen in Show Boat at WBT. Miss Hannigan's con-artist brother, Rooster, is played by Adam Roberts, who appeared on Broadway in Pippin and Spider-Man Turn Off the Dark. The role of Lily, Rooster's petty-thieving girlfriend, is played by Aubrey Sinn who starred as Maria in our production of The Sound of Music. John-Charles Kelly plays President Franklin D. Roosevelt.
A lively group of local girls play the orphans in Annie. Anika Bobra (Armonk), Tahlia Ellie (Short Hills, NJ), Haylie Christiano and Ruby Griffin (both of Valley Cottage), Maureen Henshaw (Carmel), Nora Kennedy (Tappan), Molly Lyons (Wappinger's Falls), Sasha Murray (Chappaqua), Lucy Neureuther (Harrison), Ella Stanley (Bronx), Lauren Sun (Rye Brook) and Gabriella Uhl (Cornwall).
Featuring: Robert Abdoo, Kelly Black, Laura Cable, Joseph Cullinane, Jesse Lynn Harte, Carl Hulden, Ryan Alexander Jacobs, Kelsey Self, Rochelle Smith, Roger Preston Smith, and Billy Clark Taylor.
Sunny, a 7 year old Terrier Mix, will play Sandy the dog. He was rescued from a kill shelter and appeared in the 2014 revival of ANNIE on Broadway, and in the national tour. He was the subject of a NBC special entitled ANNIE'S SEARCH FOR SANDY. Sunny follows in the line of great Sandy dogs rescued and trained by Bill Berloni.
Directed & Choreographed by Mary Jane Houdina; Musical Director is William Stanley; Assistant Director/Choreographer is Robert Abdoo. Rochelle Smith is the Dog Handler.
Steve Loftus is the Technical Director. Costume design by
Suzy Benzinger
, Costume coordinator is Heather Carey, Set design by
Michael Bottari
&
Ron Case
, Lighting Design is by Andrew Gmoser, Sound Design is by Mark Zuckerman, Wig & hair design by
Shannon Harrington
. The Production Stage Manager is
Victor Lukas
, ASM is
Duane McDevitt
and properties are by Grumpy Props.
Lisa Tiso
is the Associate Producer.
Reservations: Call (914) 592-2222. Also at: www.BroadwayTheatre.com
Group Reservations: Discounts for Groups of 20 or More: Call (914) 592-2225.
Luxury Boxes: Call (914) 592-8730. For private parties of 6 to 22. Enjoy dining and theatre in an elegant private box. Additional features include an expanded dinner menu, hot and cold hors d'oeuvres, private powder room, and Luxury Box reserved parking.
Show Times: Wednesday & Thursday & some Friday Matinees: Lunch: 11:30 am & Show 1 pm.
Thursday, Friday, & Saturday Evenings: Dinner: 6:30 pm & Show: 8 pm.
Sunday Matinees: Lunch: 12 pm & Show: 1:30 pm
Sunday Evenings: Dinner: 5:30 pm & Show: 7 pm.
Ticket Prices: Dinner & Show range between $56.00 and $84.00 PLUS TAX depending on the performances chosen. Beverage Service & Gratuities are not included in the ticket price. Discounts are available for children, students, and senior citizens at selected performances. Also check the website for on-going Special Offers! More news at: www.BroadwayTheatre.com
WBT Mainstage:
Annie - June 29 - September 10, 2017
Annie Get Your Gun - September 14 - November 26, 2017 & December 28, 2017 - January 28, 2018
The Christmas Voyager - November 30 - December 23, 2017
Photo Credit: John Vecchiolla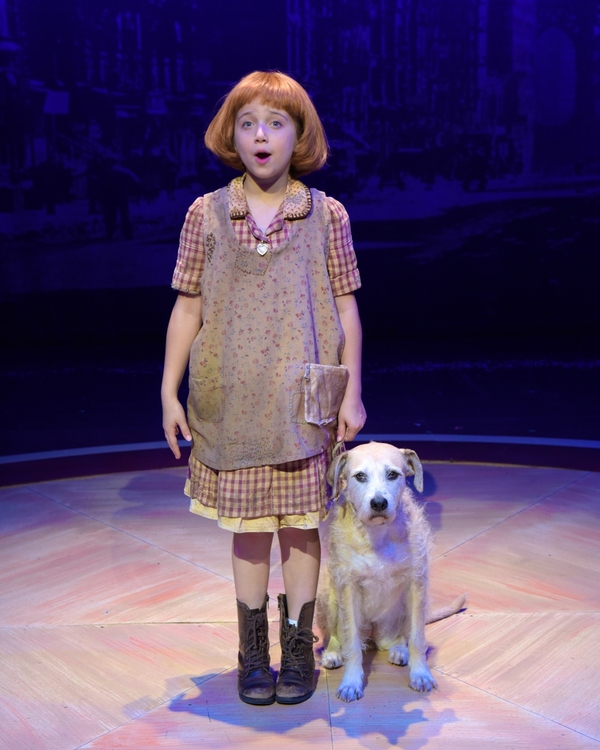 Annie (Peyton Ella) & Sandy (Sunny)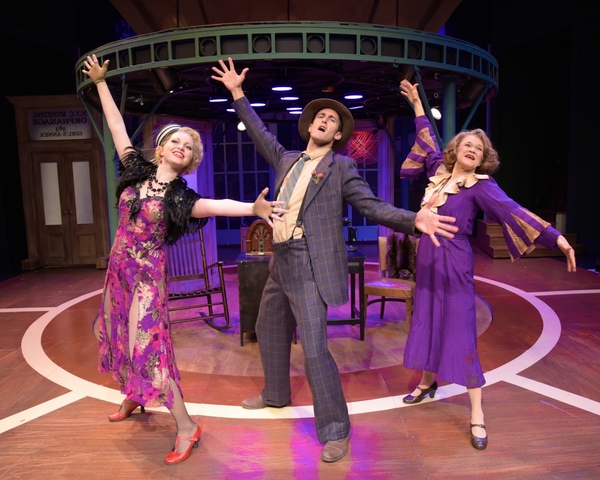 Lily St. Regis (Aubrey Sinn), Rooster ( Adam Roberts) and Miss Hannigan (Susann Fletcher) perform "Easy Street�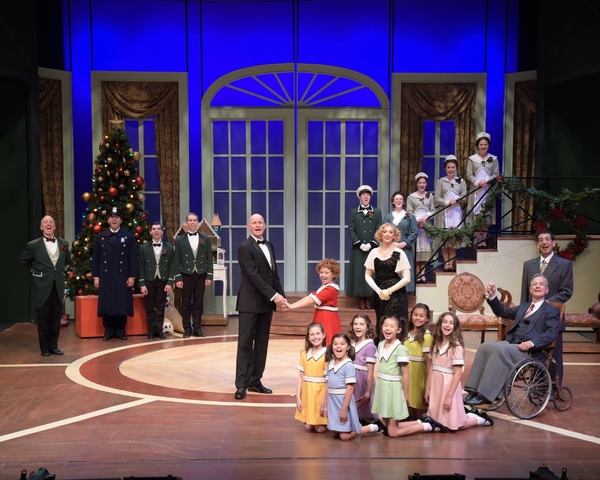 Cast of Annie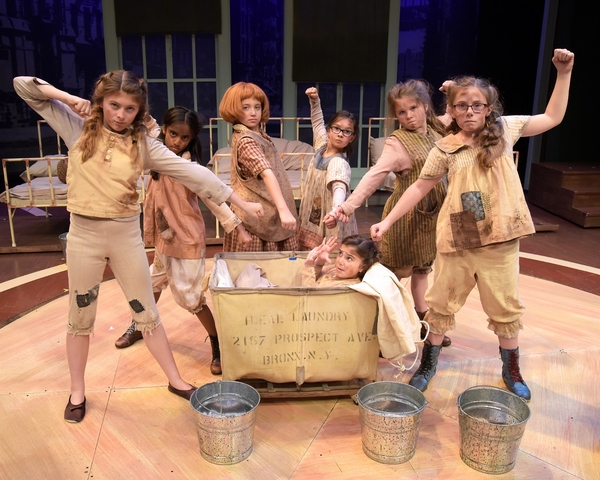 The Orphans: L to R: Ruby Griffin (July), Anika Bobra (Tessie), Peyton Ella (Annie), Gabriella Uhl (Kate), Nora Kennedy (Pepper), Maureen Henshaw (Duffy). In Basket: Haylie Shea Christiano (Molly).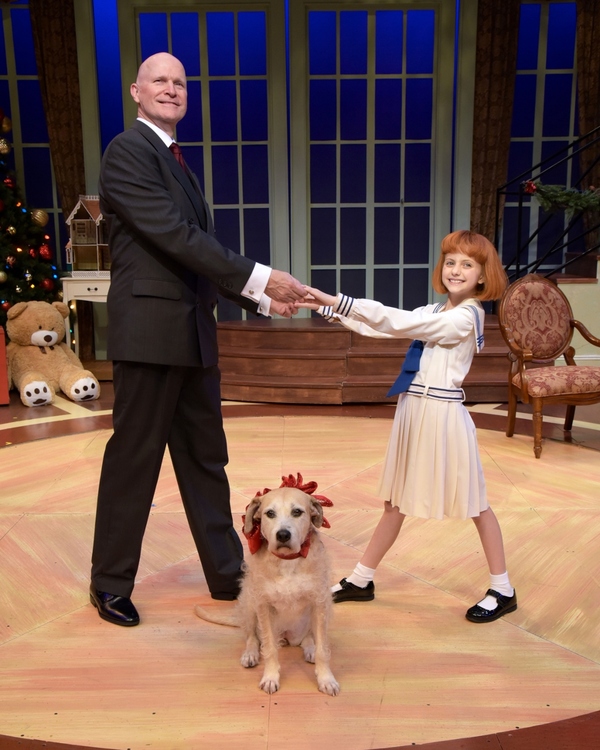 Daddy Warbucks ( Michael DeVries) and Annie ( Kaylin Hedges) perform "Together At Last.�