Photo Flash: Meet the Cast of Westchester Broadway Theatre's WEST SIDE STORY
Westchester Broadway Theatre presents WEST SIDE STORY, based on a concept by Jerome Robbins with book by Arthur Laurents, music by Leonard Bernstein, lyrics by Stephen Sondheim, directed and choreographed by Barry McNabb and musical direction by Ryan Edward Wise. The show runs now through July 5th, 2015 and officially opens on April 16th, 2015. BroadwayWorld has a sneak peek at the cast below!
West Side Story, possibly the greatest musical ever created, was inspired by Shakespeare''s Romeo and Juliet. The Musical is set on the mean streets of Manhattan, in the upper west side neighborhood of San Juan Hill, during the turbulent fifties. West Side Story tells the tale of two star-crossed lovers from different worlds. When Tony, a Jet, falls for Maria, a Shark, all hell breaks loose. Caught between two warring street gangs, the Jets and the Sharks, Tony and Maria attempt to create a life together. The dark theme, sophisticated music, extended dance scenes, and focus on social problems marked a turning point in American musical theater.
Bernstein's score for the musical includes "Something's Coming", "Maria", "America", "Somewhere", "Tonight", "Jet Song", "I Feel Pretty", "A Boy Like That", "One Hand, One Heart", "Gee, Officer Krupke", and "Cool".
Director Barry McNabb, who directed and choreographed WBT's original 1998 production, returns to take the helm. The assistant Director/Choreographer is Warren Curtis. The fight Director is James Jelkin.
The production stars: Carly Evans as Maria, Zach Trimmer as Tony, Adam Soniak as Riff, Allison Thomas Lee as Anita, Brandon Contreras as Bernardo, Mike Boland as Doc and Officer Krupke, Xavier Reyes as Chino, Ed Romanoff as Lt. Shrank and Gladhand, and Maggie McGrath as Anybody's. Featured are: Sara Brophy, Victoria Casillo, Alexander Gil Cruz, Warren Curtis, Sarah Gawron, Michael Graceffa, Anthony Johnson, Tyler John Logan, Erik Magnus, Kelsey Orem, Emilio Ramos, Arianna Rosario, Kevin Santos, Scott Shedenhelm and Melanie Wildman.
Set Design is by Steve Loftus, Lighting Design is by Andrew Gmoser, Sound Design is by Jonathan Hatton and Mark Zuckerman, Costume Design is by Derek Lockwood. Wig/Hair Design by
Gerard Kelly
, The Production Stage Manager is
Victor Lukas
, Assistant Stage Manager is
Duane McDevitt
. Properties are by Grumpy Props. As with all our productions,
Lisa Tiso
is the Associate Producer.
Musicians: Von Ann Stutler - Contractor, Ryan Edward Wise - Musical Director, John Bowen - Assistant Musical Director/Keyboard, Kenny Ross - Drums, Jordan Jancz - Bass, Ron Kozak - Reeds, John Trombetta - Trumpet, John Reid - Trumpet, Jason Ingram - trombone.
For tickets and more information, visit (914)-592-2222 or visit www.BroadwayTheatre.com.
Photo Credit: John Vecchiolla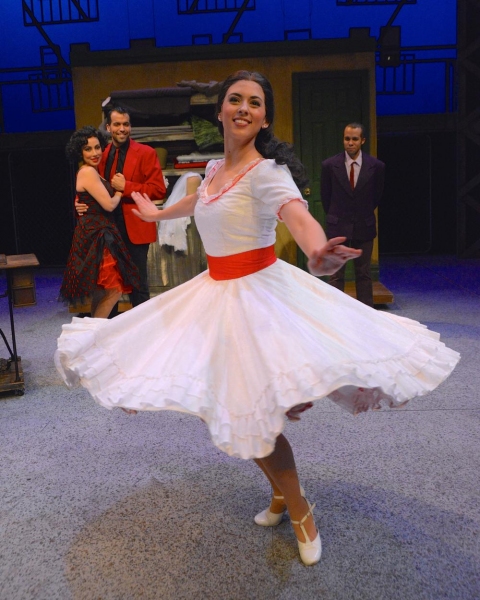 Carly Evans (Maria) with Anita Bernardo and Chino looking on.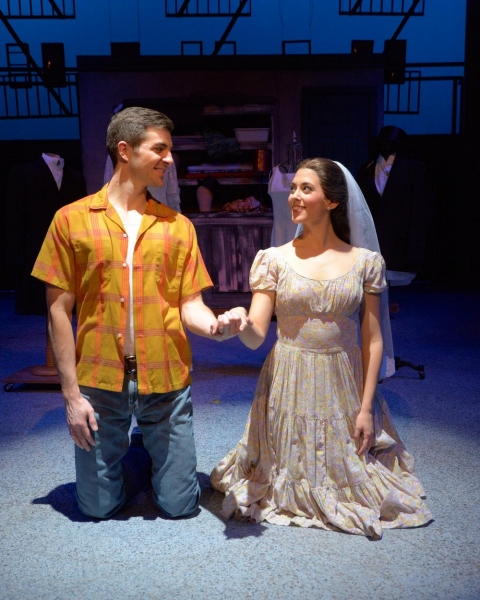 Zach Trimmer (Tony) and Carly Evans (Maria)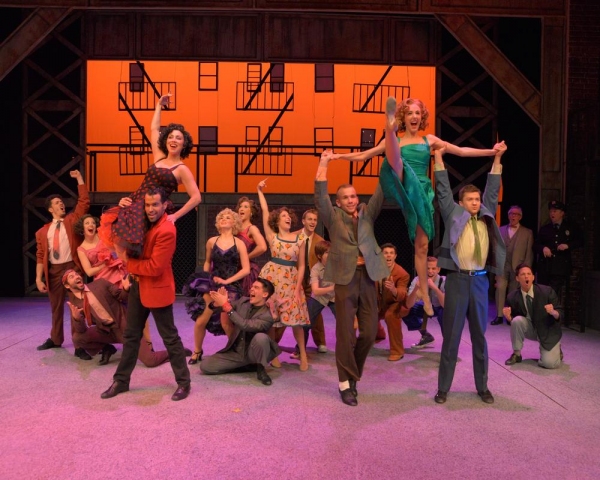 The cast of WEST SIDE STORY

Bernardo (Brandon Contreras, center) with the Sharks
More Hot Stories For You