Arc Stages To Present THE GOAT OR, WHO IS SYLVIA? Starring Broadway's Matt Bogart
Performances run February 3-18.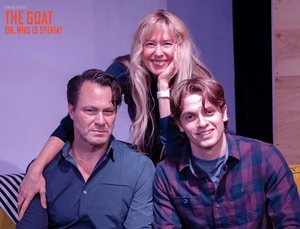 Pleasantville theater company Arc Stages will welcome Westchester native, Broadway actor Matt Bogart who leads an incredible cast of Broadway actors in The Goat or, Who Is Sylvia? by Edward Albee.

Matt Bogart most recently starred in Paradise Square opposite Tony Award winning actress Joaquina Kalukango. Additional Broadway credits include Jersey Boys, Aida, Miss Saigon, The Civil War, and Smokey Joe's Café. Television & film credits include HBO's Vinyl as Robert Goulet, The Good Fight, Jersey Boys (Starring Nick Jonas for streaming), and Smokey Joe's Café (streaming).

Arc Stages presents The Goat or, Who Is Syliva? by Edward Albee, for their professional company, the Next Stage. The Next Stage focuses on showcasing new, innovative work by a wide variety of exciting and talented writers. It is the third wing of a company that also includes a thriving Educational Stage and Community Stage.

Martin has a perfect life. A beautiful, intelligent wife. A glittering career. Fame and fortune. There's just one problem: Who is Sylvia? In his 2002 Tony Award winning play, Edward Albee "asks questions that no other major American dramatist dares to ask." -NY Times
The Goat or, Who Is Sylvia? will be directed by Ann-Ngaire Martin. Starring: Matt Bogart*, Joan Hess*, Griffin James Birney*, and Michael Halling*.
Performances will be held at Arc Stages, located at 147 Wheeler Avenue in Pleasantville NY.
Friday, February 3 at 8pm
Saturday, February 4 at 8pm
Sunday, February 5 at 2pm
Thursday, February 16 at 7pm
Friday, February 17 at 8pm
Saturday, February 18 at 2pm
Saturday, February 18 at 8pm
Tickets are $38 for adults, $30 for students, $28 for seniors. To purchase tickets, please visit www.arcstages.org or call 914-747-6206.