Photos: Granite Theatre Presents ANNIE!
The Granite Theatre of Westerly, announces the opening of the one of America's most beloved musicals "Annie", book by Thomas Meehan, music by Charles Strouse and lyrics by Martin Charnin. The show opens Friday November 23, 2018 and runs Thursdays, Fridays and Saturdays at 7:30 pm and Sundays at 2 pm through December 23, 2018. Please note the new 7:30 pm start time on evening performances! Producer/Artistic Director for the theatre is David Jepson.
David Jepson (Westerly, RI) directs. Musical Direction by Stephen DeCesare (Johnston, RI) and Choreography by Chris Mahn (Groton, CT). The cast features Michael Thurber as "Daddy Warbucks" (Chepachet, RI), Bobbie Celine Doherty as "Annie 1" (Stonington, CT) and Scarlett Colby Stanley as "Annie 2" (East Lyme, CT), Jane Mandes as "Miss Hannigan" (Westerly, RI), Levi Saltzman as "Sandy" (owner Renee Saltzman of Stonington, CT), Rick Bagley(Middletown, RI), Keith Eugene Brayne (Waterford, CT),Alex Celico (Westerly, RI), Deanna Delaney Niantic, CT), Jim Doherty (Stonington, CT), Nellie Horvath (Stonington, CT), Paula Glen (Westerly, RI), Fergus Milton (Westerly, RI), Ali Mitchell (Groton, CT), Linda Shea (Pawcatuck, CT), Stephen Small (Westerly, RI), Erin Sousa-Stanley (East Lyme, CT), Tom Steenberg (Mystic, CT), Warren Usey (Westerly, RI). Orphans: Kathryn Bootle (Narragansett, RI), Eliza DuFour (Pawcatuck, CT), Natalie Francese (Westerly, RI), Kendyll Gaccione (Westerly, RI), Sydney Nunes (Gales Ferry, CT), Kate Rocchio (Wakefield, RI) and Harper Rodman (Wakefield, RI).
ANNIE has become a worldwide phenomenon and was the winner of seven Tony Awards. With equal measures of pluck and positivity, little orphan Annie charms everyone's hearts despite a next-to-nothing start in 1930s New York City. She is determined to find the parents who abandoned her years ago on the doorstep of a New York City Orphanage that is run by the cruel, embittered Miss Hannigan. With the help of the other girls in the Orphanage, Annie escapes to the wondrous world of NYC. In adventure after fun-filled adventure, Annie foils Miss Hannigan's evil machinations... and even befriends President Franklin Delano Roosevelt! She finds a new home and family in billionaire, Oliver Warbucks, his personal secretary, Grace Farrell, and a lovable mutt named Sandy.
Patrons may enjoy a selection of wines, beers and soft drinks from the theatre's cash bar at all performances in the comfortable, spacious lobby of the beautifully refurbished, historic theatre. Opening nights of each new production feature an opportunity to share "Pizza with the Cast" - a mixer of patrons and performers.
"Annie" opens November 23, 2018 at The Granite. Performances are Thursday through Saturday Evenings at our new time 7:30 pm and Sunday Matinees at 2 pm. Tickets for this show are $25, 62 and older are $22 and children (12 and under) are $15. Reservations are available by calling the box office at 401-596-2341 or pick your seats with online ticketing at www.granitetheatre.com.
Gift certificates are available year-round and reservations for the entire season are available anytime. For reservations, directions or other information, call the Box Office at 401-596-2341. You can also visit our website for information or to order tickets online www.granitetheatre.com.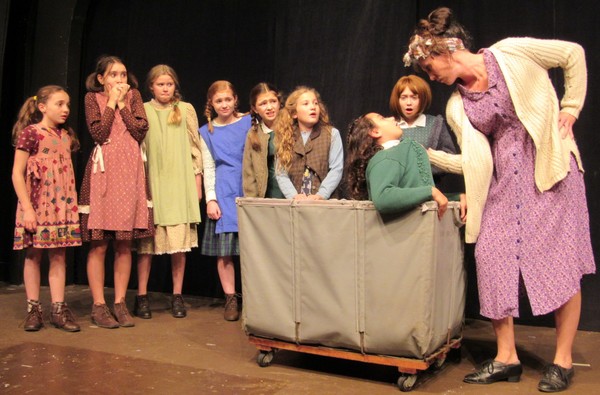 Eliza DuFour, Sydney Nunes, Kathryn Bootle, Kendyll Gaccione, Kate Rocchio, Harper Rodman, Scarlett Stanley (Annie) Jane Mandes (Miss Hannigan) In the Basket - Natalie Francese

Sandy the Dog - Levi Saltzman (owner Rene Saltzman) Bobbie Doherty (Annie)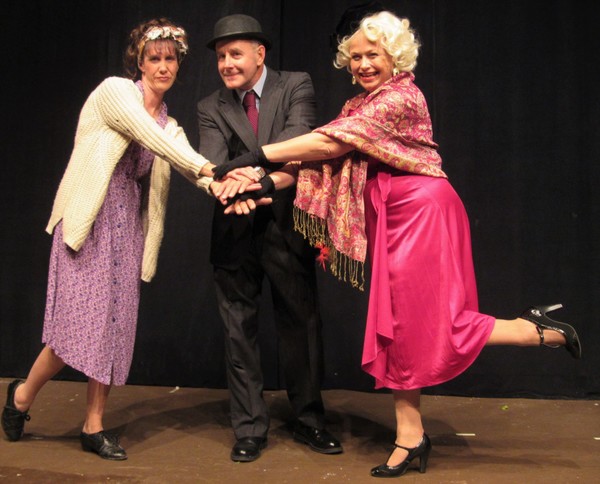 L to R - Jane Mandes (MIss Hannigan), Keith Brayne (Rooster), Erin Sousa-Stanley (Lily)

Fergus Milton L to R- Ali Mitchell, Bobbie Doherty, Michael Thurber (Daddy Warbucks)

Ali Mitchell, Bobbie Doherty, Fergus Milton

Bobbie Doherty, Michael Thurber