Photos: First Look at Lope de Vega's LIKE SHEEP TO WATER, OR FUENTE OVEJUNA at Trinity Rep
Trinity Repertory Company presents Lope De Vega's Like Sheep to Water, or Fuente Ovejuna translated by Curt Columbus and directed by Mark Valdez, with original music by Jerediah Gonzalez. Performances run through June 11. BroadwayWorld has a first look at the cast in action below!
In 15th-century Spain, a menacing Commander terrorizes a small town's citizens-especially the women. Pushed to their limit, the people of Fuente Ovejuna rise up against their oppressor in a fierce act of unity and bravery. Based on actual events, the story was immortalized by one of Spain's greatest and most influentiAl Golden Age dramatists. Now, Trinity Rep's adaptation of this timeless masterpiece reverberates with fresh urgency.
Curt Columbus spent over a year translating and adapting the prolific Golden Age text. Combined with Jerediah Gonzalez's original score written specifically for this production, Trinity Rep's Like Sheep to Water, or Fuente Ovejuna is simultaneously a revived classic and an innovative, poignant retelling. The cast includes Trinity Rep resident Acting Company members Stephen Berenson, Angela Brazil, Timothy Crowe, Janice Duclos, FrEd Sullivan, Jr., Rachael Warren, and Joe Wilson, Jr. Guest actors Daniel Duque-Estrada(Trinity Rep's recent A Midummer Night's Dream), Benjamin Grills, Orlando Hernández, and Jonathan Olivera with Brown/Trinity Rep MFA actorsAnita Castillo-Halorssen, Octavia Chavez-Richmond, and Marcel Mascaro join the cast.
A cast of teenagers play the role of the villagers: Angelique Dina, Kafui Glover, Wenricka Griffith, Valearie Kane, and Yanasia Tarr. Bedros Kevorkian plays the village boy.
The creative team, directed by Mark Valdez, includes Michael McGarty (set design), Garry Lennon (costume design), Emily Christoffersen (wig designer) Karin Olson (lighting design), Peter Sasha Hurowitz(sound design), Jerediah Gonzalez (original music/music direction), Craig Handel (fight direction), Patricia Ybarra (dramaturgy), and stage manager Kristen Gibbs.
Tickets are on sale by phone at (401) 351-4242, online at www.trinityrep.com, or in person at the theater's box office at 201 Washington Street, Providence.
Photo Credit: Mark Turek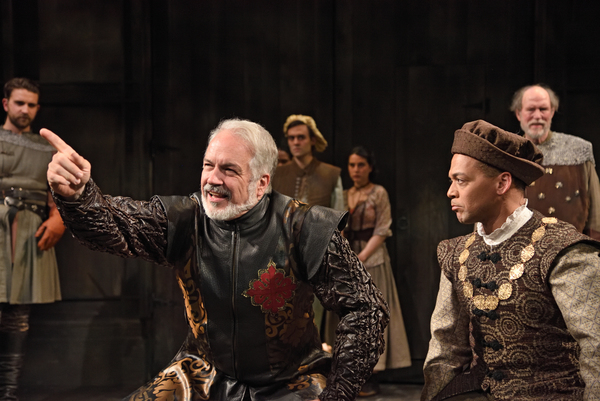 Fr
Ed Sullivan
, Jr. as Commander Fernan Gomez and
Joe Wilson
, Jr. as Esteban, surrounded by the company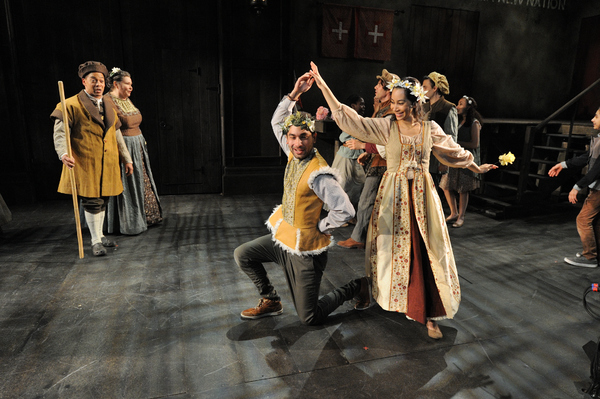 Joe Wilson
, Jr. as Esteban,
Janice Duclos
as Juana Roja. Forefront: Orlando Hernandez as Frondoso and Octavia Chavez-Richmond as Laurencia, surrounded by the cast
Octavia Chavez-Richmond as Laurencia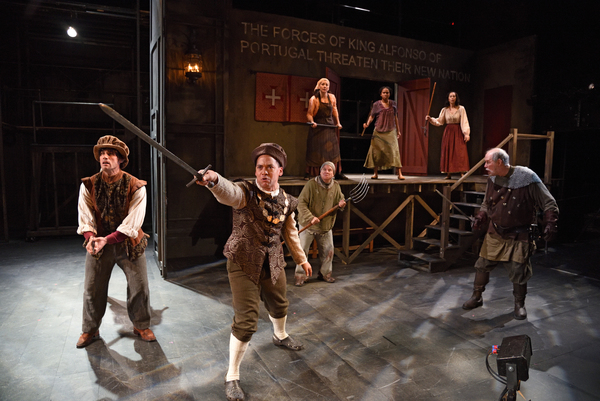 Daniel Duque-Estrada
as Alonso,
Joe Wilson
, Jr. as Esteban,
Stephen Berenson
as Mengo,
Angela Brazil
as Jacinta, Wenricka Griffith as a Villager, Octavia Chavez-Richmond as Laurencia, and
Timothy Crowe
as Flores
Left, forefront to background: Anita Castillo-Halvorssen as Pascuala, an actor dressed as a Spanish Inquisitor. Right, forefront from left to right: Orlando Hernandez as Frondoso ,
Joe Wilson
, Jr. as Esteban, Octavia Chavez-Richmond as Laurencia,
Angela Brazil
as Jacinta, Jonathan Olivera as Barrildo,
Bedros Kevorkian
as the Village Boy. Background:
Benjamin Grills
as Manrique
Casey Belisle on percussion, Jerediah 'Big Scythe' Gonzalez on keyboard/percussion, Jake Menendez on guitar, Evan Carley on bass, Octavia Chavez-Richmond as Laurencia and Orlando Hernandez as Frondoso
Daniel Duque-Estrada
as King Ferdinand of Aragon and
Rachael Warren
as Queen Isabella of Castile