Review: Trinity Rep's World Premiere SONG OF SUMMER Hits All the Right Notes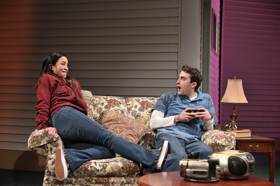 Trinity Rep commissioned playwright Lauren Yee to write SONG OF SUMMER for their company of actors, and the result is such a satisfying and wonderful play that you just want to give everyone involved a big hug. Naturally the casting is flawless, but Yee's dialogue and shrewd observations about growing up, falling in love, small towns and getting sucked into the maelstrom of fame are just so spot on it's almost dizzying. This show is the fresh breath of summer air we need at the end of March.
Charlie Thurston as Robbie is a musician riding high on his current hit, which is all anyone is talking about lately--though it's increasingly for its problematic lyrics. The show opens with Thurston performing his big song, gyrating his hips and thrusting, but all with a little less enthusiasm than one might think. At the end of his song, he stares into the distance and says "Happy Birthday, Tina." That kicks off a trip back to his hometown of Pottsville, Pennsylvania, a visit to his old piano teacher and a run-in with Tina.
What this play does so beautifully is show us how even though from the outside it looks like Robbie is a success, he's really just getting pushed along into what his agent thinks people want. He's had a physical makeover and is wearing a ridiculous shiny suit that looks like wallpaper in a south Florida condo; the lyrics of his song are not his, but rather new, edgier lyrics that are now being boycotted by feminist groups; and he seems generally lost. Thurston plays this role so perfectly. He looks the part of the polished, handsome singer, but his conversations with his agent Joe (Joe Wilson Jr.) reveal a kind of dopey musical wunderkind who you just want to protect from the big bad world.
Joe, as the agent, is primarily concerned with trying to make as much money as possible while the song is hot, and the dynamic between the two actors is fantastic. Joe Wilson Jr. is incredibly entertaining to watch when he's in a smaller character role and he really just gets to act as hard as he wants. He's almost cartoonish at times in his bombast, but it works so well contrasted with Thurston's more subdued demeanor--though it should be pointed out that as part of this play takes place in a Waffle House, Thurston tucks into a short stack of pancakes with a childlike gusto that is great.
Anne Scurria plays Mrs. C, Robbie's old piano teacher whose house he runs away to after that painful concert experience. The bulk of the set downstage is Mrs. C's living room, and set designer Adam Rigg get every detail absolutely perfect. The classic grandma couch patterned with flowers, sensible carpet in a color that doesn't stain too easily, a tin of Royal Dansk cookies--it's all there, and it feels so much like home you can easily see why Robbie would run straight there. Scurria's performance also welcomes you in with open arms. The second Robbie arrives she starts feeding him and showing him his old piano books.
Rounding out the cast is Tina Chilip as Tina, Mrs. C's daughter, and Robbie's former best friend, possibly only friend, who he hasn't spoken to in years. Tina had dreams of being a doctor, but got stuck in Pottsville working at a sleep clinic. Chilip comes out hot, ranting about Pottsville and being stuck in a dead-end town, but over time we learn that her bravado is a bit of a crutch. Her character reveal is slow and subtle, but she's also crude and hilarious and pulls no punches with Robbie. Since Robbie is a more laid-back guy, it's not surprising that the two people he interacts with most--Joe and Tina-- completely railroad him with their overwhelming personalities, but he does slowly learn how to say what he actually wants.
This play is such a pleasure to watch. The writing, the performances, the sets, the music are all so spot on--it feels lazy to call them perfect, but when you're watching it, they feel pretty perfect. At a 90 minute run time with no intermission, this play is just long enough to make us care about the characters, but not so long that it gets bogged down in overanalyzing what happens next. Like that perfect radio song, it's brief, but you want to experience it over and over again.
Tina Chilip as Tina and Charlie Thurston as Robbie. By Lauren Yee. Directed by Taibi Magar. Set design by Adam Rigg, costume design by Valérie Thérèse Bart, lighting design by Jeanette Oi-Suk Yew, and sound design by Mikaal Sulamin. Photo by Mark Turek.
Performances run March 14 - April 14. Tickets are on sale by phone at (401) 351-4242, online at www.TrinityRep.com, or in person at the theater's box office at 201 Washington Street, Providence.