BWW Review: 40th Anniversary CHRISTMAS CAROL is Merry and Bright at Trinity Rep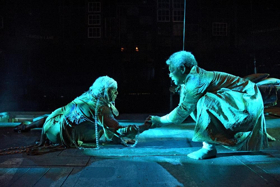 Rhode Island audiences have hailed Trinity Repertory Company's A Christmas Carol as a holiday institution for four decades. One of the many reasons theatergoers return to Trinity year after year is to see the company's original and creative reinterpretations of Charles Dickens' beloved story. The 2017 staging doesn't disappoint as this latest incarnation fairly effervesces with the joys of the season. Under the savvy co-direction of Angela Brazil and Stephen Thorne, the cast and artistic team involved with the ruby anniversary Carol deliver a vibrant and refreshing production that brims with great energy and good cheer.
Joe Wilson
, Jr. heads the cast with an excellent portrayal of the miserly Ebenezer Scrooge. Wilson's Scrooge displays a taciturn hardness at first, banging ledgers on tabletops to communicate rather than wasting words on his clerk and delivering grunts and monosyllabic rejoinders only if absolutely necessary. When his displeasure does finally boil over into speech, this Scrooge is flinty and unsparing to any man, woman, or child so unfortunate as to cross his path. Later, as Scrooge encounters each of his unearthly visitors, Wilson strikes an ideal balance between years of curmudgeonly habits and a swiftly softening heart. His interpretation of Scrooge's reclamation proves especially fine. Oftentimes, this pivotal scene is drawn as one of unrestrained exuberance and played primarily for comedic effect. Wilson certainly captures the humor of the moment, but he doesn't seek a laugh at the expense of the character's journey. His Scrooge shows flashes of uncertainty as he re-enters communication with the human race, and his eager attempts at conversation and interaction are sweetly tempered by rusty, halting social skills. The agents of this miraculous change in Scrooge, his four ghostly visitors, are most memorably wrought in this season's
Carol
. The hauntings begin with the unnerving arrival of
Jacob Marley
's wailing and heavily-fettered shade, and
Daniel Duque-Estrada
depicts Marley's torment with steely earnestness.
Anne Scurria
's somewhat absentminded Ghost of the Past charms while batting her feathery, snow-white eyelashes, but she brooks no nonsense from the still stiff-necked Scrooge. And, so as not to spoil the effect, let it suffice to say that the Ghost of Christmas Yet to Come is presented in such a uniquely multifaceted manner as to grant the apparition a deeply eerie impression of omnipresence. The showstopper of the spirits is Orlando Hernández's delightful Ghost of Christmas Present. After starting off with a high-energy, crowd-pleasing entrance to a rock-star reception, Trinity capitalizes on Hernández's multiple and impressive talents, including a dazzling, blazing-fast display of tap dance and a lively presentation of juggling, to depict the Ghost's colorful personality and joyful expression. The Spirit of the Present is a master showman, a willing participant in Cratchit celebrations and eager to join Fred's party games, but like Christmas Past, he addresses Scrooge sternly and resolutely to drive his message home.
Though the heart of the story beats as strongly as ever, regular Carol attendees will find some notable differences with this year's production, primarily altered musical selections and a few trimmed lines of dialogue. The spotlight also shifts away from Trinity's troupe of actors to shine on a series of special guest artists. This Christmas, Trinity will partner with 18 local non-profit organizations to bring attention to the work these groups are doing in the community. Brazil and Thorne provided space for the seamless incorporation of this partnership in A Christmas Carol's storytelling and the narrative never breaks. On opening night, members of Progresso Latino, Inc. took to the stage with a rousing, hand-clapping, and thoroughly engaging rendition of "You Gotta Sing (When the Spirit Says Sing)" that perfectly complemented Scrooge's reclamation.
The 2017 Christmas Carol is set in the round; while Trinity's actors always employ stairways and aisles as part of the performance space, Michael McGarty's inclusion of staging platforms and set pieces throughout the seating areas all but transports audience members into the pages of the unfolding story. Toni Spadafora's wonderful costumes, from festive and glittering Christmas attire to threadbare and careworn workers' garb, evoke a traditional Victorian style overall, but several playful, whimsical twists are added to accentuate the personalities of the individual characters.
A Christmas Carol plays Trinity Repertory Company's Chace Theater through December 31, 2017. Tickets are available online at www.trinityrep.com, by phone (401) 351-4242, or by visiting the box office at 201 Washington Street, Providence, RI. Contact the box office for group rate information.
Photo by Mark Turek