PlayMakers Repertory Company Presents Ken Ludwig's SHERWOOD: THE ADVENTURES OF ROBIN HOOD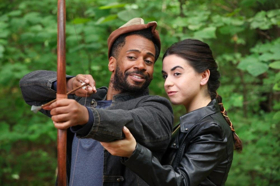 The tale of Robin Hood is part of our collective mythology. Robin Hood is a nobleman who leaves behind his life of privilege to stand up for those in society who cannot. He is joined by a band of merry men and Maid Marian as he robs from the rich to give to the poor. But how well do we really know this legendary folk hero and what moves him? The legend of Robin Hood is one of the original resistance stories, and one man's awakening to the injustices of his society. In Ken Ludwig's frolicking, funny retelling, he's not a perfect man at all, but perfectly imperfect and surrounded by a colorful cast of characters who help challenge and shape his ideals.
"This is a play that we need right now. The 'legend' of Robin Hood has become so much a part of our consciousness that we have forgotten what it really means," said Vivienne Benesch, PlayMakers' Producing Artistic Director. "Beyond the swashbuckling, humor and romance-of which there is plenty-Ken Ludwig's take on this classic tale brings us back to Robin Hood's social justice roots; what a way to open our season of Theatre that Moves! Theatrically, I am also excited that this production shines with an original score by North Carolina's Jack Herrick, whose music helps bring a familiar folk-quality to the play, which is only fitting, since the American folk play originated here at UNC-Chapel Hill just about 100 years ago."
"What excited me most about directing this play is the heart at the center of this Robin Hood story," said Austrian. "It's a story about a group of underdogs standing up to corruption and fighting for those in need. Ken has reimagined these classic heroes-and heroine-for a contemporary audience with delightful comedy, which also opens the door to deep pathos and compassion. And, it's an ensemble play that relies on the audience's imagination. That's what I love about theatre most: the audience's imagination is required, we are all a part of making the story together, and we become a community. I hope audiences will leave the theatre exhausted from laughing and committed to making our corner of the world a little bit better. We are all capable of becoming heroes in our communities at any time."
"Sherwood: The Adventures of Robin Hood" features Joshua David Robinson as Robin Hood("Three Sisters," "Twelfth Night" Off-Broadway), Jeffrey B. Cornellas Sir Guy ("Count," "My Fair Lady"), Ray Dooley as Prince John ("Leaving Eden," "Tartuffe"), April Mae Davis as Doerwynn ("Sense and Sensibility," "In the Red and Brown Water" at National Black Theatre Festival), Rishan Dhamija as Little John ("Leaving Eden," "Dot"), Christine Mirzayan as Maid Marian ("The Christians," "The Cake"), Tristan Parks as Sheriff of Nottingham ("My Fair Lady," "The Crucible"), and Dan Toot as Friar Tuck ("Sense and Sensibility," and "Pericles" at Chicago Shakespeare Theatre).
The Creative Team of "Leaving Eden" includes: Jessie Austrian (Director; Co-Artistic Director and Founder of NYC's Fiasco Theater), Kara Wooten (Fight Director; "Cyrano de Bergerac," "Hamlet" at National Ballet of Canada), Jack Herrick (Composer,
Music Director; "Big River," and Broadway's "Fool Moon"), McKay Coble (Scenic Designer; "Leaving Eden," "The Tempest/Metamorphoses"), Tracy Christensen(Costume Designer; "Three Sisters" and Broadway's 2017
"Sunset Boulevard"), Rui Rita (Lighting Designer; PlayMakers debut, Broadway's "Enchanted April"), Melanie Chen Cole (Sound Designer; PlayMakers Debut, "Imaginary Invalid" at The Old Globe), Jenny Latimer (Assistant Director; "The Cake," "My Fair Lady"), Ryan Tucker (Assistant Fight Coordinator), Greg Kable(Dramaturg), Charles Bayang (Stage Manager) and Elizabeth Ray (Assistant Stage Manager).
"Sherwood: The Adventures of Robin Hood" is appropriate for all ages.
For information and to purchase tickets, call 919.962.7529 or visit www.playmakersrep.org. Individual ticket prices start at $15.
Originally developed and produced at The Old Globe, Barry Edelstein, Artistic Director, Timothy J. Shields, Managing Director.
Performance and Special Event Schedule:
September 13, 6:00 p.m. - "The Vision Series-Directors in Conversation," a behind-the-scenes preview with members of the creative team before the evening's performance, at the Joan H. Gillings Center for Dramatic Art. Free and open to the public.
September 12-14, 7:30 p.m. - Preview performances
September 15, 7:30 p.m. - Opening Performance & Press Opening, with post-show Opening Night Celebration
September 18, 7:30 p.m. - All-access performance for attendees with special needs, with sign language interpretation and audio description
September 18, 7:30 p.m. - Community Night. General admission seating, with all tickets $15
September 19 and 23 - Free post-show discussions with members of the creative team, cast and community members
September 29, 2:00 p.m. - Open captioned performance, with dialog, stage direction, and sound effects communicated on a "universal access" live caption unit
September 29, 2:00 p.m. - Family Matinee, with free family-friendly pre-show activities
September 30 - "Mindplay," a free post-show psychoanalytic reading of our production in partnership with the North Carolina Psychoanalytic Society
PlayMakers Repertory Company is North Carolina's premier professional theatre company. For more than 40 years, we have produced relevant and courageous work that tells stories from and for a multiplicity of perspectives, and creates transformational impact in our immediate and extended communities. We are proud to be part of a 100 year tradition of playmaking at the University of North Carolina at Chapel Hill. PlayMakers has been named one of the "best regional theatres in America".