Review: North Carolina Theatre's NEWSIES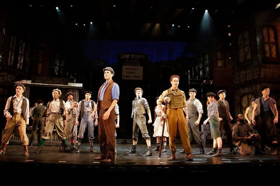 Based on the 1992 Disney film of the same name, which in turn was inspired by the real-life newsboys strike of 1899 in New York City, Newsies tells the captivating story of a band of underdogs who become unlikely heroes when they stand up to the most powerful men in New York. When I last met up with these newsboys, it was during their strike at DPAC back in 2015. Since then, the tour closed up shop after a two-year run, became a hit Fathom Event, and is now available for licensing to schools, community, and regional theatres all over the world.
As for North Carolina Theatre's production that's currently running at the Raleigh Memorial Auditorium through July 29th, director Steve Bebout does not try to replicate the Broadway production. In fact, he does a great job of bringing his own ideas to the table when it comes to the staging and performances. The same goes for choreographer Parker Esse as he doesn't try to compete with Christopher Gattelli's work from the Broadway production, he instead is able to create his own high energy dance numbers.
As for the incredibly talented cast, it is led by Jason Gotay, who is perfect as the rebellious newsboy with a heart of gold known as Jack Kelly. I must say that out of all the Katherine's I've seen, Shannon O'Boyle's performance probably comes across the most like a real reporter. Which to me, makes her chemistry with Jason Gotay's Jack interesting to develop in this production as she is the more responsible one. Daniel Plimpton very successful pulls off the role of Davey, as he's the newsboy who goes from shy to confident throughout the show. His little brother, Les, played by Huck Borden makes for an adorable comic highlight. While it may be a cliche to call any great portrayal of Crutchie heartfelt, it is true not only thanks to Steve Raymond's performance, but also to his Act II number titled 'Letter From the Refuge'. I would also like to give a special shout-out to ensemble member Caylie Rose Newcom, who appears as a 'tomboy' among the newsies. What I liked about that casting is that it in a way creates this show's equivalent to the tomboy character of Anybodys, the only female member of the Jets, in West Side Story.
Overall, North Carolina Theatre has presented a great production of a great musical. Not only is it fun for the whole family, but it should also leave audiences with a great message that is especially evident in Harvey Fierstein's book. To quote the character of Medda Larkin, "theatre's not only entertaining, it's educational".
For more information, please visit:
https://nctheatre.com/shows/newsies%20