Newsies The Musical - 2012 - Broadway Tickets, News, Info & More
NOW IS THE TIME TO SEIZE THE DAY with NEWSIES, Disney's triumphant, smash-hit New York musical.
It's the record-breaking, Tony Award -winning Broadway phenomenon that tells the story of an unlikely band of underdogs who take on the biggest names in publishing in an "INSPIRATIONAL" (The Hollywood Reporter) fight for justice.
NEWSIES is "EXHILARATING!" (NY Daily News) and "ELECTRIFYING!" (Vogue) with music from Tony Award winners Alan Menken and Jack Feldman as well as dancing from Tony Award winner Christopher Gattelli. "A THRILLING AMERICAN MUSICAL" (Philadelphia Inquirer) with a book by four-time Tony Award winner Harvey Fierstein and directed by Tony Award nominee Jeff Calhoun, NEWSIES is a "TOP CRITICS' PICK" (New York Magazine, Time Out New York, Entertainment Weekly).
It's "THE PERFECT MUSICAL FOR OUR TIMES!" (The Star-Ledger) and now's the perfect time to get your tickets to the true, New York story that can only be seen in New York.
Video preview
Photo preview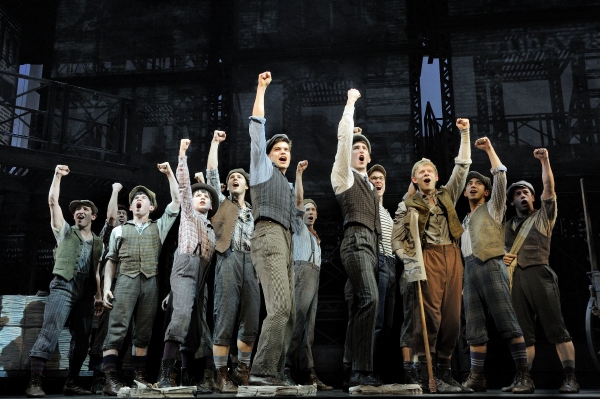 Schedule
Running Time:
2 hours and 30 minutes, with one intermission
Featured Reviews For Newsies The Musical
Urchins With Punctuation - New York Times
Here are a few titles of the songs by Alan Menken (music) and Jack Feldman (lyrics): "Carrying the Banner," "The World Will Know," "Seize the Day," "Something to Believe In" and "Once and for All." And if you asked me to explain what distinguishes one of these songs from another, I couldn't begin to without consulting my notes, my program and possibly the show's director, Jeff Calhoun, and book writer, Harvey Fierstein...But that doesn't stop them from burning energy like toddlers on a sugar high at a birthday party. As choreographed by Christopher Gattelli, they keep coming at us in full-speed-ahead phalanxes, fortified by every step in a Broadway-by-the-numbers dance book. There are back flips, cartwheels, somersaults and kick lines galore, not to mention enough pirouettes to fill a whole season of "Swan Lake."
Theater Review: Newsies and the Pleasures of the Gateway Musical - NY Magazine
After a brief twenty-year incubation period, Newsies is finally onstage where it belongs, in a Jeff Calhoun-directed production that's as gloriously square as it is automatically ingratiating. ... Harvey Fierstein's book, fleet and witty for the most part, does contain a few tiresomely repeated beats, especially when it comes to Jack's character. ... Newcomer Kara Lindsay, as plucky reporter and romantic foil Katherine Plummer, commits double-hard to the well-worn spunky-gal trope and comes out of it with a winning performance.
Newsies The Musical Broadway Cast