Newsies The Musical - 2012 - Broadway
NOW IS THE TIME TO SEIZE THE DAY with NEWSIES, Disney's triumphant, smash-hit New York musical.
It's the record-breaking, Tony Award -winning Broadway phenomenon that tells the story of an unlikely band of underdogs who take on the biggest names in publishing in an "INSPIRATIONAL" (The Hollywood Reporter) fight for justice.
NEWSIES is "EXHILARATING!" (NY Daily News) and "ELECTRIFYING!" (Vogue) with music from Tony Award winners Alan Menken and Jack Feldman as well as dancing from Tony Award winner Christopher Gattelli. "A THRILLING AMERICAN MUSICAL" (Philadelphia Inquirer) with a book by four-time Tony Award winner Harvey Fierstein and directed by Tony Award nominee Jeff Calhoun, NEWSIES is a "TOP CRITICS' PICK" (New York Magazine, Time Out New York, Entertainment Weekly).
It's "THE PERFECT MUSICAL FOR OUR TIMES!" (The Star-Ledger) and now's the perfect time to get your tickets to the true, New York story that can only be seen in New York.
Video preview
Photo preview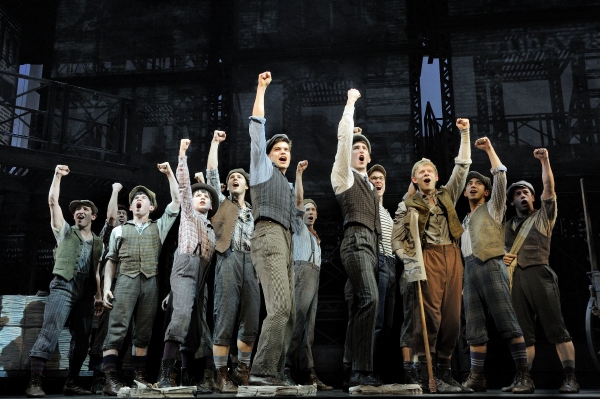 Schedule
Running Time: 2 hours and 30 minutes, with one intermission
Featured Reviews For Newsies The Musical
Theater Review: Disney's 'Newsies' opens on Broadway - NY Daily News
The movie didn't work. But director Jeff Calhoun, composer Alan Menken and lyricist Jack Feldman, who wrote songs for the film, and book writer Harvey Fierstein deserve credit for what is a mostly banner makeover. ... There's no question that Jordan (known for the film "Joyful Noise" and Calhoun's short-lived "Bonnie and Clyde") steps up to carry the show. Like a Page 1 headline, he announces himself as a powerhouse talent. Whenever he and the other newsies are on stage, the show flies. Too bad it sinks when the adults appear, an issue that's still unresolved. Media mogul Pulitzer and vaudeville star Medda Larkin (Capathia Jenkins) remain mere cardboard cutouts.
NY1 Theater Review: "Newsies" - NY1
And if not "King Of New York," I have to say it's loaded with some very appealing princes. ... But it's Jeremy Jordan as the swaggering Jack Kelly who once again takes "Newsies" to new heights. He is a star, yes even a Broadway king, in the making.
Newsies The Musical Broadway Cast