Photo Flash: Moving, Surprising Drama Finishes Artists Rep's 35th Season- I AND YOU
Artists Repertory Theatre presents I and You by Lauren Gunderson as the final production of their 2017/18 season. Gunderson is the most-produced playwright in America for the second year in a row. She is a recipient of a Dramatist Guild Award, the Susan Smith Blackburn Prize, won the 2018 Steinberg for The Book of Will, and won the Steinberg American Theatre Critics Association New Play Award in 2014 for this revelatory drama. I and You runs from May 20 through June 17 on the Morrison Stage.

Homebound due to illness, the smart and sarcastic Caroline is suspicious of the sweet and athletic Anthony after being thrown together to work on an English class project about Walt Whitman's Song of Myself. As the pair stumbles through the poem, they begin to share secrets and let their guards down, eventually unlocking the mystery that brought them together in the first place. With searing poignancy, I and You tells a funny, tender, and surprising story of two young people falling in love with the mystery of human connection and learning how much they need each other to live on. I and You is an ode to youth, life, and empathy with a gasp-inducing ending.
"Lauren Gunderson's unmatched popularity in theatres around the country comes as no surprise when you get to know the beauty and breadth of her writing," said Artistic Director Dámaso Rodríguez. "Her funny, poignant, and always imaginative plays have a way of being entertaining, ingenious, and emotionally rewarding. The boldly hopeful I and You may serve as the finale to our season of unflinchingly honest and timely new plays, but it only marks the beginning of Gunderson's run on Oregon stages. Over the next year, I look forward to seeing her play The Book of Will this summer at the Oregon Shakespeare Festival, while we at Artists Rep will produce her wildly funny, and vastly different, The Revolutionists to finish our next season."
"It is a really special play for me because it is a play that allows us to examine the surprising connections we have with each other, and how much we actually need each other, even if we think we may not have anything in common," said Lauren Gunderson, I and You playwright. "It's about the power of words and poetry and story to unite us. It's about the good things in life we do, even if we don't know their long-term impact. And, it's about coming together and how that makes us stronger."
"I find that one of the most compelling things about I and You is its intricacy, it is a play about the little things and it is wondrously complex," said Director Joann Johnson at the production's first rehearsal. "It is about the intricate dance of building a relationship starting from scratch-all that tentativeness and aggression and defensiveness and courage and humor and anger and speaking and listening and then becoming a partnership- truly a little miracle. I love that this play is about kids who have homework to do and waffle fries to eat and parents to manage-and who struggle under the weight of challenges that ones so young should not have to bear. This is sadly familiar territory to us these days and the tone of this play has become political as young people in our country are struggling to find their voice and fight for a better future...giving hope to us all. And most of all, I love the mystery of this play. As Hamlet says, 'There are more things in Heaven and earth, Horatio, than are dreamt of in your philosophy.'"
I and You is sponsored by Charlie & Darci Swindells, Len & Susan Magazine, and Rafati's Catering.
ABOUT THE PLAYWRIGHT
Lauren M. Gunderson was the most-produced living playwright in America in 2016 and 2017, the winner of the Lanford Wilson Award and the Steinberg/ATCA New Play Award, a finalist for the Susan Smith Blackburn Prize and John Gassner Award for Playwriting, and a recipient of the Mellon Foundation's three-year residency with Marin Theatre Company. She studied Southern Literature and Drama at Emory University, and Dramatic Writing at NYU's Tisch School where she was a Reynolds Fellow in Social Entrepreneurship. Her work has been commissioned, produced and developed at companies across the U.S. including South Coast Rep (Emilie, Silent Sky), The Kennedy Center (The Amazing Adventures of Dr. Wonderful And Her Dog!), The Eugene O'Neill Theater Center, The Denver Center, San Francisco Playhouse, Marin Theatre, Synchronicity, Olney Theatre, Berkeley Rep, Shotgun Players, TheatreWorks, Crowded Fire, and more. She co-authored Miss Bennet: Christmas at Pemberley with Margot Melcon. Her work is published at Playscripts, Inc. (I and You, Exit Pursued By A Bear, The Taming, and Toil And Trouble), Dramatists (Silent Sky, Bauer, Miss Bennet) and Samuel French (Emilie). Her picture book Dr. Wonderful: Blast Off to the Moon was released from Two Lions / Amazon in May 2017. Learn more:
LaurenGunderson.com and on Twitter @LalaTellsAStory.
ABOUT THE DIRECTOR
Joann Johnson is a professional actor and director based in Portland. Her directing credits at Artists Rep include Ballerina, Birdsend, Crumbs from the Table of Joy, Vanya, Blackbird, The Gin Game, and Grand Concourse. Other directing credits include The School for Liesand Boom (Theatre Vertigo); Macbeth (Quintessence Theatre Group); Richard II and King Lear (Northwest Classical Theatre Collaborative); Precious Little (defunkt theatre); Big Love and Eurydice (University of Portland); The Detective's Wife (Hellfire Productions); and The Turn of the Screw (Portland Shakespeare Project). For Artists Rep JoAnn has appeared onstage as Rev. Chausable in The Importance of Being Earnest, Katherine Gerard in Mothers and Sons, Mrs. Bradman in Blithe Spirit, Hattie in Ten Chimneys, Vivian Bearing in Wit, Flora in Humble Boy, Leo in Indiscretions, Agnes in A Delicate Balance, Mrs. Rafi in The Sea, Margaret Civil in A Perfect Ganesh, and Alice in Retreat from Moscow. Other roles include Sister Aloysius in Doubt and Kate Keller in All My Sons (Arkansas Repertory Theatre); Big Mama in Cat on a Hot Tin Roof and Mrs. Stavrogin in The Devils (Portland Center Stage); Leni Riefenstahl in Leni (Insight Out Theatre Collective); Sarah Bernhardt in Memoir and Anna in Boston Marriage (CoHo Productions); Madame Arcati in Blithe Spirit, Lady Bracknell in The Importance of Being Earnest, and Judith Bliss in Hay Fever (Tacoma Actors Guild); and Meg in The Birthday Party, Nancy in Seascape and Aunt Sally in Fifth of July (Profile Theatre). Other theatres include The Old Globe, Sacramento Theatre Company, San Jose Repertory Theatre, Liminal, The Empty Space, Pioneer Theatre, Utah Shakespeare Theatre, Imago Theatre, and many seasons with the Oregon Shakespeare Festival. JoAnn has toured internationally in the role of A in Three Tall Women. She is a Resident Artist at Artists Rep and a member of both Actors' Equity and SAG-AFTRA. Educated at Wells College and University of Oregon, JoAnn has a BA in English and an MA in Rhetoric.
Photo credit: Russell J Young


Emily Eisele, Blake Stone

Emily Eisele, Blake Stone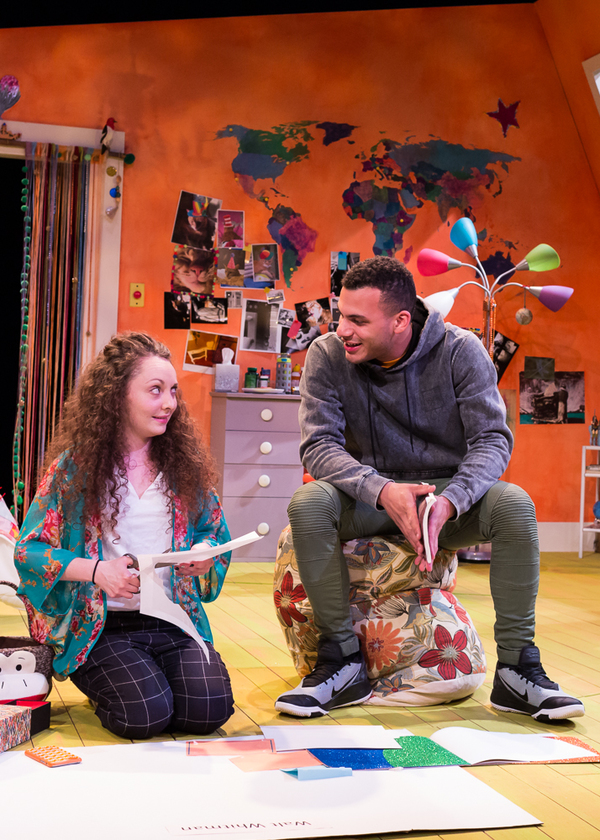 Emily Eisele, Blake Stone
Related Articles View More Portland

Stories

Shows
More Hot Stories For You