Photo Flash: First Look at JOHN HUGHES HIGH: THE 1980'S TEEN MUSICAL
Building on the success of their sold out smash hit Heathers: The Musical, Staged! presents the world premiere of John Hughes High: The 1980's Teen Musical, a piece designed for teen performers by Mark LaPierre (4X4=Musicals) and Eric Nordin (The Snowstorm) and directed by Diane Englert (Heathers: The Musical).
This inventive comedy flips the script on the John Hughes decade, using gender-blind casting to subvert the 80's teen cliches of adolescent ennui and outsider status, channeling Cyndi Lauper style while tackling the tricky challenges of the teen years with Staged!'s trademark depth and humor.
Performances are May 3- 20 at the Alder Stage in Artists Repertory Theatre (1516 SW Alder St). Performances are on Thursdays, Fridays and Saturdays at 7:30 pm and Sundays at 2:00 pm. Tickets are $18 - $25 and can be purchased online at stagedpdx.org.
It's 1989 at John Hughes High where every student is fabulous and amazing EXCEPT Samantha. Ignored and literally invisible, Samantha has found the answer to her escapist prayers - spending her senior year at the French School of Ennui. Her depressingly impressive Mom (played by Lisamarie Harrison), won't let Samantha go until she tries, "really tries," to make friends with the Vision-Questing Jocks, Fame Dancers, Pop Divas, Real Genius Nerds, and Rebellious Idealists in her school's breakfast club. What's an anti-heroine to do but dance, sing and charm her way to the top of the high school heap?
The cast features local musical luminary Lisamarie Harrison alongside performers from high schools all over the Portland metro area. There are 22 teens in the show, ages 15-19, from Multnomah, Washington, Clackamas, Hood River and Clark counties representing these high schools and colleges: Arts & Communication, Alliance Charter Academy, Camus, Clackamas Community College, Clark College, Grant, Hood River, Lakeridge, Milwaukie Academy of Arts, Mt. Hood Community College, Portland State University, Skyview, Southridge, Sunset, Tigard, Westview, and Wilsonville High Schools.
The piece has been written with inclusive casting goals in mind, offering opportunities to mix and match gender, race and ethnic identity as needed to work with the strong suits of each company that elects to perform it. A sold-out concert reading at the 2017 Fertile Ground Festival paved the way for this fully staged world premiere as part of the Staged! season.
The show is written by Mark LaPierre, creator of 3 seasons of sold out 4X4=Musicals performances at the Fertile Ground Festival in collaboration with composer Eric Nordin, whose 2015 production of The Snowstorm garnered a Drammy Award for best production. Director Diane Englert helmed Staged!'s smash-hit production of Heathers: The Musical and offers over 20 years of new play development experience ranging from Off-Broadway to Portland Center Stage.
This project is supported in part by a grant from the James F. and Marion L. Miller Foundation. Season sponsor Ronni Lacroute.


Chandra Maya Dehnert, William Duff, Mikaela Ochocki, Kaylee Bair

Jackson Wells, Lavinia Martin-Weber, Isaac Smith

William Duff, Mikaela Ochocki

Lisamarie Harrison, Lavinia Martin-Weber

Celia Straub, Sydney Heim, Lily Gleason, Jacob Skidmore, William Duff

Mikaela Ochocki, Tirza Meuljic, Chandra Maya Dehnert

Callie Sahli, Steven Pedleton, Sierra Kruse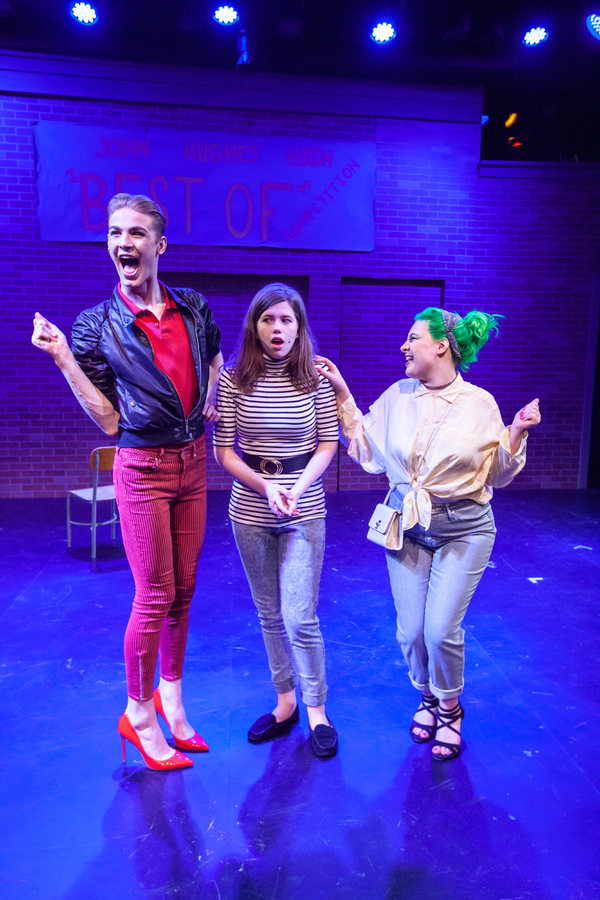 Jacob Skidmore, Lavinia Martin-Weber, Lily Gleason

Aidan Tappert, Brendan Long, Lavinia Martin-Weber, Martin Hernandez
More Hot Stories For You