Review: David Saffert Kills It in MURDER FOR TWO at Broadway Rose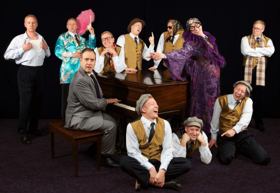 There's a particular pleasure in watching a master at work. That's what I felt while watching David Saffert in MURDER FOR TWO, the musical whodunit now playing at Broadway Rose. Even if you don't like mysteries -- heck, even if you don't like musicals! -- I urge you to go see this show so you can spend an hour and 40 minutes (no intermission) in the presence of theatrical greatness.
MURDER FOR TWO is a madcap murder mystery musical by Joe Kinosian and Kellen Blair. It debuted Off-Broadway in 2011 and was nominated for a ton of awards, including an Outer Critics Circle Award for Outstanding New Off-Broadway Musical. It's funny and campy, following the same general formula as the movie Clue -- a bunch of people arrive at a big house for a party, the host is murdered, and the investigator has just an hour to solve the crime. It's full of gags and relies on physical comedy as well as a few plot points that are clearly just for shock value.
The gimmick in MURDER FOR TWO is that the cast consists of only two actors. In this production, those actors are Barney Stein, who plays the investigator, and David Saffert, who plays all 10 of the suspects. (There's a 12th character, Lou, but he's invisible.) The actors also provide all of the music, via a grand piano in the center of the stage.
If you're fond of Vegas-style nightclub acts, you may have seen Saffert before. He's our local Liberace impersonator (currently on track to become the only licensed Liberace tribute artist in the world). In MURDER FOR TWO, he puts his showmanship talents to the ultimate test, creating 10 completely distinct characters -- men, women, and children -- using just his body, his face, his voice, and a few costume pieces (glasses, a scarf, a fan). He does this so successfully that even when several characters are engaged in quick repartee, you always know exactly who's speaking. In one song, he plays six different characters in conversation with themselves, while also playing the piano. It's a brilliant performance -- an absolute thrill to watch.
A few other things contribute to the fun of this show. First, Stein and Saffert are both accomplished pianists, a talent they have ample opportunity to show off, especially in the duets. Second, it's a good mystery -- I didn't figure it out until the very end. And, finally, the rotating stage -- Broadway Rose has hit the big time now!
MURDER FOR TWO runs through Feb. 25. Definitely go see it. Details and tickets here.
Photo credit: Craig Mitchelldyer
| | |
| --- | --- |
| Vote Now for the 2022 BroadwayWorld Portland Awards | |
| voting ends in | |